Cosplay Triumphs Over Winter At Japan Chibi Weekend In Madrid – Plus Photogallery
By José Luis del Río
I once again attended the Japan Chibi Weekend that occurs every February in Madrid and there were quite a considerable numberof people at this year's event as well as having a larger venue this time. Japan Chibi Weekend is an event with a primary focus on anime, manga and Japanese culture. This weekend features a wide variety of activities and panels, with a large number of attendees participating in cosplay. Also there were also a lot of studios represented, as well as distributors, retailers and publishers like Ivrea Ediciones, Selecta Vision or Square Enix. There were also quite a few panels about topics such as cosplay, fan-fiction, video games or the industry side of things. The Spanish like to cosplay and enjoy dancing to their favorite anime songs. In Spain, it is the depth of winter right now and it´s raining and cold but that doesn't keep people away from cosplay!
The best cosplayers I saw were from Attack on Titan. It´s amazing how widely this anime and manga is attracting followers in Spain. This Japanese manga series is written and illustrated by Hajime Isayama. It is set in a world where humanity lives inside cities surrounded by enormous walls due to the Titans, gigantic humanoid creatures who devour humans, seemingly without reason. Attack on Titan has become a commercial success, with over 28 million volumes in circulation as of 2013.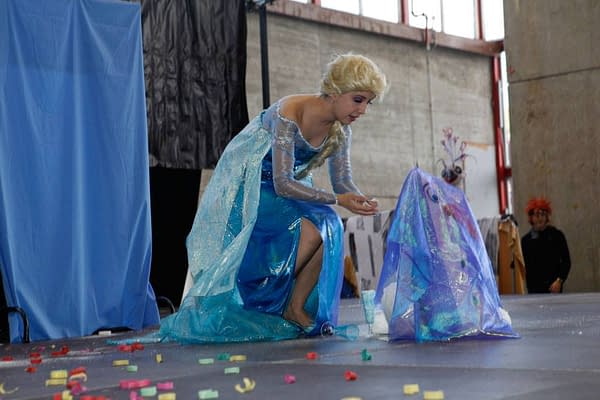 The release of the anime also saw a boost in the series' popularity, having received critical acclaim for its atmosphere and story. Although it has also gained fame in Asian countries, the series' themes have been a subject of controversy. I personally bought the first season and I sure say it's amazing.
There were also a lot of people dressed in costumes inspired by Death Note, Adventure Time, Dragon Ball, Inuyasha, Final Fantasy, Elfen Lied and the wonderful series Hetalia: Axis Powers.
Now I'd like to show you some more pictures of Japan Chibi Weekend, all the way from Spain. I hope you enjoy them as much as I did being there.
José Luis del Río Fortich is a child of the seventies who grew up with comics and MSX. Then he moved to the Commodore Amiga, Twin Peaks and finally to Macintosh. In his nearly 40´s he keeps reading comics, playing computer games and reviewing series. He loves Star Trek, Star Wars, Doctor Who, Zombies, Horror Movies and all those things that are not necessary in an apocalypse but we all love. He is @jldelriofortich and on Facebook.