Dave Chappelle Criticizes Louis C.K.'s Accusers in Netflix Special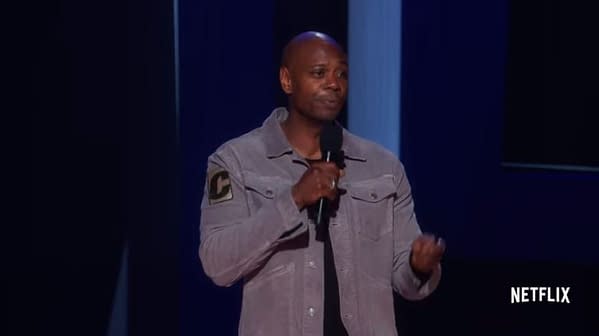 Comedian Dave Chappelle didn't pull punches when taking on Louis C.K.'s recent sexual harassment allegations in his most recent Netflix special. In Dave Chappelle: Equanimity & The Bird Revelation, the comedian carved out nearly ten minutes of his act to cover a number of aspects of the allegations — and making the decision to call out his fellow comedian's accusers in the process.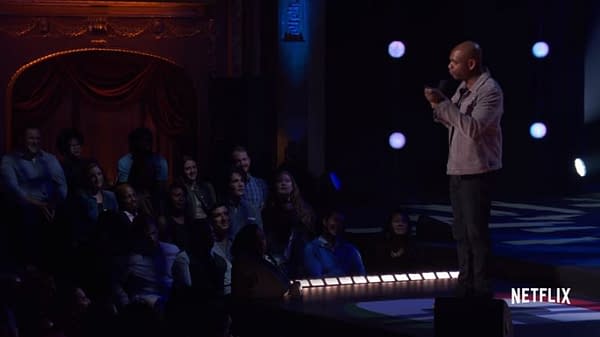 During one portion of the special, Chappelle expresses concern that Louis C.K.'s punishment might be too harsh, that the current social climate is difficult for men, and offers his take on Abby Schachner and her encounter with Louis C.K.:
"Jesus Christ they took everything from Louis. That was like… I don't know, it might be disproportionate. I can't tell. I can't tell. This is like where it's hard to be a man. One lady said, 'Louis C.K. masturbated in front of me, ruined my comedy dreams.' Word? Well then I dare say, madam, you may have never had a dream. Come on man, that's a brittle spirit. That is a brittle ass spirit. That shit is too much. This is is a grown-ass woman."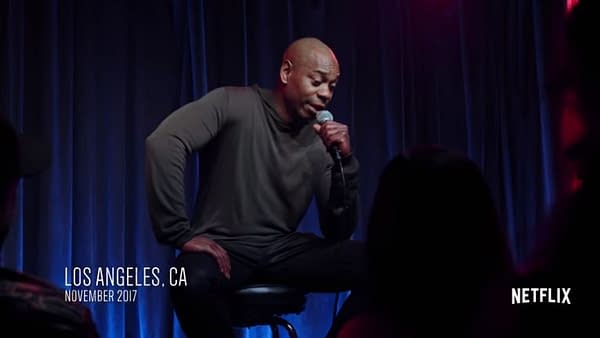 In another segment, Chappelle takes issue with the accusers being seen as "empowered" and with the inequity in accountability he feels he endures as a man and a celebrity:
"I hate to say, y'all, they sounded weak. I know it sounds fucked up. I'm not supposed to say that, but one of these ladies was like, 'Louis C.K. was masturbating while I was on the phone with him.' Bitch, you don't know how to hang up a phone?' How the hell are you going to survive in show business if this is an actual obstacle to your dreams? I know Louis is wrong, I'm just saying, I'm held to a higher standard of accountability than these women are."
Dave Chappelle: Equanimity & The Bird Revelation is currently streaming on Netflix, so check it out and see what you think.
Writer's Thoughts
So what I really wanted to say was… during that first portion of the special described above, Chappelle appears to be getting ready to pass the collection plate for Louis C.K. (despite the fact that the accused comedian wasn't a crazed, masturbating 12-year-old at the time and shouldn't need to be reminded to keep his penis in his pants in front of women). He laments the hardships of being a man in today's society (because apparently "don't do what Louis C.K. did" is way too high of a bar to reach); and offers Schachner (the accuser whose story Chappelle references without using her name directly) some "friendly advice" based apparently on his lifetime of work as a woman on how to be a woman without a "brittle spirit".
But Chappelle's tough love doesn't end there, ladies! Oh no! Because as much as you might think the #MeToo movement has been empowering to women everywhere, there's a guy with a microphone on a stage ready to tell you otherwise. Oh, and while you're at it? Could you please stop making life so difficult for famous people like him? Thanks!
Pushing aside for a moment the buckets of sarcasm I'd been carrying, this was just a stupid play on the part of a guy whom I consider to be one of the best comics of my lifetime. I'm not disappointed because of the subject matter — because nothing should be off the table when it comes to comedy — but because someone I admire as an artist is using a mic and stage as an excuse to vent his personal grievances while using the "…but I'm a comedian!" line to inoculate himself from any criticism. Comedy doesn't need a pretty setup or a cute punchline: we've evolved beyond the days of pratfalls, pies to the face, and finger-pokes to the eyes. Comedy does need to have a purpose: to address truths, no matter how uncomfortable they may be, for the betterment of society. But Dave Chappelle isn't speaking truth-to-power: he's speaking "celebrity-to-power" — and that's just selfish.
Source: Variety