"Doctor Strange in the Multiverse of Madness" Set for May 7th 2021
Marvel Studios revealed details to the second Doctor Strange movie at the Marvel Studios panel in Hall H.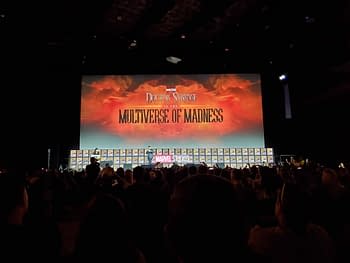 Marvel Studios head Kevin Feige brought director Scott Derrickson and star Benedict Cumberbatch on stage. Titled Doctor Strange in the Multiverse of Madness, the movie will be the first scary MCU movie. The tone will be dark and Gothic, adding an element of Horror to the Doctor Strange movie series.
As you might have guessed from the title, Mysterio may be dead but the multiverse is real. Wanda Maximoff, the Scarlet Witch will appear in the movie. The events from WandaVision will affect what happens in this movie. Nightmare will be the villain. The title sounds perfectly self-explanatory.
Derrickson said the idea was to destroy Dr. Strange a little. That sounds like business as usual in Marvel, then.
Since it was Cumberbatch's birthday, all 6,000 people in the audience sang "Happy Birthday" to him.
So you can look forward to Cumberbatch's very weird American accent when the movie premieres on May 7th 2021. I think it's the same accent Hugh Laurie uses in House.
Follow along with Bleeding Cool's live-blog for live updates from the Marvel Studios Hall H panel, brought to you by Bleeding Cool Editor-in-Chief Kaitlyn Booth via Mark Seifert.
You can check all the Marvel Phase 4 announcements at San Diego Comic-Con 2019's Hall H right here.