Ethan Meteor Hunter: Being A Rat Has Its Upside And Downside
By Etienne Dubuc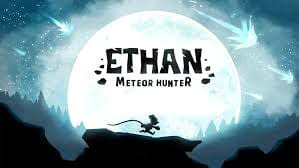 Gaming on the go is always a pleasure, so it's nice to see titles get a port on Vita, 3DS or even smartphones. Seaven, a French indie studio, just did that with its first title, Ethan Meteor Hunter. The PS3, PC game was released on Vita last week. This was my chance to finally get my hands on it.
The game takes Ethan, a rat, on a quest to gather meteorites fragments to take revenge on his neighbor who destroyed his house. The adventure takes the form of a platform game that includes puzzle solving as the main ingredient. To solve those puzzles you have to freeze time and move objects around the level. It's pretty basic stuff, but as a puzzle and platformer fan, this really got my attention.
One of the first things I noticed about the game was how much playing a rat didn't add anything to the game. A quick cinematic element introduces us to the story, not really giving the player any kind of relationship with Ethan. The actual reasoning behind that choice must come later, you say to yourself, but no. The game just gets going and you still wonder "Why a rat?" You could change that to a human, a tiger or an alien without changing anything about the game.
Some people will call that nitpicking because in the end the experience of the game is the same, but not being able to relate or actually understand why you are controlling the type of character you have been given takes away a part of the catharsis. The silhouette picture of Ethan running under falling stars really had me wanting to help the little rat to achieve his goal, but sadly that didn't last.
Enough with the complaining, because the actual game is indeed a good platformer that offers quite a bit of challenge without being frustrating. You will die multiple times in most of the 50 levels offered. Those deaths will be fair for the most part, but some will just have you swearing at your bad luck or at the controls that can be a bit too responsive at times.
Death is not too damaging since each level has a lot of checkpoints, and each time you pass an obstacle you get to one. Dying really just puts you back a few seconds, and you actually revive right away, with no waiting there. In a puzzle, you can, by pushing the « o » button, allow yourself start over at the last checkpoint, so if you think you screwed up, or that you find yourself with no freeze time available, don't think twice about it and just start over.
The difficulty level rises slowly as you advance in the game and as puzzles start to involve more and more pieces to move around. On the Vita version, the touchscreen and rear pad can be use to move the puzzle parts and rotate them. Since precision is a big part of this game, I always ended up using the joystick to play, even if it is too responsive to be precise on a first try. There's no logic there, but with the touchscreen, my finger and hand hid the screen so I never really put the block exactly where I wanted it. As for the rear pad, well as with most Vita games, it doesn't feel natural to use it when you already have a joystick under your thumb that does the same thing.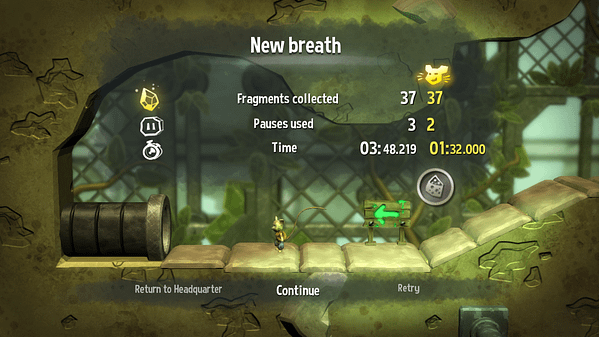 Beside the main quest, Ethan Meteor Hunter offers three challenges for every level. The first one being to gather every meteorites fragment on the level, the second one to complete the level using as little freeze time as possible, and the last one being a time attack challenge. This do give more life to the title as the main quest can be completed in just a few hours. It also makes you realize how making it through the level was one thing, but mastering it is a different thing.
Seaven creates a first game that platformer and puzzle fans should really check out. Players will get the challenge they ask for with gameplay mechanics that are easy and intuitive, although too responsive at times. The game just falls short of being a great one and ends up as merely a good one because of the lack of characterization for its main protagonist and some frustrating moments due to the controls.
[youtube]http://youtu.be/qvVburvZrVg[/youtube]
Etienne Dubuc is the host of a French radioshow called « Les geeks ont raison » and program director for CISM 89,3FM in Montreal. You can follow him @geeksontraison