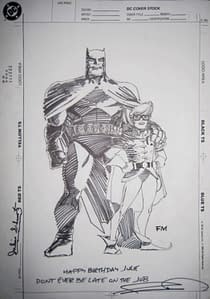 I've been watching vintage comic and comic art prices run up for the past 20 years, and it still feels pretty damn strange to live in a world where a single comic book can go for $1.5 million, and a post-1980 page of interior comic book art can go for $450,000. There are 10 splash pages in The Dark Knight Returns in total, do you own one of them? More interestingly, will we see it on the market soon? That's the half a million dollar question. And by the way, special congrats to the collector who bought the piece at right for $11,000 on ebay this past March. The artwork was done by Frank Miller for DC editor Julius Schwartz's 75th birthday. It wasn't part of DKR, nor is it a published piece at all, which makes a huge difference. But I bet the buyer has been feeling rather smug today.
When Hong Kong Takes On Iron Man
Sometimes at the Bleeding Cool Palatial Castle, we like to snuggle down of a Sunday morning and look at mash up full figure designs based on Iron Man from Hong Kongers photographed by Ray and go… blimey.
But whatever it is, it's coming from DC Comics.
Frank Miller Dark Knight Returns Original Art Splash Page Sells For Record $448,125
The iconic splash page of Batman and Robin from The Dark Knight Returns #3 , penciled by Frank Miller and inked by Klaus Janson, sold at Heritage Auctions just moments ago for a record $448,125.
Trailer For Colombiana, The Sequel To Leon, Aka The Professional, That We Never Got
See if you can pick up on the not so subtle echoes of Leon, or The Professional, that reverberate through this trailer for Colombiana. I wouldn't at all be surprised to hear it was a repurposed sequel concept, swapping New York for Bogota, Natalie Portman for Zoe Saldana.
Mystique Gets Her Own X-Men: First Class Trailer
The character trailer for X-Men: First Class' Mystique might seem to be mimicking one of yesterday's a little. It's only appropriate.
X-Men Character Trailers Bring Lots Of New Footage
X-Men: First Class members Banshee, Beast and Havok have each been given their own "character trailer", a little collection of illuminating, expository scenes.
Most-Clicked Pics Today:
Yes, a blank black rectangle was the second-most-clicked graphic on BC today. Remarkable. Enjoyed this article? Share it!