How To Survive The New York Red Carpet Premier Of X-Men: Days Of Future Past In Five Easy Steps Step One: Drink
I found out a week beforehand that I'd been invited to attend the Red Carpet Premier of the film in New York on Saturday, May 10th by the sponsoring company for the gala world tour, TCL. The evening, as I understood, would commence with drinking at the ripe hour of 3PM at the Campbell Apartment at Grand Central Station. When I arrived at the former 20's tycoon's office, once turned speakeasy, I was treated to an ornate interior complete with painted woodwork in a neogothic style. There I met several representatives from TCL (which stands for "The Creative Life"), a burgeoning technology company hailing from China who are rapidly branching out into media events on an international level. Several of their top staff were in attendance to make sure everything ran smoothly before they take this show on the road (next stop: London where they were on Monday night). I also was pleased to see Grace Randolph, a longtime staunch supporter of Bleeding Cool. We did commence the drinking portion of the evening, and had some lovely hors d'oevres as well, all the better for being safe from impending and sudden bouts of torrential rain. Favorite topics among guests seemed to be the merits or demerits of Spider-Man 2 and the place of X-Men: Days of Future Past in the history of X-Men films, and we did wax nostalgic about the first X-Men film, now released 14 years ago.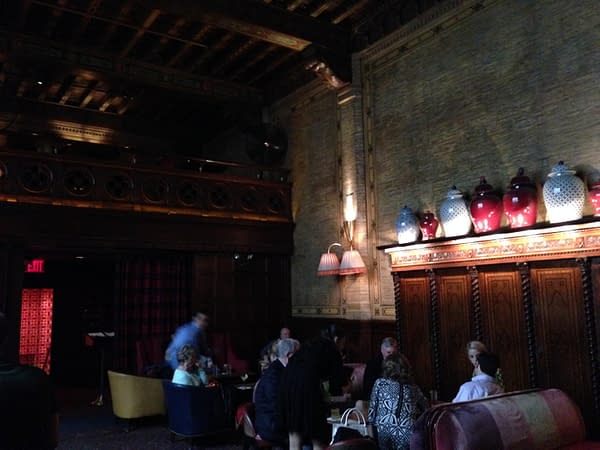 Step Two: Brace Yourself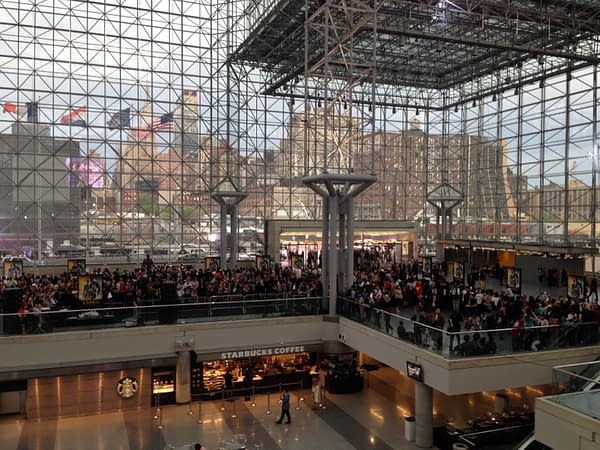 I had heard that fans had been waiting outside the Javits Center for some time hoping to see the stars of the film entering the event, but at drinks I was corrected that the fans had actually been waiting DAYS and that there was a particularly good reason for this on this occasion: that 500 fans were going to have a unique experience of the event, not only allowed into the Javits Center to see Hugh Jackman who had promised to turn up early and interact with fans, but also get "wristbands" to enter a special red carpet area and even to see an advanced screening of the film. Though I can't say I'd fare very well waiting for hours, much less days for an event, that was quite an incentive. So when I turned up at the Javits Center and so no-one waiting I was a little surprised. Then I heard the Godzilla-like roar seeping through the glass of the convention hall. They were already inside within a square of metal barriers with cameras zooming above them. And going inside myself, it was, of course, even louder.
Good Morning America was there encouraging the noise, though after the ordeal of waiting for this access, I'm surprised fans had much strength left in them. Will-call for tickets wasn't open yet, so I escaped the rising crescendo of chanting for some more food and drink. But not before glancing up and seeing a vault-like designed circular frame on the upper level leading to the red carpet area that definitely provoked some awe—the event was clearly being carefully designed to create a unique space for attendees.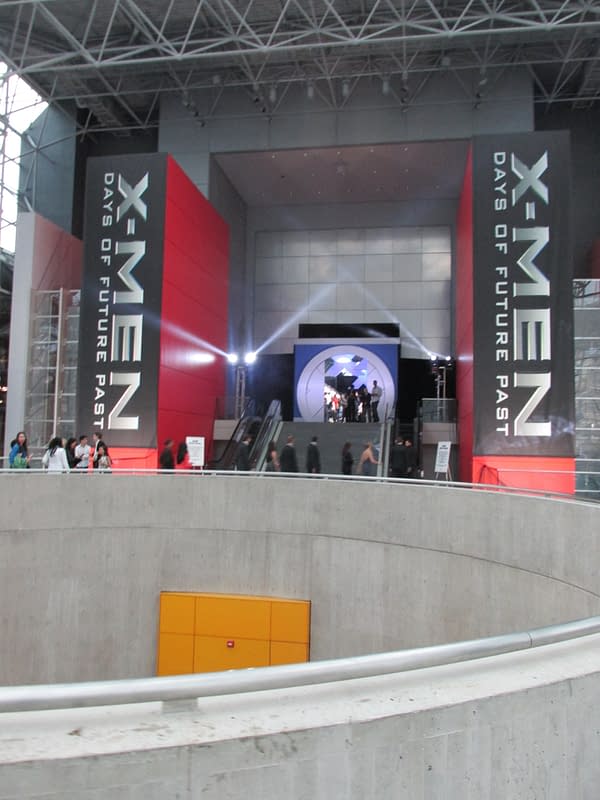 Step Three: Just Act Cool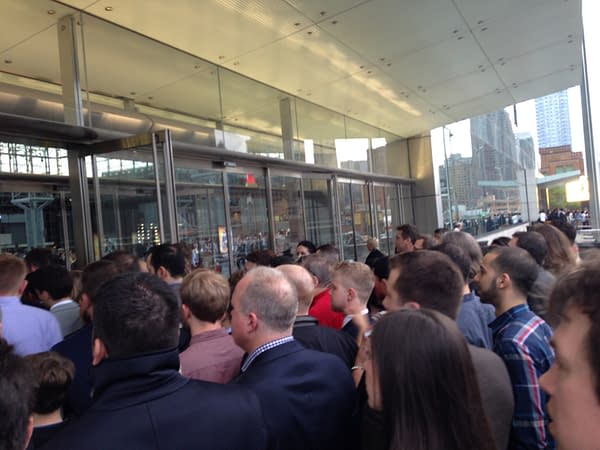 When I returned, a hold-up at Will-call had created what I must admit was an amusing spectacle, though I was a little piqued myself—a growing crowd of well-dressed people pushed up against the glass of the Javits Center trying not to get drizzled on. As shiny cars pulled up, the crowd grew still larger and more ancy, and finally people were let in a few at a time which led to some minor jostling. It took about 30 minutes to get everyone inside all told. Part of the jostling was the fact that the red carpet event was already well underway, and glimpsing live video footage on a large screen through the damp glass was probably only encouraging the impatience of the guests outside. Still, having gotten my lanyard pass, and fussing with it, James McAvoy hurried past me since, like a lot of the cast already inside, they were trying to make sure their waiting guests outside got admitted fairly quickly. I also found myself in good company as I went upstairs, about two steps behind Peter Dinklage. You can't be late for something if you arrive with Peter Dinklage. It was at this point that I literally told myself "Just act cool". He has that effect on people.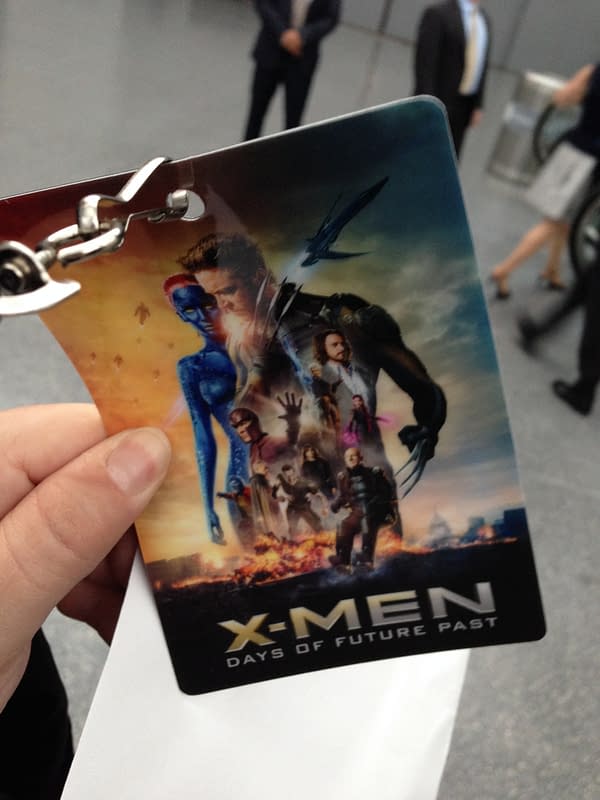 Step Four: Get in Character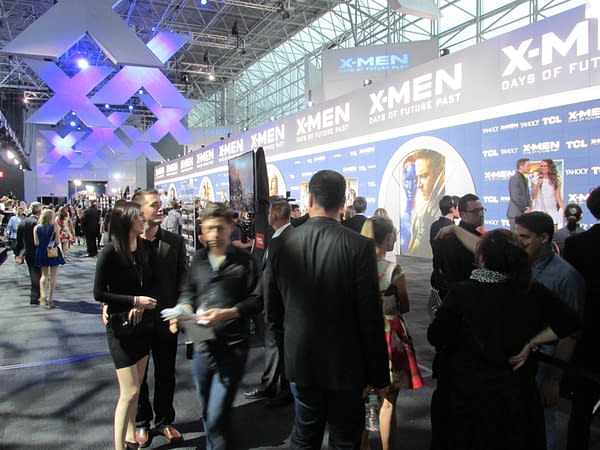 It was much harder to just act cool once I was hit with the full mesmerizing glare of the giant multi-layered glowing white X light fixtures turning the hallways of the double-sized red carpet (well blue carpet) room into a science-fiction extravaganza. Add to that the dozens of lights being used by film crews. The design of the room was very specific for a carefully orchestrated event, no doubt geared with great detail to present well in the live Yahoo streaming going on of the whole event. But it was also designed to provide a bleacher-like contained area for those 500 super-fans, many of whom dangled bright and black-sharpie signed posters for the film over the barrier.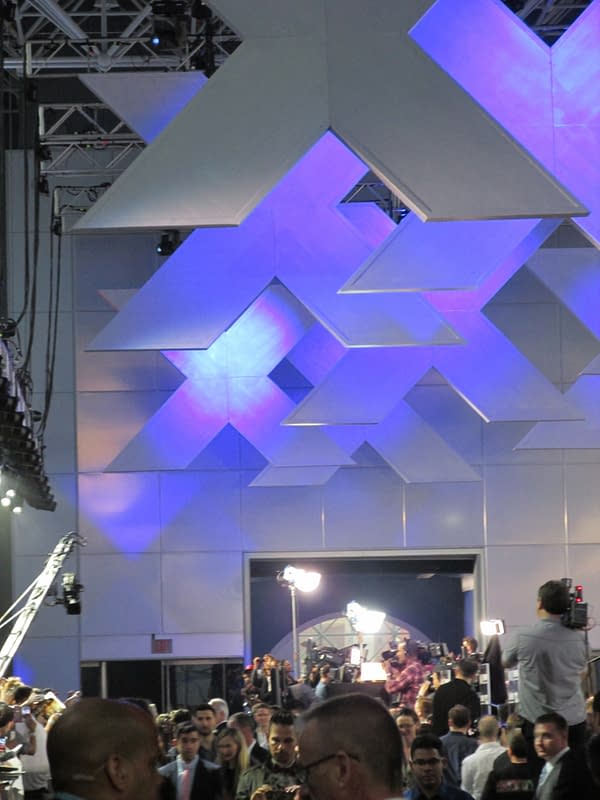 But if I had hoped to actually see what was going on over on the red carpet, no dice. The wall of camera crews forming a raised island down the middle of the room made that unlikely, though I caught a glimpse or two. It took me a few moments to realize that like Mystique, I had turned blue. Gigantic blue lights, I'm assuming from above, were bathing the various parts of the room not bathed in the cosmic sun of the filming lights, giving the overall white and blue effects, accented with silver, that the event was going for. And I remembered again what I had heard at drinks, that the design of the event was supposed to be fairly immersive, a set and stage all its own. Processing through the room to the theatre venue, those diehard fans, some looking a little exhausted but others on quite a high, were scanning the incoming arrivals, but plenty of cosplay meant they were part of the spectacle, too.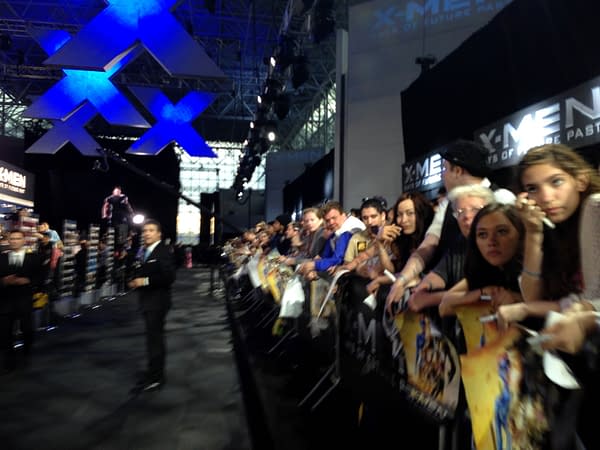 Step Five: Forget Everything But the Film The theater room, I had been told, had been constructed to accommodate the vast screen, and was flanked entirely on one side by glass with a view of the river, still visible in a stormy twilight. VIP seats of some kind were built up on risers at the back, and the rest of the rather large seating area was lined with chairs carefully slotted in for maximum capacity. It was flooded in blue light there, too, as guests took their places and unwrapped x-men stamped 3D glasses with several announcements to get people situated and away from the red carpet area so things could start. Jim Gianopulos, President of 20th Century Fox rounded up the cast onto the front stage, a cast in attendance at this World Premier "too large" for the stage itself, and that was pretty much true.
Though fans have become aware of the size and the scope of this film, the number of cast members is astonishing, bringing in many plot threads and therefore characters in this 14 year history. They were, of course, met with applause and there was a sense that the applause included not just this film, but the impact of the X-Men films on pop culture over time and especially those actors like Hugh Jackman and Patrick Stewart who have been part of it since the beginning. Then it was time to forget everything but the film. That's harder to do if you're not watching X-Men: Days of Future Past. But, assuming you are, this will be the easiest part of the experience. I promise to save my spoilers for another day, but due to the way this film knits together the many strands of X-Men film history and the way in which it challenges our own view of history, it's almost impossible not to be awed by it. And if that's not enough to do the trick, the visual effects that the filmmakers have brought into play in 2014, things they couldn't have done in 2000, since the technology didn't exist yet, will impress you more than the spectacle of any red carpet event. There were a couple of points in the film where the audience broke into applause for both the performance of the actors and the visual effects the film created.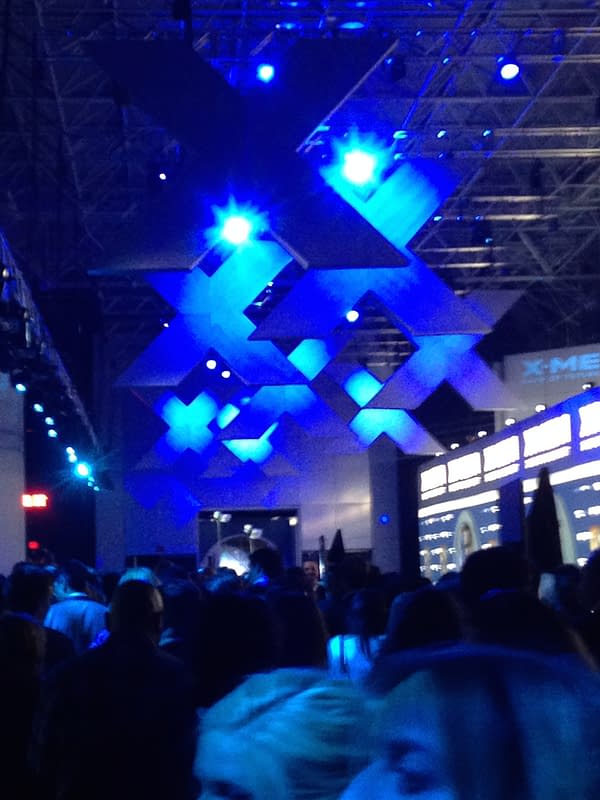 Maybe there should be a "Step Six: Reflection", but that'll go on for a very long time if you're a fan of superhero movies, replaying scenes in your mind to try to figure out just how the filmmakers did it, or appreciating the familiar as well as surprising role of favorite characters. As long as the day had been for many, if the film had been screened again immediately, it's likely plenty of people would have stayed quite happily to see it all over again.
Hannah Means-Shannon is EIC at Bleeding Cool and @hannahmenzies on Twitter