Ice Cream Man: W. Maxwell Prince's Image Comics Series Getting TV Adaptation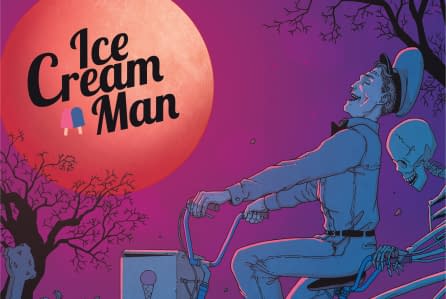 If Universal Cable Prods. (Happy!, The Umbrella Academy) has its way, you might be thinking twice before you go running after this ice cream truck. Less than a year after its initial release, W. Maxwell Prince's Image Comics series Ice Cream Man is being adapted as a television series, with Sneaky Pete writers Max Reid and Adam Reid adapting the the comic book property. The pair will also executive produce alongside Good Fear Films' Chris Bender, Jake Weiner, and Jake Wagner. Premium cable and streaming services are being targeted for pilot/series pick-up.
Originally published by Image Comics in January 2018, Prince's horror anthology series features our omnipresent narrator, the Ice Cream Man, as he weaves a dark tapestry of tales from his truck – peeling away the layers of the suburban American psyche with stories that end with a macabre twist in the tradition of classic genre franchises The Twilight Zone, Night Gallery, and Tales From the Crypt.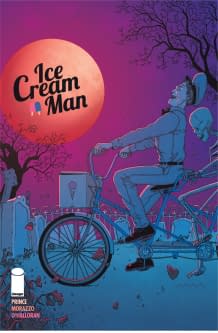 Here's an overview of the first issue of the Image Comics series:
Chocolate, vanilla, existential horror, drug addiction, musical fantasy…there's a flavor for everyone's misery.

ICE CREAM MAN is a genre-defying comic book series featuring disparate "one-shot" tales of sorrow, wonder, and redemption. Each installment features its own cast of strange characters, dealing with their own special sundae of suffering. And on the periphery of all of them, like the twinkly music of his colorful truck, is the Ice Cream Man—a weaver of stories, a purveyor of sweet treats. Friend. Foe. God. Demon. The man who, with a snap of his fingers—lickety split!—can change the course of your life forever.

Good Fear partners Bender and Weiner are currently in production on Disney's live-action Mulan feature, with Niki Caro directing and Yifei Liu, Jet Li, Gong Li, and Donnie Yen starring; and STX's My Spy, directed by Pete Segal and starring Dave Bautista. Future projects currently in development include Milk, Red Queen, Man Alive, and Sweet Tooth.