From James O'Barr, creator of The Crow, a new western comic, Sundown. Oh yes, and it wiggles about a bit.
[youtube]http://www.youtube.com/watch?v=2arweEJ6Q1c[/youtube]
It's the first comic from Motionworks Comics, you guessed it, a new publisher of motion comics, although they describe it as " an alternative to motion comics, offering users an immersive experience."
They are very vague on the details though, for Sundown, do mention a "translation mode". It's available on iPad so I may just check it out.
…
Okay I've just checked it out. It's a motion comic.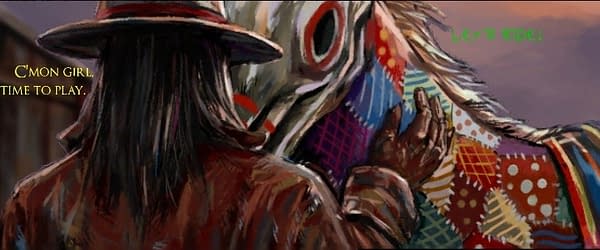 It's followed by "Octane, a post-apocalyptic thriller, The Ruppie Girls, an All-Ages adventure, The Katie Greaven Chronicles, a steampunk series and many others. Octane and The Ruppie Girls will debut in April."
They also promise for the future.
"Imagine the story interacting socially with the user. Imagine the user changing some of the outcome of the story."
Well, I could imagine that for Avengers Vs X-Men, couldn't you?
Enjoyed this article? Share it!