Live From The Comic Shop – Revenge, Superman: Lois Lane, The Wake, Wraith, Dead Boy Detectives
Well, boom! There are lots of new comics this week and quite a wide range too, from superhero comics to sci-fi, horror, and indie accents abounding. Maybe it's just me but the energy seems to be increasing as publishers head toward spring, and certainly there are a host of solicits out there clamoring for spring attention. I'm here at my local comic shop Conquest Comics in New Jersey giving my initial impression of some of this week's books. I've been looking forward to several of these titles to see where they are headed, including Revenge, The Wake, and Wraith, but I'm gingerly picking up Superman: Lois Lane to see if I take a shine to it. We'll see… First up, it's Revenge, written by Jonathan Ross, with art by Ian Churchill, with letters by Richard Starkings and Comicraft's Jimmy Betancourt and colors by Arif Prianto and Churchill, from Image Comics, with the warning "for mature readers". I'm liking the font choices on the cover, hearkening to the Elizabethan period and the revenge tragedy plays from which it draws inspiration. They weren't joking—this is an extremely adult comic, from graphic gore and violence to sexual themes. But you know what? This is actually not part of the extremes of genre comics in terms of its basis—this is right on the money for a revenge play in modern incarnation. Ever read John Webster's plays like The Duchess of Malfi? Dark as they come and this is what these guys are working with. Set in a modern comic, the imagery is even more stark, but it's a salient reminder that storytelling has always had its extreme elements, and there's a place for these kinds of stories in our public consciousness.
There's a cleverness in the cover that I only realize once I start reading—it depicts a gunman in a gasmask-like apparatus, and the comic kicks off with the bone-chilling removal of a man's face in situ so there's the "where's the face" element. Griffin Franks is an aging actor having an extreme procedure in a grinder-like underground surgery but there's a change up here in who anyone should trust and whose guilty of what as Franks flashes through his previous relationships, his failures, his mistreatment of women that are coming home to roost. Usually in revenge plays things are a little more clear-cut of a wronged individual who turns into a monster through their experiences and comes back as something of an avenging demon, but there's plenty of ambiguity in this first issue about who the monsters are. And that's very modern, and makes me very interested in where this story is headed. The artwork is rich and expressive in keeping with the excesses of the story but does beg the question: is Image trying to establish more of an adult line-up on par with Avatar Press? This would have made a very strong Avatar book by all accounts.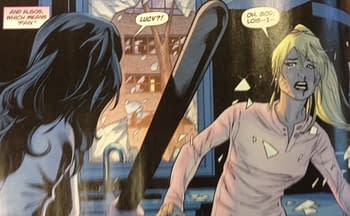 Now I will take Superman: Lois Lane from DC Comics for a spin and see what I find. As someone who doesn't read a lot of DC books, I'm taking a deep breath. We're promised "mayhem, monsters, and metropolis", and I can't help hearing my internal riff commentary thinking "It's a comic focusing on a female character so of course there are going to be monsters for her to run away from and get saved from". Maybe that's too cynical, and it's certainly not enough to stop me reading. After all, I can handle schlock and am an MST3K fan. I'm pleased to see that it's written by Marguerite Bennet, and at least two women on pencils, including Emanuela Luppacino and Meghan Hetrick, though it's quite a team book on the art (the list goes on).
Lois is no stranger to strange, interruptive trauma, and that's a bit of a trope for female characters, but also a staple of the superhero genre, so I won't consider that too much of a gender issue. Her memories of her mother, her military background, and her relationship to her sister are all compelling emotionally, but the pitch is turned up rather high on the emotive elements. Lois is cast in a protector role here, which is interesting to pursue and watch her psychology develop and her joking rough housing with Jimmy Olsen, threatening to punch him is realistically appealing as a fully developed female character. But oof, there is a tied up scene reminiscent of the early days of Wonder Woman that potentially threatens the stronger elements of the female lead storytelling, however, again, she's a character in danger likely to find herself in situations where she's threatened with physical domination. There are the promised monsters, but Lois is much more the resistant force in the comic than any superhero. If anything, and I'm surprised to say this about a DC book, it's a little too heavily psychological which may be overkill righting the boat on the way female characters function in mainstream comics. I'll give it a mixed review for that reason—hoping for a more balanced feel in future. This comic shouldn't be too much of a weepy chick-fest if it wants to make a strong statement—it has that potential, but let's make a comic where the character happens to be female and powerful rather than exclusively an avenger of female trauma.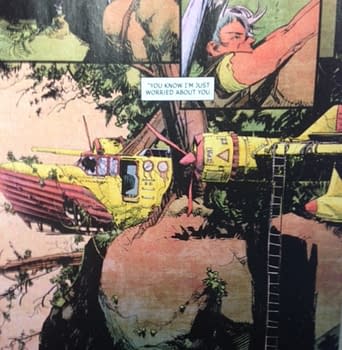 And it's a glorious day because The Wake from Vertigo has returned, and the cover promises a move to the "future" aspect of the storyline that took a turn in that direction in issue #5. Written by Scott Snyder and with stellar art from Sean Murphy, colors by Matt Hollingsworth and lettering by Jared K. Fletcher, it's a landmark in science-fiction with big scope, and the scope here is about to get bigger. Love the switch to the popping cover colors after the darker hues and offset font of the earlier issues—another visual signal that things are taking a promised jump off in this issue. Wow—and we have jumped 200 hundred years—only the mechanics of a well-crafted comic could handle that, but I don't have any doubts about this series making the transition. It opens with a spunky Lee pretending to be a woman in distress to make a rather explosive (ha) point, and that is exactly the kind of obvious contrast that leaps to mind between this book and Lois Lane reviewed above. Handling the female role with humor is a step in the right direction in my opinion in mainstream comics, but this is a genre comic, which always seems more open to bringing something essentially subversive—the female hero– to light.
This issue is all about light, brash conflict, and smart resistance, and it does feel like the comic has leveled up under its own steam to the point the creators have been itching to release all along. Murphy seems to take great glee in his post-apocalyptic detailed decay and mayhem, and Hollingsworth's colors seem to suddenly make even more sense as the story flips into a reversal of light on dark to dark on light, right at home with pastels. Also I'm noting that the color schemes "match" the flashbacks to thousands of years ago present in previous issues, maybe a thematic tie to the return to an age of struggle against the mermen and the hiatus of civilization. Lee is our guide to just what's happened and it's graceful exposition through maps and visuals of change to earth as the seas have risen and new modes of life develop to survive. Lee emerges as something of an action hero, to great effect, and new cast members are introduced, each with their own nuances. It's a brave new world, more troublesome for the characters, but tremendously exciting for the reader, and now, yes, I get it. All the hints Snyder has been making since NYCC last autumn. Damn, even then I wasn't prepared. Let's be clear: this comic just went from awesome to super awesome. Snyder, Murphy, and Hollingsworth are, if possible, even more proficient with handling this shift in their story than in the first half of the already masterful narrative. I predicted The Wake would be one of the great books of 2013-2014, but I now think my perspective was far too limited. Vertigo are lucky to have this book. Wraith is back from IDW, written by the great Joe Hill, and illustrated by the under-your-skin stylist CP Wilson, with colors always apt by Jay Fotos. It's another fully-constructed book like The Wake where attention to detail and a serious focus on quality deliver in spades for the reader. The cover alone is incredibly creepy, with devlish children sporting bloody fang-teeth approach a snow-laden ferris wheel and its riders with what appears to be ecstatic blood-lust. I like the little nod to madness in comics via one of the children appearing in a mad-hatter's style hat and Victorian bow tie. These are Mr. Manx's "pretties" and I must say that whatever preparation I had for gory mayhem on this book, this issue goes far beyond what I could have foreseen, making previous issues seem tame. As a prison guard and convicts turn up in Christmasland, the grotesque children are finally finding some viable prey and the book gives a whole new meaning to kids "playing doctor". Yikes. Whenever we're dealing with sinners among the demons, though, there's a certain turnabout fair play aspect as Manx's motivations for inflicting torture have some logic in a karmic way. Lines like "You're going to live a little longer. I think" are a good sample of the tone of the book, always toeing that line between life and death, justice and abuse, where the strange tides of retribution seem poised to crash on just about anyone.
But the developing idea waiting in the wings all along, that some of these demon kids are tired of their holiday in Christmasland, finally emerges and makes for an interesting counter-point to the plot. Of course my first thought is "What would the world be in for if these kids were roaming around loose?". Shudder. Joe Hill has taught me to look ahead at possibilities like that, making any future eventuality potentially horrifying. That's the nature of the questioning attitude this book induces. But we have our ambiguous protagonists, we have our ambiguous antagonists (which are which I'll leave for you to decide) and we have some clear goals, to get in, or out, of Christmasland. All the pieces are lining up for a big showdown and I have to admire the assembled clockwork of this series. Each issue also shows further how right Wilson and Fotos are for the artwork, with so much tone and atmosphere building in the colors and lines.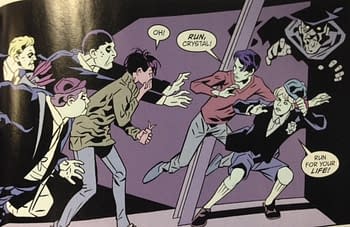 Lastly, I'll have a look at Dead Boy Detectives #3, which has been keeping me interested so far through its new female character Crystal struggling with identity after dealing with her self-obsessed performance-art parents her whole life and trying to decide whether real friendships are too emotionally risky. Written by Toby Litt and Mark Buckingham, with pencils by Buckingham, inks by Gary Erskine, colors by Lee Loughridge, and letters by Todd Klein, the artwork is still one of the big appeals of the series, conjuring that kind of stark angularity of 70's and 80's horror comics, and even a dash of the children's annual comics that leaned toward realism in those decades. The cover is exceptionally stark, with our detectives flanking a greenish, staring skeleton and peering at the reader. It's issue #3 so time for some more fully fleshed-out plot elements to break loose now that we know the characters and the school setting fairly well. Charles Rowland has discovered his own grave and is investigating his family ties and friction is finally breaking out over Crystal as a third wheel between the duo.
Things are indeed getting more intense for the students at St. Hilarion's at hell needs bodies to fill and things begin to really focus on Crystal as an agent of resistance, and her obliviousness to the developing tension is a classic and successful move to create a strong horror comic. The plot's a little complicated, but no so much that a reader can't keep up if they are paying attention, an aspect of the scope of the world the comic is set on developing even more widely than in its earlier incarnation since it's following storylines that pertain to different points in time and each character has their own overlapping pet mystery to pursue. It's a series that works well in single issue, but will probably come together in all its puzzle pieces a little more firmly once it appears in collection (and the hints at upcoming stories even appear as puzzle pieces at the end of the issue to reinforce this aspect of the series).
That's all from me today Live from the Comic Shop, though I'd also recommend looking at Furious #2 from Dark Horse, the triumphal arrival of Mind MGMT #19, also from Dark Horse, and Hacktivist #2 from Archaia, all of which I suspect are going to be gripping reads and I'll be having a closer look at them this week as a reader. Keep your fingers crossed for the arrival of spring—we're almost there (just keep telling yourself that and at some point it will have to be true). Happy reading!
Special thanks to Conquest Comics in New Jersey. You can find their Facebook page here. They are currently offering POP vinyl collectibles with their White Phoenix exclusive and their Metallic Harley Quinn exclusive in stock.
Hannah Means-Shannon is EIC at Bleeding Cool and @hannahmenzies on Twitter