Lone Star Heroes: Comics & Toys is an old school comic book newsstand and pop culture toy store known as 'the best little comic book shop in Texas.' Maybe not so little. With the largest and most diverse selection of new and vintage comic books of any brick and mortar comic bookstore in the state, they have over a million comic book back issues in their stores, hundreds of thousands of them processed, priced, alphabetized and ready for customers to browse. They also carry thousands of new and vintage toys in package, role-playing and tabletop games, cards, pop culture artwork, and oddities such as Day of the Dead skulls and faux shrunken heads – just about anything related to science fiction, horror, fantasy, superheroes and pop culture in general.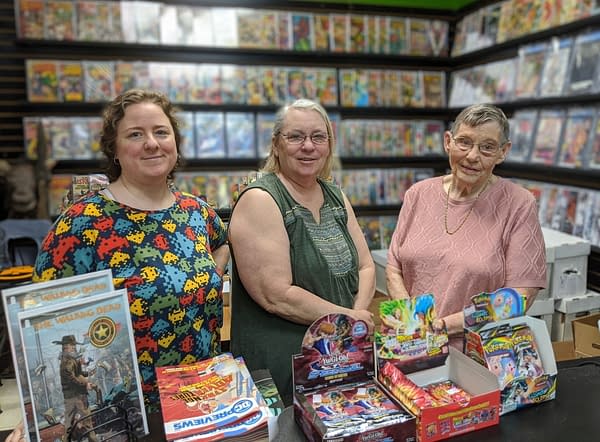 What makes Lone Star Heroes unique in this field on a national – possibly international level – is that, as a family run business, they are the only comic shop in the world owned and operated by three generations of women. Sarah Vollet, Jody Wood and Lois King are the daughter-mother-grandmother team that set up and own the small chain. Sarah and Jody are registered nurses and Lois is an 88-year-old retired public school secretary. Together they own both Lone Star Heroes: Comics & Toys locations and are in charge of administrative duties, record keeping, and many of the behind the scenes operations for the business. Sarah and Jody are typically in charge of processing vintage toys and games.
But there are men they get involved as well. Sarah Vollet's brother, Tad Wood manages the stores, the buyer and in charge of procuring and processing all comic books, and also processes toys, and other pop culture collectibles at times. Working on PR, he is often responsible for answering customer questions and in charge of advertising and online presence including social media.
Sarah's father Paul Wood, retired electrical lineman, and her grandfather James King, 92-year-old retired electrical engineer, are both in charge of building and logistics and are responsible for electrical wiring, production of store fixtures and transporting fixtures, equipment and product, as well as daily store operation and managerial duties.
Life-long family friend, Bryan Wright, assists in daily managerial duties and acts as the roadie for Lone Star Heroes when they travel to pop culture shows and during their annual Galveston Mardi Gras parade entry. Yep, they do Mardi Gras as a store. When he has time to spare, Bryan is a nuclear technician who travels across the world performing maintenance in various nuclear power plants. Which, you know must also come in handy.
Another friend and associate, Richard Maloy, operates their Galveston location a couple of days a week and he is in charge of processing new comics at that location.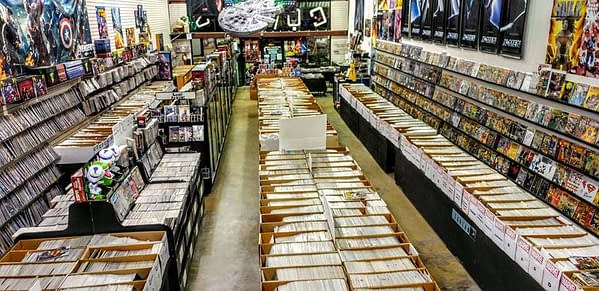 Sarah, Tad, and their littlest sister Storm are avid science fiction and fantasy enthusiasts who have been collecting comics, toys and other pop culture items for as long as we can remember. Sarah's absolute favorites include Star Wars, Labyrinth, Dark Crystal, Doctor Who and anything Jim Henson or Disney. As a family, they have always been quite fond of science fiction, fantasy and pop culture. Sarah and Tad's father Paul was an avid collector of movie monster memorabilia in the 1950s and 1960s, including trading cards, stickers, and especially the Aurora monster models. His stories of his childhood fascinated Tad and Sarah when they were kids and helped spark their interest in monsters and fantasy movies and collectibles. Star Wars, J.R.R. Tolkien, superheroes, and monsters were regular staples of daily life in our home. As a kid, Tad probably had the largest Star Wars toy and comic book collection of any kid. Sarah and Tad would routinely watch old black and white sci-fi and monster movies when they spent the night at Lois and Jim's house. When new Star Wars films come out it is always the annual family event of the season. As a family, they have seen every single Star Wars film, on its original theatrical run, since 1977.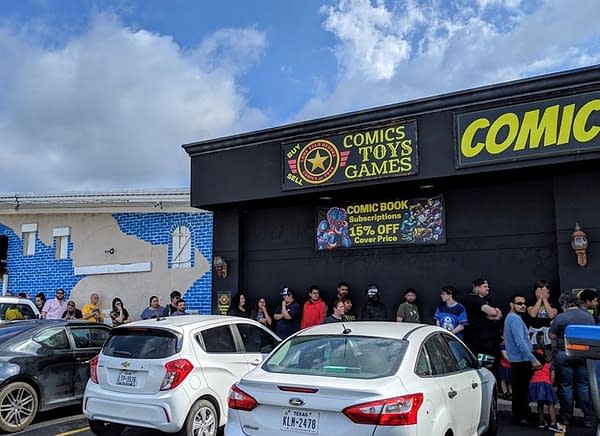 Jim tells stories of buying comic books in the 1930s and 40s when they only cost 10 cents. Sarah and Tad have been reading comic books since the late 1970s and Tad began buying and selling them as a hobby in the very early 1990s, before the internet. In 2015, Tad planned on liquidating his comic book collection to fund a move to Cambodia where he planned to teach English and use his location as a jump off point for adventures in the region. But instead they started selling books and using the money to buy more comic collections until they had several spare bedrooms and storage units piled to the ceiling with boxes of comic books.
In March of 2016 they opened their very first brick and mortar retail business, Lone Star Heroes: Comics & Toys, directly on the beach at 8910 Seawall Blvd on sunny Galveston Island, Texas. In November of 2018 they opened their second larger and more polished NASA location at 4106 E NASA Pkwy in El Lago, Texas, just a short distance from the entrance of NASA's Johnson Space Center.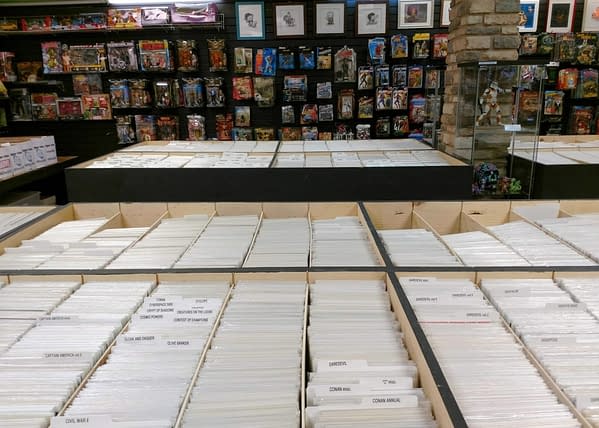 They are, from all accounts, a handful of rookies with absolutely no business experience. They built their business wholly and uniquely from the ground up without mentors or models, requiring a lot of blood, sweat, tears and the financial input of the entire family, quite a struggle as the costs of opening and running a business like this from scratch are on the large side. Even finding suitable locations were a struggle – rent is very high in Galveston and they needed to find a visible location that was not prone to flooding during hurricane season. As a result, the stresses and struggle have rather worn on them. They are not the stereotype of the little corner comic and game store that orders mostly new products from a catalogue and then sits behind the counter watching movies and eating chips. They have a massive selection of vintage comic book back issues, hunted and bought from private individuals, and they travel all over the country to do this, often renting full size U-Haul trucks to haul the loads, then processing hundreds of thousands of comic books, bagging, boarding, grading, pricing, alphabetizing, filing, displaying each one. In 2019, that meant travelling all over the United States examining comic collections, including Chicago, Detroit, Denver, Memphis, New Orleans and Austin.
It seems that old school comic shops with massive selections of vintage comic books are going extinct and being replaced with pop culture toy and game stores with predominantly new products and very small selection of vintage comic books. Lone Star Heroes flies in the face of this trend and many of their customers are susprised that they have only been around a couple of years when they see the inside of their stores. One of their claims to fame is that they are the first and only shop to package complete sets of comic books together as a unit using the best copies on hand, bagging and boarding each book, plastic wrapping the set together, including key issues, and labeling the bundle with title, issue numbers included, first appearances and special events and price of the brick. They select runs starting with number 1, missing no intervening issues, – whether that be the first four issues of the first 250 issues. Then they plastic wrap these books together and label them with all issue information and special events like first appearances that happen in each run. These sets are popular as a the collector can get the entire run at once, with all the information they need, in one brick. This would normally require someone travelling to shops all over the region and even then they would still often have to go to the internet to have a few of the missing issues they couldn't find shipped to them. They believe they have just about every single complete comic run from the 1980s and 1990s in stock at most times and even many complete runs from the 1960s and 1970s. And they challenge any store in the world to match them on that.
Their Galveston island store is located on the beach, and you can actually see the Gulf of Mexico from their shop window at 89th and Seawall and our second location at 4106 E NASA Pkwy is also on the waterfront, right across from the marina – and there is even a kayak rental business in their parking lot. About two miles from NASA and a short distance from the Kemah boardwalk, they do get some…very interesting walk-in-trade as a result.
They offer advance subscriptions for new comics at up to 15% off cover price, bag and board all of new comics for free and that subscriber discount also applies to all comics in both of our stores including high-value key comics and collector supplies such as bags, boards, boxes, etc. They challenge any store to match that as well…
Lone Star Heroes is a wholly family-owned and operated business and count their customers as their friends, and pride themselves on warmly welcoming everyone through their doors. Tad Wood tells me,
"This is in sharp contrast to chain stores filled with employees just doing their jobs. We take everything we do personally, and we pour every ounce of our love and hard work into our business and our customer service. I am most proud that this business was literally built wholly and uniquely from scratch by our family. It has at times been a challenging road, but we have risen to the challenge and overcome numerous obstacles to become one of the coolest and most unique shops of our kind. And we are still in our infancy as a business. This business has brought us closer together as a family and it is the single life accomplishment, I am most proud of, even more than our college degrees. Our customers frequently tell us that our stores overwhelm them and that they are impressed by our store's organization. What makes me most proud is that this thing we have done, this business that has made so many people smile, was created by the joint effort of my entire family working together like a machine towards a common goal. It is all uniquely ours and it is so special to us. And we love that the community loves it."
While Sarah Vollet says,
"We opened this business because we wanted to tap into local tourism on Galveston Island and we wanted to do something that we have a passion for. We all have a lifelong love of sci-fi and pop culture and so we decided to open a comic and toy store on the Seawall in March of 2016. Our business has done so well that we quickly opened a second, larger location in November of 2018 near NASA's Johnson Space Center. Running this business with our entire family has been an incredible experience. The comic and toy business is heavily dominated by men and so we are super proud that we are owned and operated by three generations of women. As a woman, it has been awesome and exciting to do so well in a traditionally male-dominated retail niche. We wanted to open an old-school comic and toy shop and we pushed forward and did what we wanted. Our family has never worried about fitting into a cookie-cutter mold. Having three generations of women involved in this endeavour has been empowering and exciting. I want to be an example for my little sister (nearly 16 years old) who is watching me. I want her to know that she can forge her own path in this world and that men and women can do the same things equally well. The whole family together has made this possible. Sometimes it's difficult to work so closely and blend the ideas of three generations. It has been great working with my grandmother and mother and spending this time building a business together."
If you get to visit either store, do let Bleeding Cool know about your experience. It does sound like rather a special place. And if you want to share the journey of your own comic book store with Bleeding Cool, please, do get in touch.
Enjoyed this article? Share it!