Pop Culture Hounding Rick Remender
By Chris Thompson

[audio:http://popculturehound.net/podcast/PCHPodcastEpisode83.mp3]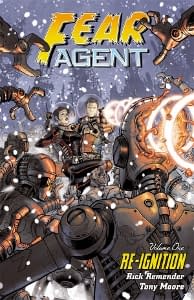 Following on from this week's chat with Simon Roy (which you can still listen to here) – this time around I catch up with creator Rick Remender (Captain America, Black Science, Deadly Class) to talk about the re-release of his classic series Fear Agent from Dark Horse Comics!
We discuss how he started out, what it's like working with other artists on his different books, how he juggles so many competing projects, and what's coming up next for both him and Heath Huston (the eponymous Fear Agent). It's a glimpse into one of the busiest creators working today!
To get in touch, send feedback or submit projects for consideration, please email reviews@popculturehound.com. And if you missed last week's episode (or any others) you can find them right here or subscribe via iTunes. You can also support the Pop Culture Hound podcast by clicking here to make a donation. Your contributions are greatly appreciated and will help us maintain the site, get new equipment, and encourage us to keep going on those cold lonely nights.
Chris Thompson Twitter: @popculturehound
Orbital Comics' website: www.orbitalcomics.com
Rick Remender's Twitter: @Remender
Rick Remender's website: rickremender.com