Preacher: 2 Seasons, 8 "What the ?!?!?" Moments [The Road to Angelville: Bleeding Cool's 'Preacher' Week]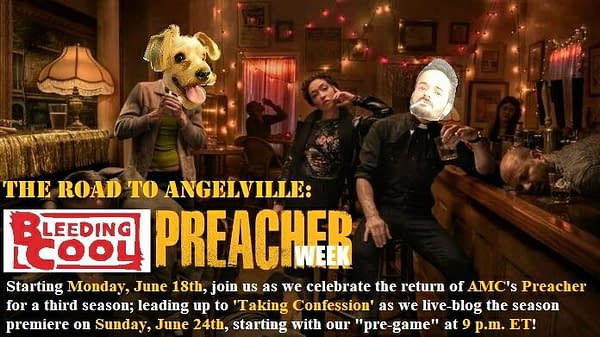 With Jesse (Dominic Cooper), Cassidy (Joseph Gilgun) and Tulip's (Ruth Negga) mission to drag a still-missing God back to Heaven being sidetracked by the small matter of Tulip being dead, AMC's adaptation of Garth Ennis and Steve Dillon's comic book series Preacher rages along "The Road to Angelville" heading into its third season premiere on Sunday, June 24, at 10 p.m. ET.
In its honor, The Road to Angelville: Bleeding Cool's Preacher Week is giving faithful fans interviews with executive producers Seth Rogen and Evan Goldberg; showrunner/executive producer Sam Catlin (Breaking Bad); actor Colin Cunningham (TC); actress Betty Buckley (Gran'ma Marie L'Angell); and Gilgun. We're also looking back at the seasons 1 & 2 for clues to what's ahead; reflecting on our "cosplay year" as Jesse Custer at New York Comic Con (NYCC); and throwing out some surprises that hopefully make the wait for Sunday a little more bearable.
All of this leads to the return of Taking Confession, Bleeding Cool's Preacher live-blog, on Sunday, June 24, starting at 10 p.m. ET; with some sweet "pre-game" stuff happening as our live-blog site goes live at 9 p.m. ET (at Bleeding Cool's website). Join us as we share our thoughts on 'Angelville' in real time – and stay tuned because there might just be a live post-show happening…???
Let me just start off by saying that it wasn't hard finding eight moments from Preacher that had us kicking our jaws around, glaring at the screen as we decide if what we just saw actually was what we just saw – and it always was. Now if you've read the Ennis/Dillon series, none of these should be that big of a surprise to you – but there's something about seeing comic book moments that you once thought unfilmable actually come to life that fills our hearts' cockles with a sense of pride and shock.
These aren't in order and definitely not a "be-all/end-all": whatever you think I missed, I'm pretty sure could've easily made my list. So enough with the ramblings…let's get to the funky stuff!

● In order to save Jesse's life, Cassidy takes on DeBlanc (Anatol Yusef) and Fiore (Tom Brooke) in a bloody, church-set chainsaw fight – and one of the earliest signs that the AMC series wasn't going to pull its punches. Besides, they're angels and a vampire so it doesn't really count…right?
● It's one thing to find out there's no god – now imagine you found out that there is a god, but he's gone AWOL and taken a walkabout. With his parish facing nothing more than a glorified mall Santa, Jesse sets off on a mission to get some answers – and Tulip some fries:
● With Jesse, Tulip and Cassidy hitting the road and the realization that god is MIA, the citizens of Annville are left to their devices. Are they paying for their sins – or was that meant as a warning to Jesse?
● "Who's a good god? Who's a good god?!?! You are! Yes you are! Yes…you…are!"
● While it shouldn't be a surprise that Arseface would run into Hitler in Hell…it's Hitler, people:
● Everything you will ever need to know about Herr Starr is in this scene, including one of the more "out-of-the-box" ways of getting out of chokehold – and how the fight's not over until your enemy can no longer eat solid food let alone get up:
● Gonna' have to agree with Starr on this one: trying to keep a bloodline "pure" can result in some…issues:
● Jesse and Cassidy. Two men who's building tension finally explodes, raging as Tulip lays dying on the floor – and then a choice is made:

Not like you need another shot of adrenaline to get jacked for Sunday's Season 3 premiere of AMC's Preacher, but just to be on the safe side… here's a look at the official trailer, teasers, sneak previews, and behind-the-scenes videos to help blaze your trail to Angelville:
PREACHER is a dramatic thrill ride that follows West Texas preacher Jesse Custer (Dominic Cooper), his badass girlfriend Tulip (Academy Award nominee Ruth Negga) and an Irish vampire named Cassidy (Joseph Gilgun) as they embark on a road trip to find God and are thrust into a twisted battle spanning Heaven, Hell and everywhere in between.

The 10-episode third season follows Jesse's quest for God which takes him back to the place he's been avoiding his whole life: home. Jesse, Tulip and Cassidy return to Angelville, the Louisiana Plantation where Jesse was raised, and find old grudges and deadly obligations await them. With the help of his friends — and a few enemies — Jesse will need to escape his past…because the future of the world depends on it.
Ian Colletti, Graham McTavish, Pip Torrens, Julie Ann Emery, and Malcolm Barrett also return for the third season; joined by new series regulars Betty Buckley (Supergirl, Split); Colin Cunningham (Blood Drive, Falling Skies); Jeremy Childs (The Last Castle, Nashville); Liz McGeever (Star, Nashville); Jonny Coyne (Turn, Alcatraz); Adam Croasdell (Reign); and Prema Cruz (Mozart in the Jungle).
Image Credit: AMC