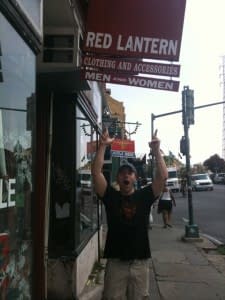 As well as finding this particular store in New Orleans, Geoff Johns tweeted on the 7th
GREEN LANTERN IS WRAPPED!!!! Finished the last shot today!!! Celebrating in New Orleans. :)
But he may have been a little premature – or possibly putting out a diversion. According to people on the ground in New Orleans, there were still many people hard at work there today. Specifically a big shoot with all 800 extras on-site, dubbed the "big finale", as they'd been filming what has been dubbed "Green Lantern vs. Sinestro's Yellow Tentacle" scene, for the last twelve days. And now they've officially just wrapped.
Apparently that yellow tentacle just can't learn his cues. Amateurs…
Enjoyed this article? Share it!