Wednesday, June 11th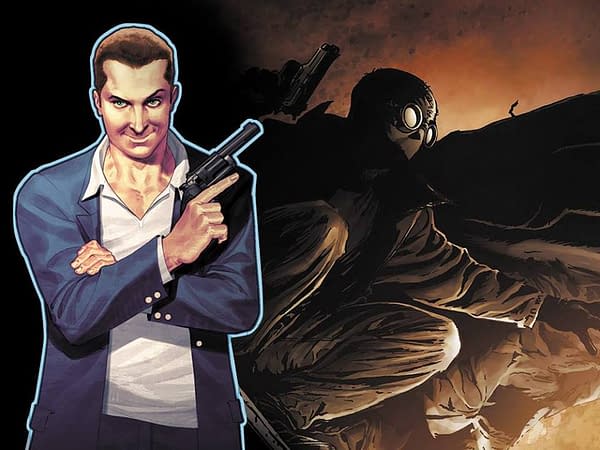 Escape Pod Comics at 302 Main Street in Huntington, Long Island, will host an in-store signing for Fabrice Sapolsky from 6 to 9PM. They say: "The creator of Spider-Man Noir will be in the store, signing copies of his new Image book, One Hit Wonder! He will also have special edition ash-cans of the comic that were made exclusively for Reed Pop's Special Edition: NYC that we'll be getting BEFORE that show!"
Wednesday, June 11th
Drink and Draw NYC will meet from 6:30 to 10PM at Mary O's at 32 Avenue A in New York. There is a suggested donation of $10.00 for the model. They say: "Warm weather is finally here. Summer's around the corner. You're hot. A nice, cool alcoholic beverage would be great right about now…. Let us help you with that. And while you're drinking that, our model Cecily Nicole Gaither will provide inspiration for you to create something great. Great drinks, great model, great art. Sounds like a good night to me".

Thursday, June 12th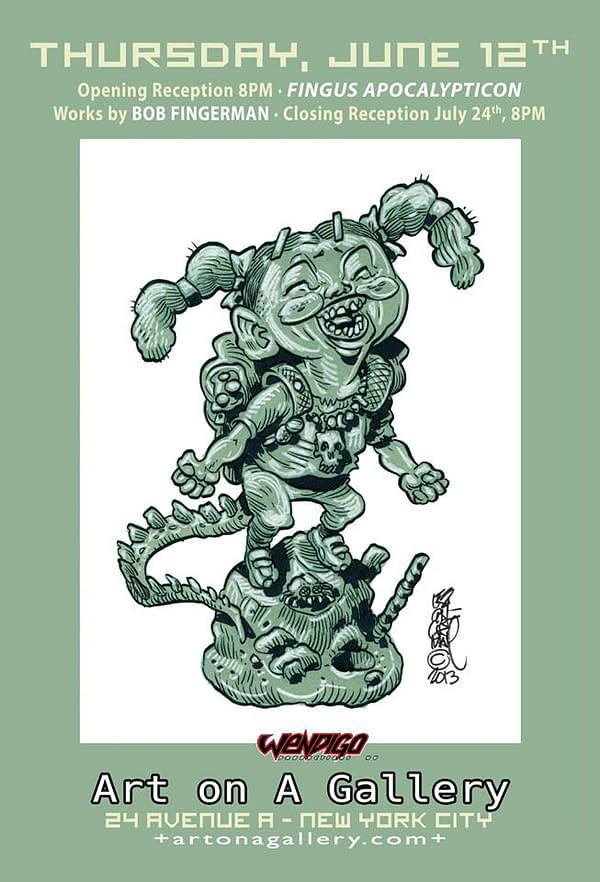 The Fingus Apocalypticon Gallery/Show Opening featuring the work of Minimum Wage's Bob Fingerman will be held at 8PM at the Art on A Gallery in Downtown New York. Bob Fingerman says: "I'm happy to announce my first commercial gallery show is happening in June. FINGUS APOCALYPTICON, a collection of irradiated art, will be on show (and all for sale) at Art on A Gallery in downtown New York City. Featuring art from my web series of the same name and from my post-apocalyptic graphic novel From the Ashes, come on down and visit my merry mutants in the (sometimes scaly) flesh. Opening reception on Thursday, June 12th, at 8PM. Join the artist to chat, look at art, eat some cheese and drink some wine and beer. Show up from June 12th through July 24th (there will be a closing reception that night, too)". Art on A Gallery is located at 24 Avenue A in New York City.

Thursday, June 12th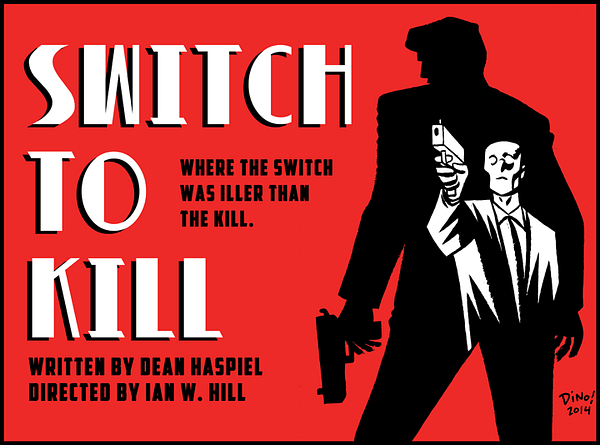 Switch to Kill, a play written by Dean Haspiel (The Fox, Cuba: My Revolution), and directed by Ian W. Hill will debut at The Brick Theater at 579 Metropolitan Avenue in Brooklyn, New York, at 9PM as part of the Comic Book Theater Festival running throughout the month of June. Ticket price is $18.00. Switch to Kill is described thus:
"In a world where no one knows anyone's true identity, professional hit men, Dallas Twilite and Buck Dangerzone, engage in a psychological duel that triggers cold–blooded acts of murder. Haunted by his younger brother's death years ago, a twist of events makes Dallas realize that he has never witnessed his partner, Buck, kill a man while Buck, who insists that he's been responsible for every kill won't admit how. Their disagreement breaks a trust that has bonded them since day one.
All hell breaks loose when Frank the Shank sparks a distribution war, geriatric assassins Jimmy the Face and Massacre Mel deliver the wrong head to gang lord rival Bohannon, and gun salesman, Stan the Man, sells the right bullets to the wrong men. Through a series of harried gun play and emotional tests, a trust is reinstated and ghosts are lifted from the psyche of grief-stricken killers".
Friday, June 13th

Bergen Street Comics at 470 Bergen Street in Brooklyn, will host a book release signing with Corinne Mucha for her new graphic novel Get Over It! at 8PM.
They say: "We'll be celebrating Corinne Mucha's return to adult comics (we thought we'd lost her to YA!) by laughing like hyenas at Get Over It!, her all new autobiographical comic about getting dumped like a sack of hammers. That's right! She's sifted through her own broken heart and made lemonade out of the whole thing, and that's the kind of crazy we'll always get behind. As it's a Secret Acres party, you can rest assured that the evening will be fun for most, embarrassing for some, and doused in the throes of romance for one lucky couple. (Every single Secret Acres party we've ever had has resulted in at least one loving relationship, even if said relationship was relatively short termed. Numbers don't lie!) What else are you gonna do on Friday the 13th? Stay home and pretend you like those Jason movies? GET REAL!"
Friday, June 13th
Carmine Street Comics at 34 Carmine Street in New York will be hosting a signing by Justin Peterson for the release of Very Near Mint Vol. 3 from 5Pm to 8PM. They say: "Seven years of self-publishing and two previous kickstarted collections led Peterson to a VERY successful Kickstarter campaign to produce the new graphic novel which has led him to our door. And we are very proud to receive him. This is a comic about two young male friends who open a comics store despite major box-chain-style competition and serious shipping problems? It'll be like a homecoming. Learn more about Justin and "Very Near Mint" here."
Saturday, June 14th
Masterpiece Comics Theater will be staged at The Brick Theater at 579 Metropolitan Avenue in Brooklyn, New York, at 8:15 PM as part of the Comic Book Theater Festival running throughout the month of June. Ticket price is $18.00.
"Masterpiece Comics Theater – Where Classics and Cartoons Collide!" is an hour long multimedia show adapts R. Sikoryak's graphic novel Masterpiece Comics and its sequel and features re-tellings of classic literature in the styles of popular American comics. Inspired by epic poetry, Gothic romance, and Elizabethan tragedy, as well as superhero stories, cat cartoons, and gum wrappers, Masterpiece Comics Theater uses projections, a rotating cast of voice actors, and live sound effects in the manner of Sikoryak's long running Carousel comics performance series.
Saturday, June 14th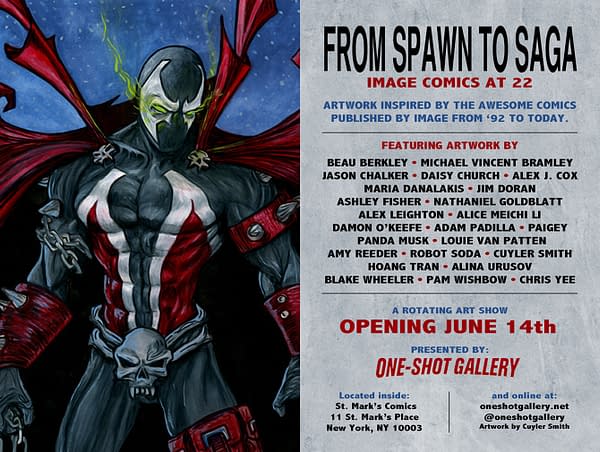 An art exhibit entitled "From Spawn to Saga: Image Comics at 22" opens at the One Shot Gallery located inside St. Marks Comics at 11 St. Mark's Place in New York.
They say: " In 1992, several high-profile artists that were frustrated with working for DC and Marvel struck out on their own to form Image Comics. These artists joined with other unique talents to give the creator-owned movement a shot in the arm by putting out books like Spawn, WildC.A.T.s and The Maxx which would become synonymous with comics in the '90's. Since then, Image has become the place for creator-owned projects, including critically-acclaimed series like The Walking Dead, Saga and Rocket Girl. This exhibit celebrates the awesome books published by Image Comics from '92 to today".
Saturday, June 14th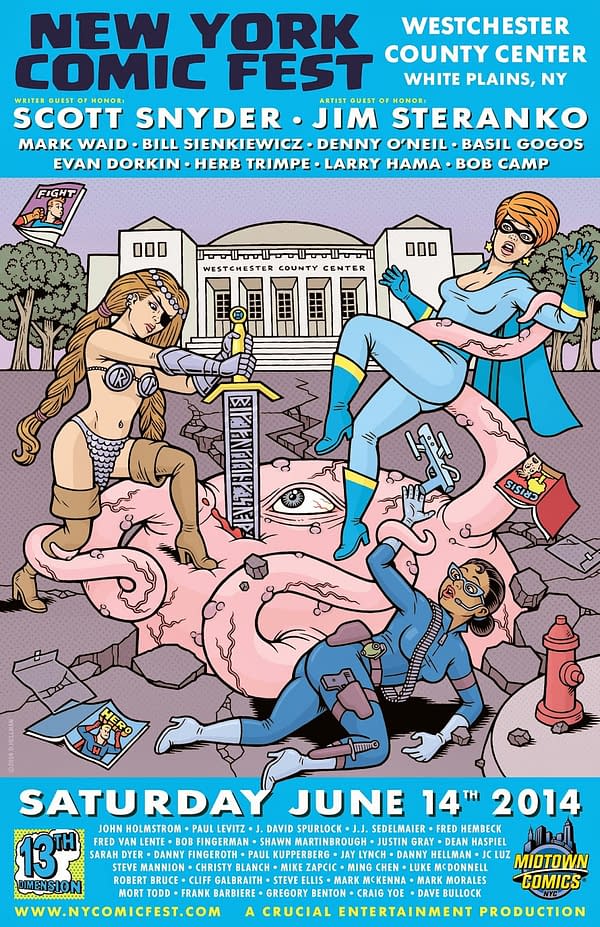 The New York Comics Fest, a one day comic convention, will be held at West Chester County Center at 198 Central Avenue in White Plains, New York from 10 to 6PM, brought to us by the same organizers as the Asbury Park Comic Con. Ticket are $25.00 plus service fees. Guests include Larry Hama, Ann Nocenti, Denny O'Neil, Fred Van Lente, Mark Waid, Scott Snyder, Dean Haspiel, Christa Cassano, and many more. The Fest will include panel programming with comics pros, vendors, cosplay, and a cosplay contenst. For full details, check out their website here.
Saturday, June 14th and Sunday June 15th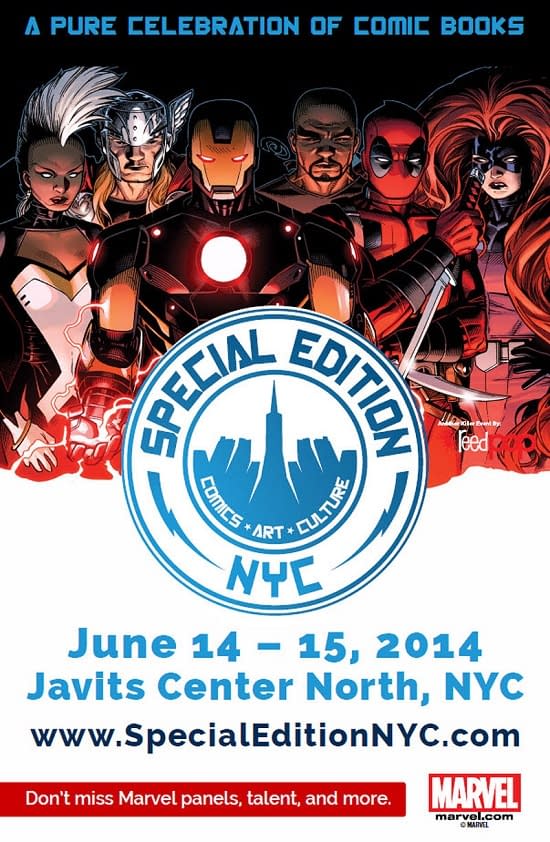 Reed POP, the company behind New York Comic Con, presents the first Special Edition: NYC show, a 2-day comic con featuring comics rather than the large mixture of media at NYCC, also held at the Javits Center in New York City. The event will feature a wide range of creators, vendors, and limited panel events. Spotlight creators include: Chris Claremont, Francesco Francavilla, Gail Simone, Howard Chaykin and more. Ticket prices onsite are $35.00 per adult per day. Hours on Saturday are from 10AM-7PM and on Sunday from 10AM to 5PM.
Saturday June 14th and Sunday June 15th
Eternal Con will be held at the Cradle of Aviation Museum in Garden City, Long Island, from 10AM-7PM on Saturday and 10AM-5PM on Sunday. Tickets are $20.00 per day or $35.00 for a weekend pass. Eternal Con features an art show, portfolio review, cosplay contest, car show, and more. Guests include Amanda Conner, Jimmy Palmiotti, Frank Barbiere, Bernard Chang, Stuart Moore, Tim Yates, and a rather full line-up in Artists Alley. Panels range from breaking into comics topics to anime workshops and collecting topics. Find out more about Eternal Con here.
Enjoyed this article? Share it!