Things To Do Out West And On The West Coast This Month If You Like Comics
By Michele Brittany, a West Coast Correspondent For Bleeding Cool
I'm always on the lookout for events to attend – comics, horror, celebrity, anime, etc. – and I'm figuring that I'm not alone. While my immediate focus is Southern California, I did also check elsewhere in California, Arizona, Nevada, Oregon, and Washington. I can personally vouch for Monsterpalooza and Emerald City Comicon, both of which I have attended in the past and should not be missed.
Check out the list below for some of the upcoming events out West and along the West Coast:
Arizona
Wild Wild West Con 2014, Tucson, March 7 – 9. Old Tucson plays host to this western-style steampunk theme park that includes music, panels, rides, and games. One-day and multi-day passes available. Concert tickets sold separately from convention entrance. Event includes a "Kid's Zone."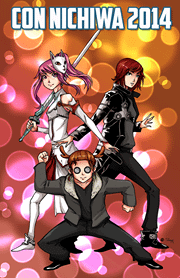 Con-nichiwa, Tucson, March 21 – 23. Organized by Monkey Paw Entertainment, this three-day anime con offers the anime and manga enthusiast workshops, shopping, evening raves, cafes, and a masquerade. There are several event passes available for purchase and children 12 and under are free with a paid adult. The con is being held at the Tucson Convention Center.
California
Wizard World Sacramento Comic Con 2014, Sacramento, March 7 – 9. "Hail to the king, baby!" Bruce Campbell joins William Shatner, Michael Rooker, and Billy Dee Williams. Comic book artist and creators include Neal Adams, Chris Claremont, Michael Golden, Stan Lee, Paolo Rivera, and Arthur Suydam, plus many more. One-day tickets are still available and prices vary, depending on day attending.
San Fernando Valley Comic Book Convention, Granada Hills, March 16. Special guests include Mel Novak, Donald F. Glut, Joe Rubinstein, Steve Gordon, and cast members from Chastity Bites, The Perfect House and Dead Sea. Admission: $5; children 12 and under are free. Hours: 10 AM – 4 PM.
Los Angeles Comic Book and Science Fiction Convention, Los Angeles, March 16. Held at the Shrine Auditorium Expo Center, this one-day show features the following guests: Jaimie Alexander, J. August Richards, John Kricfalusi, Lisa Loring, Ruben Procopio, Olivia Hack, and Roger Craig Smith. Show hours are 10 AM – 5 PM, $10 admission.
ConDor 2014, San Diego, March 21 – 23. Billed as San Diego longest running Science Fiction and Fantasy Convention, this year's theme is "Men In Black – Aliens, Conspiracies & Feds, Oh My!" Programming will include comics, literature, movies, television, and art. Lowell Cunningham, creator of comic book series The Men in Black, is the author guest of honor. Cost covers all three days: $45 if purchased by March 10, or $50 at the door.
Hellboy Day Signing, Meltdown Comics, March 22. It's the 20th anniversary of Hellboy and Meltdown Comics and Collectibles in West Hollywood will have creator Mike Mignola on hand. Exclusive promotional materials and an all-new sampler comic expected.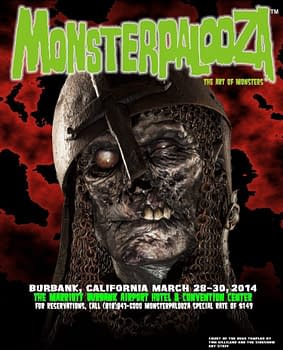 Monsterpalooza 2014, Burbank, March 28 – 30. Located at the Marriott Burbank Airport Hotel & Convention Center, this three-day is the West Coast crème de la crème for all things monsters. Artists, vendors and lots of special guests – Rutger Hauer, Doug Bradley, Ashley Laurence, Nancy Allen – will be on hand to talk shop and peddler their wares. Three-day pass $60 or one-day passes also available.
Sacramento's Twisted Terror Convention, Sacramento, March 29 – 30. Special guests include Chandler Riggs, Gil Gerald, Erin Gray, Nicholas Brendon, and Josh Stewart, among others. Film screens scheduled both days. Day and weekend passes available through the website.
Nevada
Creation Supernatural, Las Vegas, March 13 – 16. Creation Entertainment will host a salute to the television show Supernatural with several cast and crew in attendance. The event is being held at The Rio Suites Hotel in Las Vegas and will include photo-ops, signings, parties, contests, and music over four days. Single day and weekend packages are still available at their website. Please note that autograph tickets are sold separately for this event.
Biggest Little FurCon, Reno, March 27 – 30. This year's furry convention will feature an 80's theme. Tickets can purchased in advanced (save $10) or at the door. The better the package, the better the goodies that come with the ticket, and yes, you can upgrade your ticket at the door.
Washington
GameStorm 16, Vancouver, March 20 – 23. Guests include RPG writer Shane Hensley, Z-Main Games publisher Zev Shlasigner, and Lone Shark Games president Mike Selinker. In addition, several LARPs associations are represented. Four-day membership is $55 and available for purchase online.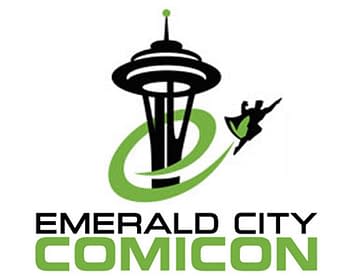 Emerald City Comicon, Seattle, March 28 – 30. Best Pacific Northwest con held in downtown Seattle, this con is not to be missed. Comics, exclusives, special events each evening, vendors packing the floor, and of course media guests! Only Friday passes available for $30. Saturday, Sunday and three-day passes are sold out.
Michele Brittany is an independent pop culture scholar and semi-professional photographer currently editing an upcoming anthology on the influence of James Bond on popular culture, and she regularly posts reviews and analysis on the spy/espionage genre on her blog, Spyfi & Superspies.