Warren Ellis To Adapt Gravel As Movie – He's Writing The Script, Folks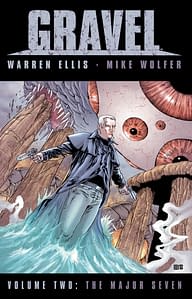 We know the image. Warren Ellis, hunched over his laptop in his local Essex pub, damning the smoking ban and sipping whisky as he taps madly away ripping stories from the ether and trapping them in cold hard digital bits to be mailed off to editors and artists and agents and fans the world over.
Well, in addition to his many comics for Marvel and Avatar, his Marvel Anime TV series and his Excalibur movie, he's now got a Gravel movie screenplay to be getting on with.
Picked up by Legendary Pictures, Warren will also be an executive producer on the project alongside producer Rick Alexander. This joins both Red at Summit Productions and Ocean at Warner Bros – it could be that Warren may be overtaking Mark Millar in terms of creator owned comics properties hitting the screen.
It's also well timed – this is Gravel's tenth anniversary. The central character, William Gravel of a magical S.A.S. first appeared in the mini-series Strange Kiss by Warren Ellis and Mike Wolfer for Avatar in 1999. The series bore a sequel, Stranger Kisses, then Strange Killings before becoming the current ongoing series Gravel, now co-written with Wolfer. The previous series are being rebranded as part of Gravel, and there are now six 6 black and white volumes out and one colour, with a second colour volume out in December.
The odds are that Warren will be talking about this later today. Until then, picture him tapping away between occasional sips, writing swear words in Courier font.