Okay, so there are spoilers for Captain America: The Winter Soldier here. Don't want to read them, go elsewhere. Please don't post them elsewhere without sufficient spoiler space. And I'd recommend only reading this piece after seeing the film. I have pulled some spoilers but there are some that are unavoidable, if you want to talk about this. Which I do.
The film was released in the UK three days ago and my inbox is full of theories and questions. So I wanted to share my observations.
Because Marvel Studios have been pushing the #ItsAllConnected hashtag for their TV show Marvel's Agents Of S.H.I.E.L.D. and we want to explore that. The gameplan seems to be this. The TV show does not affect the content of the films. But the films have a direct affect on the content of the TV show.
This season, we've seen the show follow up on the events of The Avengers, and how they affected Coulson. We've seen them clean up in Greenwich after the events of Thor: The Dark World and how the Asgardians are visiting Earth. But what's to come?
The next episode of SHIELD, End Of The Beginning, airing on 1st April, is the one before the US opening of Captain America: Winter Soldier.
Agents Garrett and Triplett are back to help Coulson's team track down S.H.I.E.L.D.'S nefarious enemy – the Clairvoyant. But will Deathlok destroy them all to protect his master's identity?
The week after is Turn, Turn, Turn.
Coulson and his team find themselves without anyone they can trust, only to discover that they are trapped with a traitor in their midst.
You will be expected to have seen the film… or at least more will make sense if you have.
Well, there are some interesting plot alignments. The reason why Coulson couldn't get in touch with Fury? Captain America: The Winter Soldier gives us an idea or two.
(MINOR SPOILER BEGINS)
But bigger that that may be the identity of the Clairvoyant. Now this is just joining up the dots but the TV show gives us someone who can see the future – but couldn't predict Coulson's revival from the dead. Who controls people by computer. And who is involved with Hydra.
Well, for those who have seen the film, that would fit rather well with the disembodied conscience of Arnim Zola, and his algorithms for predicting the future from the records of people's past. Except, of course, when their futures are divinely altered.
It wouldn't however explain the images we have seen of the Clairvoyant, shadowed from behind, in a wheelchair, operating tech with his hand.
(MAJOR FREAKING SPOILER BEGINS)
Also… if familiar members of SHIELD are members of Hydra (Senator Gary Shandling I'd buy but Sitwell? Come on man! It's Sitwell!) then who else is a member? Sitwell will be appearing in the next episode of SHIELD, before the revelation in the movie. So we are going to be expecting to treat him as a good guy.
But May a member of Hydra? Is that why she was calling in about Coulson?
There are other possibilities. Guest starring in the episodes will be Bill Paxton as Agent John Garrett, Saffron Burrows as Agent Victoria Hand, Titus Welliver as Agent Felix Blake, Christine Adams as Agent Weaver, Alex Daniels as Agent Chaimson, BJ Britt as Agent Antoine Triplett, Charls Halford as Agent Shaw, Braden Moran as Agent Jones, Cameron Diskin as Agent Baylin, Dayo Ade as Agent Barbour, James MacDonald as Agent Jacobson, and Kylie Furneaux as Agent Shade. Odds are at least half will be Hydra.
But the bigger issue with how the film will affect the TV show comes at the conclusion of the film, when (OKAY, I JUST CAN'T SPOIL THIS LAST BIT – REDACTED) after the events, moving on with their lives. One way or another, could we be expecting a rather slimmed down second season of S.H.I.E.L.D. Back to basics? A little like Angel after Wolfram And Hart?
Not long to discover.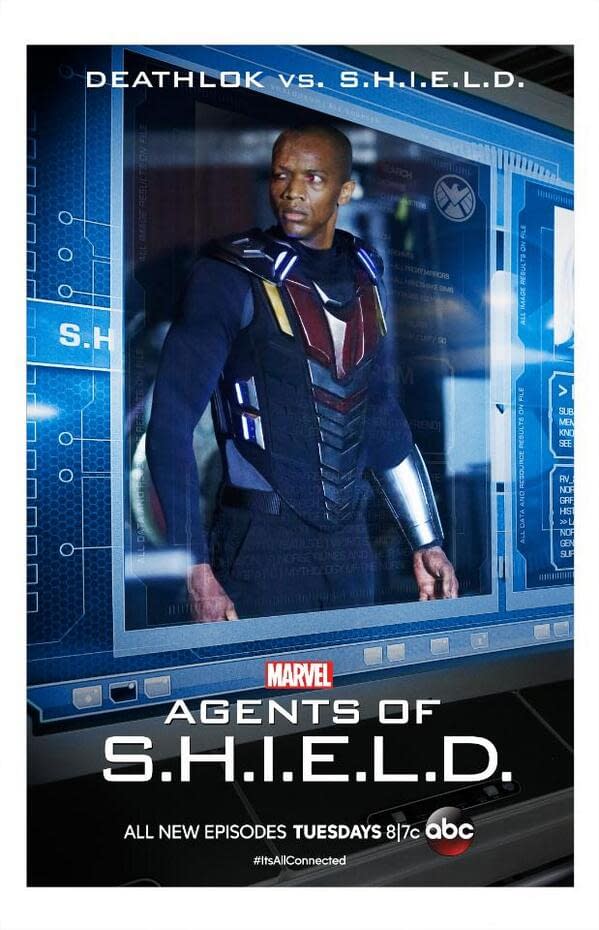 Enjoyed this article? Share it!