Red Hood and the Outlaws #23 Review: Compounding Daddy Issues
[rwp-review-recap id="0"]
The Red Hood is fighting off the Penguin's men in a graveyard. He recently uncovered letters sent to him by his incarcerated father, whom is now dead. These letters have compelled Jason to visit his deceased dad. However, the Penguin has an axe to grind and won't let the Red Hood do anything without a struggle.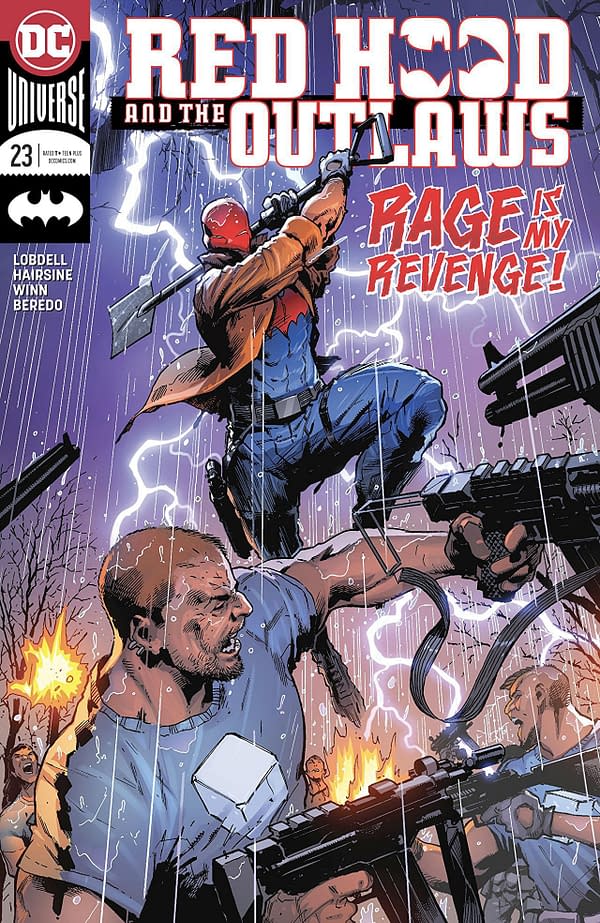 If you've guessed the twist here, you've definitely read at least one DC and/or Marvel comic before.
Red Hood and the Outlaws #23 seeks to tell a personal tale for Jason Todd. Most of the comic is spent in the orphanage where Jason spent his childhood while the narration of his father's letter paints a picture of Jason's dad.
He's a little softer than Jason remembers, and we see his life before Jason was born and some of his time after in prison.
It's not especially touching considering all the Red Hood's daddy issue eggs have been put in the Batman basket in the past. The tale of Jason Todd that people commonly think of begins with him trying to steal the wheels off the Batmobile.
That said, I can't say it's a complete miss. The ending is melodramatic to the point of being a little comical, but there is some pathos in watching this tortured man try to grapple with yet another part of his past creeping up on him.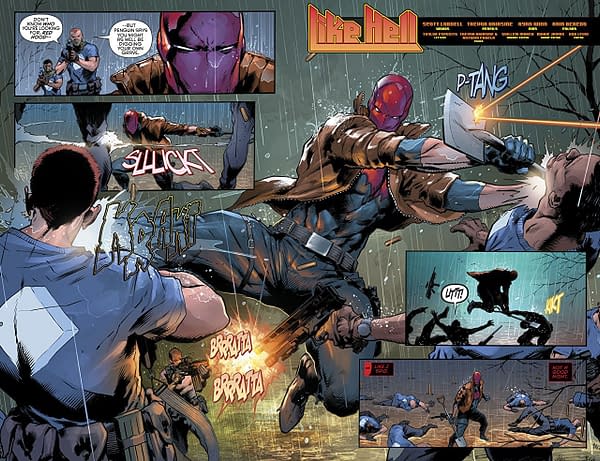 Trevor Hairsine contributes the art to this issue, and his work looks as great as ever. The world is lovingly rendered with great detail, and the action scenes are solid. Ryan Winn's inkwork keeps the lines tight and bold. Rain Beredo covers the color art, and it's a well-balanced darker palette.
Red Hood and the Outlaws #23 is alright. It expands on Jason's pre-Batman backstory and has him beating on some of Penguin's goons. That said, I'm never made to care that much about Jason's dad, and the melodrama gets a little ridiculous towards the end. I can recommend it but not strongly. Feel free to check it out, but it's not required reading.
[rwp-review-ratings id="0"]
[rwp-review-form id="0"]