Red Sonja #20 Review: Decent Leads Held Back by an Underwhelming Plot
[rwp-review-recap id="0"]
Red Sonja and her allies have found Lord Skath, the previous owner of her sword. She asks why he hasn't retrieved his blade in the past, and Skath explains what he has done in the time since losing it. He wants to take his land back from the man who took it, Sandak. Red Sonja, Taya, and Lera agree to rally the villagers to his cause and take Lord Skath's land back with him.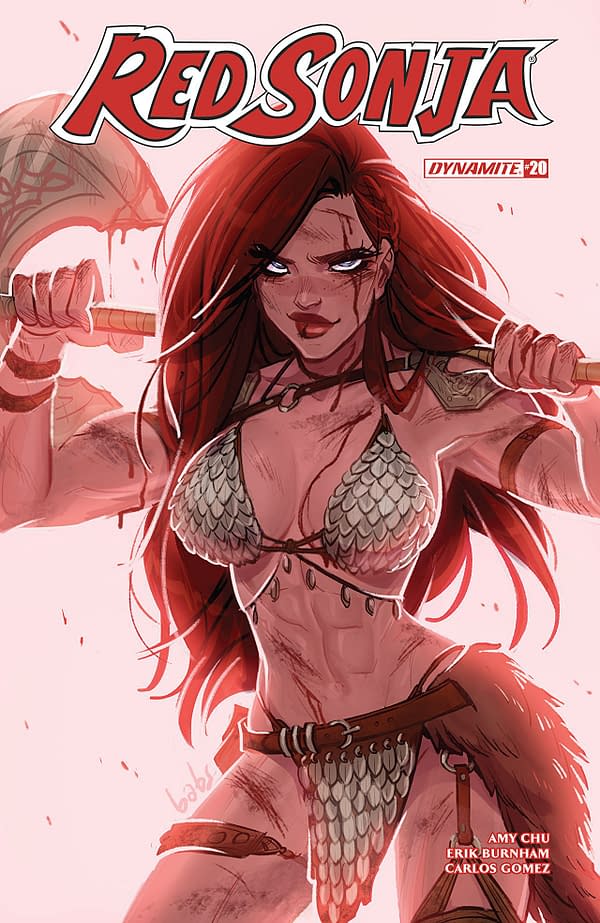 This is my first mainline Red Sonja issue in a bit, but, like Moon Knight this week, I decided to check in on the series again. The results were… well, they were alright.
I can't say Red Sonja #20 was a bad issue by any means. It has humor, action, and decently fun leads.
The plot is what struggled to compel me. Lord Skath spent so much of his time on a personal quest that he left his own land destitute and vulnerable to wealthy invaders. Yeah, honor before wealth and all that, but Skath wasn't a great leader either way. Even if Sandak is a bad ruler, Skath isn't necessarily better.
Without spoiling too much, the story seems to agree with me on that, but it leaves me uninvested in the main story regardless.
Plus, Sandak being some preening and effete man in coded Middle Eastern garb versus the manly and white Skath has its unfortunate implications which aren't helped by this comic being a bit more intent on getting ass-shots of Sonja more so than Red Sonja/Tarzan.
The humor undercuts some of the drama too. I like that the book has a sense of humor, but when the main plot is already a bit clichéd and flawed, poking fun at some of the details doesn't compel me to come along for the ride.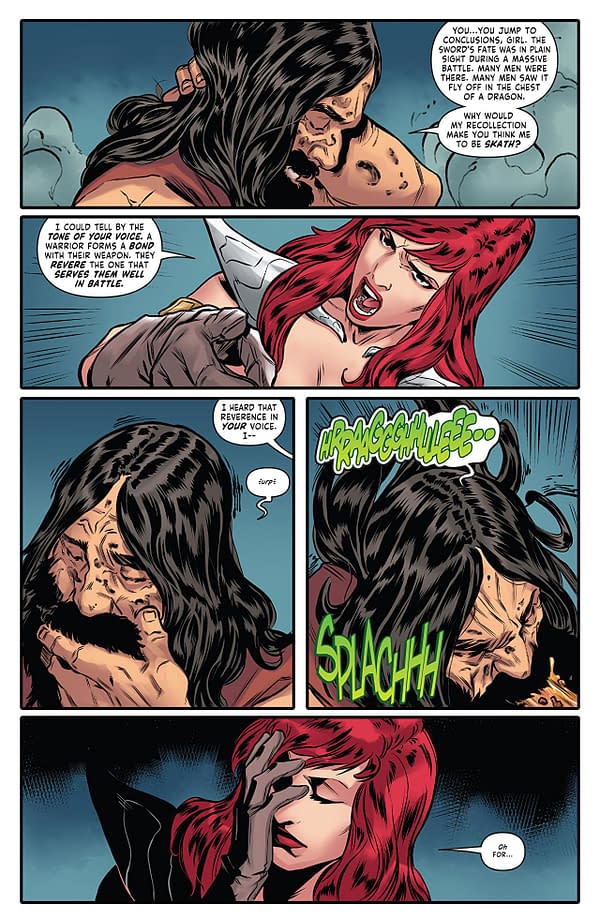 Carlos Gomez and Vincenzo Federici give a flowing and somewhat soft treatment to the world. There is a bit of a cartoonish touch, and it suits the book well enough. I'm not fond of the frequently compromising poses given to Red Sonja or the overall lack of muscle and physical strength given to the forms of Sonja, Taya, and Lera. Mohan's color work is decent, giving the world a bright glow that keeps the visuals lively.
Red Sonja #20 isn't a bad read. There is humor and action, and Sonja's personality is still awesome. The artwork is decent, if flawed. The plot isn't all that engaging, but it isn't bad either. I can recommend this to the fans of swords-and-sandals and/or Sonja herself. Feel free to check it out.
[rwp-review-ratings id="0"]
[rwp-review-form id="0"]