Regular Show: 25 Years Later #1 Review – A Bizarre and Misguided Addition to the Canon
[rwp-review-recap id="0"]
It's 25 years into the future. Mordecai and Rigby have families and grown children now. They've given up the schemes and adventures of the past to become responsible adults. However, when they are asked to go out and buy ice for their party, adventure comes out to find them, and it's a strange one indeed.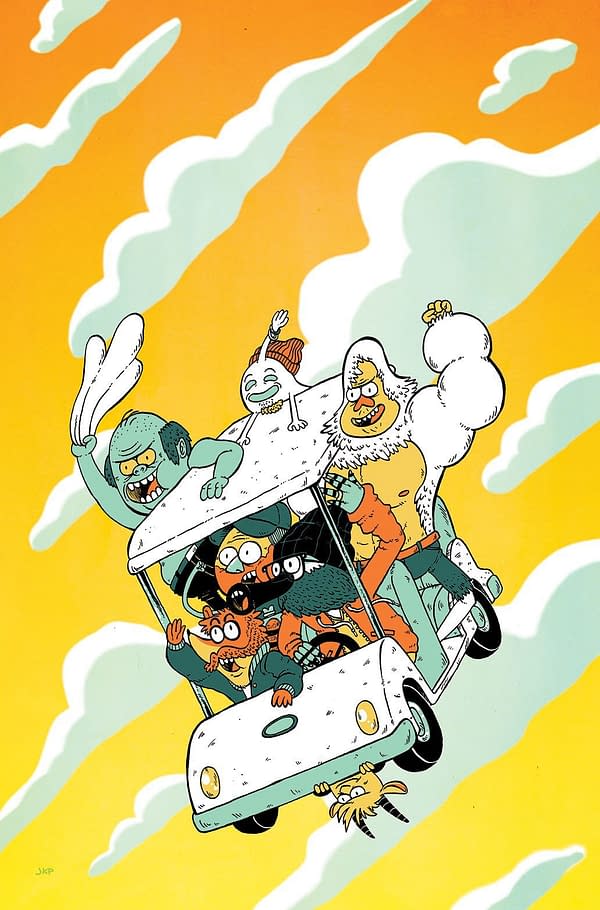 Regular Show: 25 Years Later #1 has the plot setup and progression one would likely expect from a time-jump comic like this. Mordecai and Rigby, irresponsible and at-times selfish in their youth, are now responsible adults afraid that they will slip back into their old ways while secretly wanting those old times back.
That's not a new story or even a new way of telling the story. It is relatable though, and it shows maturity from characters whose whole point is arguably to be the most immature and self-centered people imaginable.
That said, I've always found Mordecai and Rigby to be difficult characters to get invested in, and Regular Show often plays off that concept. As such, setting up a story where we are supposed to be invested in their character development is a shaky prospect, and it does hamper the comic.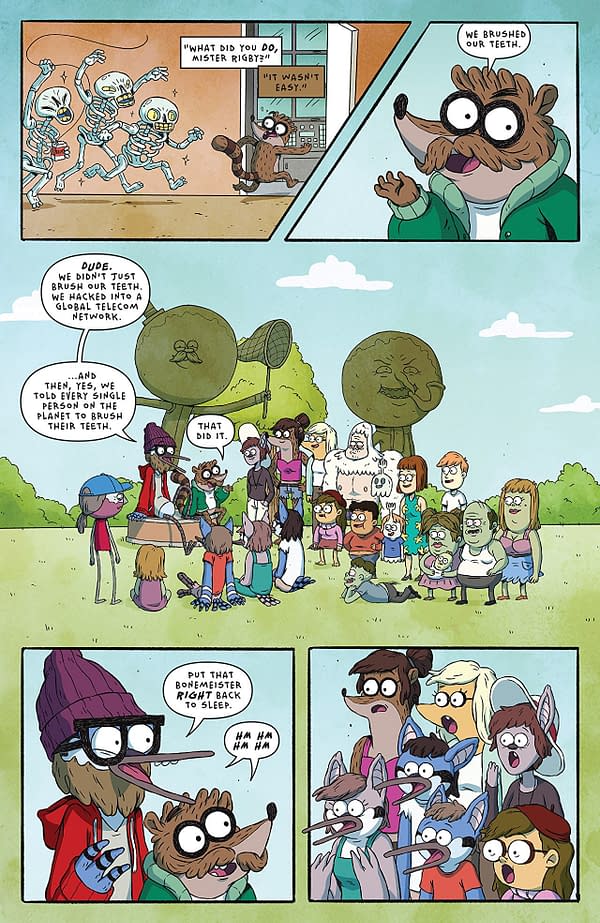 Anna Johnstone does an excellent job of recreating the art style of the show while adding good changes to the character designs of Mordecai and Rigby for the time jump. The comic maintains the anarchic imagination of the show in its visuals, and that is one of the strongest aspects of the book. Joana Lafuente's color art is similarly manic and fitting for the source material.
Regular Show: 25 Years Later #1 is a bizarre and daring concept for the franchise, and it attempts at giving these static characters a genuine arc. However, the plot is lacking, and the characters aren't that interesting to begin with. It's not bad, but I can't recommend this one.
[rwp-review-ratings id="0"]
[rwp-review-form id="0"]