Last week we told you that speculators were already honing in on Matt Kindt and Matt Smith's Folklords #1 as the next big creator-owned hit comic. Much like we suspected first, the new series has the signs of being another hit creator-owned book for Boom Studios by appealing to Middlewest fans by inverting the traditional paradigm, with a "reverse Harry Potter" story. Think if instead of Harry Potter growing up in a mundane existence in Surrey, he grew up in a fantasy world plagued by visions of our modern world.
In a year that includes blockbusters like Once & Future, Something is Killing The Children and Faithless, Boom continues to ratchet up their rivalry with Image Comics in their Marvel vs DC-esque feud for the hearts, minds and dollars of readers. I mean, Boom aren't ging to beat Undiscovered Country. But they'll give it a damn good try.
And it doesn't hurt to have the writer behind what looks to be a blockbuster television series in Grass Kings, which key collectors & speculators are saying is in development with Legendary.
Of course, if you want to make folks think blockbuster, having Once & Future (and Buffy and Power Rangers) artist Dan Mora do a variant cover at FOC is a pretty good indicator – and it looks like Boom has done just that for this new launch. This FOC variant cover strategy seems to have worked out well in the past, including Jenny Frison on Something Is Killing The Children #1 and Lee Bermejo on Faithless #1, resulting in big jumps at FOC.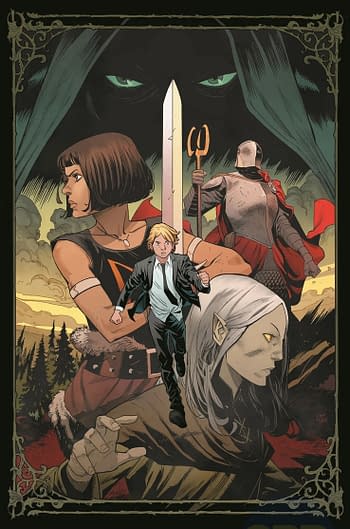 And Mouse Guard's David Petersen has let us know that he's working on a Folklords cover too.
Working on a variant cover for @boomstudios upcoming FOLKLORDS by @BarbarianLord & @mattkindt #GnomevemberCameEarly pic.twitter.com/HYhxQDdcKy

— David Petersen (@mouseguard) August 23, 2019
The company also recently released an early advance version of the Folklords #1 PDF (as they did for Once & Future and Something Is Killing The Children) to retailers and now that they've read the book, they're tweeting about it – and quite positively at that, which isn't something we normally see before FOC when retailers are often more focused on getting their orders in.
Here's a glimpse at what they're saying:
We just read FOLKLORDS #1 and we are big fans of what @mattkindt, @BarbarianLord, @ChrisOHalloran, @CampbellLetters and @eharburn are bringing to the table

A really strong fantasy series with absolutely stunning art.

One hell of a creative team delivering one hell of a story! pic.twitter.com/G5IQO6PyOW

— Big Bang Comics (@TheBigBang_) October 9, 2019
https://twitter.com/BuckeyeComics/status/1184267107917320192
I think you all should keep your eyes on this one. It's an amazing story, following up their smash hits like Once & Future and Something is Killing the Children, @boomstudios! is on fire. There may also be another reason… 👀🔥😏https://t.co/P7GxwumXQ0

— Black Cape Comics (@BlackCapeComics) October 15, 2019
Still time to preorder https://t.co/XVA3y1bOtu Ansel lives in a land of magic,but he has visions of our world of suits and technology.Follow his quest to find the fabled Folklords and answers to his strange visions… Fantasy gold from Matt Kindt @nerdschatting @StreathamComics

— Gnash Comics (@gnashcomics) October 10, 2019
Chris Wildgoose, artist of BOOM!'s upcoming Alienated with Si Spurrier is excited:
P.S started reading Folklords this week. Matt it is 👌

Perfection.

— Chris Wildgoose (@MrRiktus) October 16, 2019
So is Duncan Fegredo (though he might be a bit biased as a variant cover artist for the issue):
I can only agree, really looking forward to seeing where Folklords goes. Terrific story and art from @mattkindt and @BarbarianLord ! https://t.co/97iIWuKvMp

— Duncan Fegredo (@duncanfegredo) October 10, 2019
And even Eisner winner John Allison of Giant Days fame is getting in on it too:
This is a beautifully written and drawn comic that you should definitely check out! https://t.co/iEMtD4wTKY

— badmachinery (@badmachinery) October 10, 2019
The last time Boom had this kind of advance buzz it was on Something is Killing The Children #1 – and we all remember the 170% increase at FOC along with the many sellouts since then.
Will Folklords #1 be the next big Boom hit to follow in this tradition? It certainly looks like retailers and speculators are both – somewhat miraculously – in agreement that this book is one to watch. But that doesn't mean there will be enough copies on shelves, so when we're running those fourth printing articles just remember that we warned you. I mean, it's no Undiscovered Country, but still…
Folklords #1 is on-sale in comic shops on Wednesday, November 13.
Enjoyed this article? Share it!