Now Rob Liefeld Will Not Sign New Mutants #98 Facsimile Editions
There have been three high profile thefts of copies of New Mutants #98 in the last two weeks, the comic that featured the first appearances of Deadpool and Domino (and Gideon for that matter but no one remembers him) by Fabian Nicieza and Rob Liefeld. At the same time Marvel Comics is issuig a 'Facsimile Edition' reprint of the issue in question, reprinting the issue including advertising pages, letters pages, thee lot. And issuing a variant cover for the Facsimile edition which seems to defeat the point of Facsimile Editions. But there you go.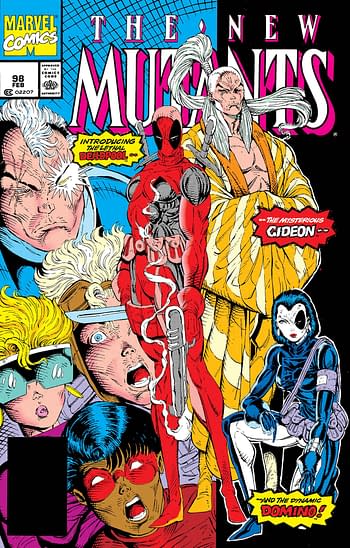 Well, Rob Liefeld, has made it clear that he won't sign copies of Spider-Man/Deadpool #47, featuring the first on-panel appearance of his character Major in a cameo, something that he is still rather angry with Marvel Comics about. And now he has added to that, saying he won't sign any copies of New Mutants #98 Facsimile Edition, for his own reasons. He posted the following conversation on Facebook.
And then reiterated.

Considering how much Rob Liefeld charges to sign a New Mutants #98 in its non-facsimile version, that's quite the financial decision to make. Two years ago he was charging $60 to sign New Mutants #98 and that's only risen since. And he also made his own facsimile edition, kinda, with the first issue of Major X, where he deliberately redrew panels from that issue.
May I suggest to Rob Liefeld that, like John Byrne, he creates an ink stamp of his signature for 'signing' reprints of comic books when requested as a gag? 'A reprint for a reprint' he has been known to say…
In other news, Rob Liefeld is still making promises – and then delaying them – over his 6-year late Brigade Kickstarter project. But for those who have been seeking refunds and have been unable to secure them, the quickest way seems to be to insult Rob on social media (Twitter no longer available though) and he'll refund you whether you wanted one or not.