A Letter from Robert Kirkman to Comic Book Retailers for Oblivion Song #1
The $200 Collectors Edition version of Oblivion Song by Walking Dead creator Robert Kirkman and Lorenzo De Felici, complete with statue, was intended to ship all 1000 limited editions for March 7th. Instead, due to "unforeseen circumstances", only 600 of the 1000 units of Image Comics' Oblivion Song #1 Collectors Edition will arrive in time to process for the March 7th on-sale date. The remaining 400 units will arrive a few weeks later.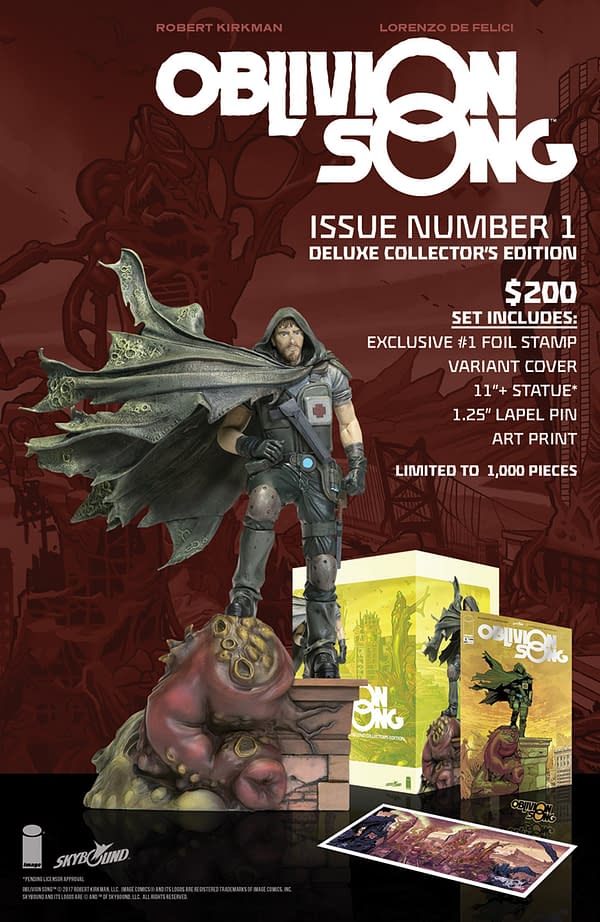 The Collectors Edition is such one of the more unusual tactics Skybound have taken to market the upcoming comic book series. They have shipped collections of the first six issues as specially created trade paperbacks not for sale — not that this has stopped many retailers who have got over $200 for one on eBay, though Red Hot Comics in Glasgow had theirs as a Buy-It-Now for £5.
There are only 1500 copies of those as this letter printed on the back of massive promotional posters for Oblivion Song reveals. Robert Kirkman writes: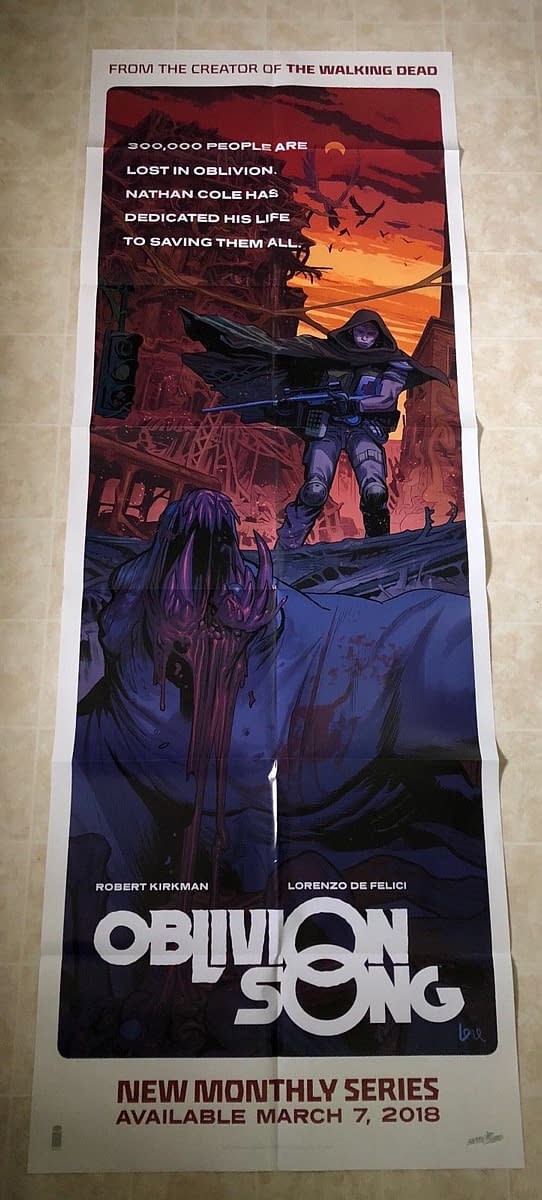 ATTENTION RETAILERS
Hey, look! We're printing a letter on the back of a poster! That's cool, right? Efficient, good for the environment? That kind of thing? Woo!
I'll try to make this short and sweet! I know for many of you 2017 could have been a better year. I know we all want to make 2018 better in every way possible. Also, I know new series are often a risk for literally everyone involved. So, I'm working in conjunction with Skybound and Image to do my best to lessen risk when it comes to my new series, OBLIVION SONG.
That's why we produced a galley edition of the volume 1 trade paperback that was sent to the top 1500 direct market retailers. You get to read the first six issues, complete and ready to enjoy! Share it with a few of your best customers, give people an unprecedented peek at what's in store for them in this series. Or, at the very least, give it a flip through and marvel at co-creator Lorenzo De Felici amazing artwork.
(And if you somehow missed out on the print galley, we also sent out a PDF of the first issue for you to look over.)
We're also doing this promotion where for issue #1 every retailer gets a flat 60% discount, no matter the size of your store or the discount tier you're usually in.
We're also doing a ton of promotion for this series; I was able to talk it up on Late Night with Seth Meyers and we have even more lined up in the way of talk shows, podcasts and rooftop yelling, in addition to a press conference-style phone call with all the key comics press prior to FOC. Plus, both Skybound's and Image's social media teams will be spreading the word across our channels.
Part of that promotion is this huge poster this is printed on the back of! Those are fun, right?
The last major thing we did: Lorenzo, Annalisa and I, along with the whole Skybound team, have been working on this series behind the scenes for a long time to ensure there will be no scheduling hiccups. Lorenzo and I are a well-oiled machine at this point, producing the book at a monthly clip, and by the time you read this, we'll be underway on issue #12. That's right. Issue #12, which will ship in March of 2019. (Which will be weird because the issue is full of Gorilla Channel jokes, and I don't know if people will even remember that by then.) We're committed to being on the stands for your customers in a reliable and momentum-building way for the duration of this long series.
As always, I value our relationship, and I appreciate everything you do and all the support you've given me over the years. THE WALKING DEAD wouldn't exist without the direct market. That's something we built together.
Hopefully this is only the beginning of a very exciting year filled with all kinds of cool stuff! Thanks for your time.
Robert Kirkman.