Robocop: Citizen's Arrest #2 Review – Bloated but Sharp Satire
[rwp-review-recap id="0"]
OCP continue their plan to take the ruins of Old Detroit and replace it with high-income housing. They use their mechanical police force in service of doing so, but Leo is helping Alex Murphy, aka the Robocop, to get back in action and fight back at OCP.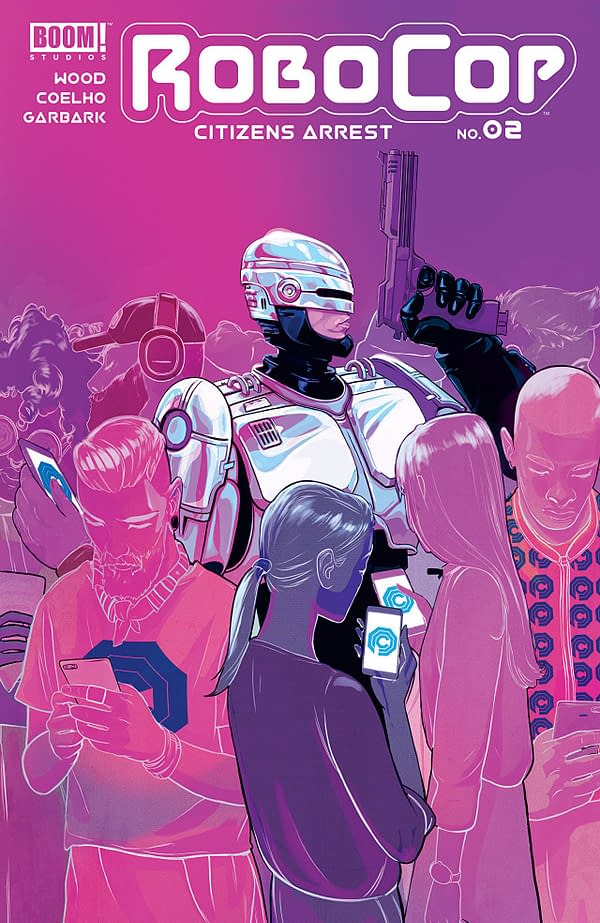 Robocop: Citizen's Arrest #2 maintains the same sharp satire as the first issue, even if the comic is a far less tight experience. Both the tactics of OCP and the news outlet they own mirror reality in disturbing ways. However, the comic drifts through the vignettes of the news, the OCP head making his next vile decision, and the actions of Leo and Murphy without adequately connecting the or creating a real flow from one to the next.
To Citizen's Arrest's credit, this isn't a fatal flaw. There is enough onto which the reader can latch on to enjoy it. In addition to the satire, both Leo and Murphy have strong enough characters to hold the comic together. The head of OCP, while evil, has some humanizing traits. The news show is probably closer to reality now than when this comic was written, oddly enough.
Jorge Coelho's artwork is styled in such a manner as to slightly emphasize geometric shapes in the face while using distinguishing facial features to make each character unique in design. This makes the world look a little rougher while having clean air of science fiction in the style. It looks good and thematically fits Robocop. Doug Garbark's color art has a slightly cyberpunk color contrast to it which looks great and taps into the roots of this franchise.
Robocop: Citizen's Arrest #2 doesn't flow as well as the first issue, but it's still enjoyable and compelling. Its satire never dulls, and the artwork of Coelho and Garbark holds steady throughout the read. As such, this one earns a recommendation. Check it out.
[rwp-review-ratings id="0"]
[rwp-review-form id="0"]