SDCC '15: Oni Press Announces Three New Titles For 2016
Exciting news came out of Oni Press' SDCC Editorial panel! I'm talking three new titles for 2016. Over the Surface, by Natalie Nourigat, Another Castle, by Andrew Wheeler and Paulina Ganucheau, and The Mighty Zodiac, by J. Torres and Corin Howell. Oni Press shows nothing but enthusiasm and joy to be working with such talented people. So, I'm sure you want to know a bit about these new titles!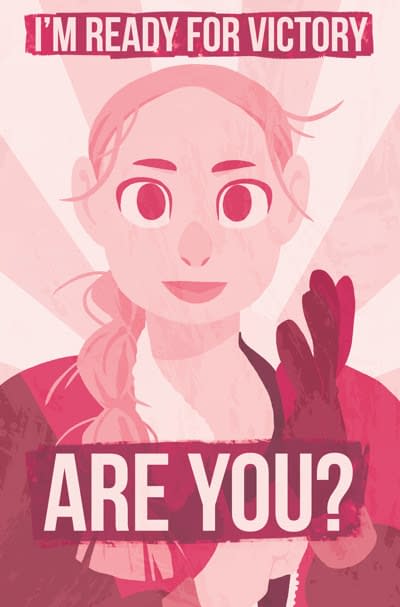 In Over the Surface, written and illustrated by Natalie Nourigat (Thrilling Adventure Hour, A Boy and a Girl, Between Gears), Ava Lefevre longs to be a pilot but the Solveran Army doesn't allow women into its ranks. However the country is at war with a neighboring country, Isolestra, and needs all the help in can get. Taking advantage of this, Ava boasts to a recruitment party that she can outfly their best pilot, Victor. A dogfight is set up between the two and Ava comes out on top – buying her enrollment into the military. Ava finally has everything she's always wanted but soon discovers that there's more to the war than what the government is telling civilians – especially after she's tasked with taking down the growing resistance movement in Solvera. Can Ava keep her dream of flying while there's so much turmoil on the ground?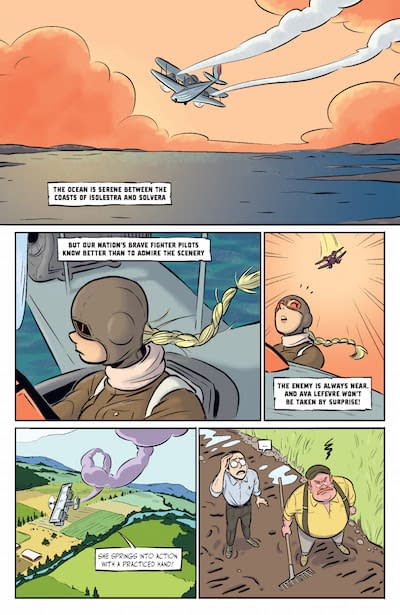 Another Castle, written by Andrew Wheeler and illustrated by Paulina Ganucheau (Zodiac Starforce, Adventure Time: Pixel Princesses), is the story of Princess Misty, captured by the evil Badlug, who quickly mounts an escape and is nearly out the door when she discovers that her disappearance would have terrible consequences. Because without a princess, the prince won't come, and without the prince, the legendary sword that can kill Badlug also won't come. And if Misty leaves, Badlug will be infuriated, and take it out on the citizens of Grimoire. It's happened before, when Misty's own mother died while she was Badlug's prisoner, and he blew up his own castle. So Misty returns to captivity, and conspires with the citizens of the castle to bring a regime change to Grimoire. Together, they team up with the bumbling prince, get the sword, and free the kingdom.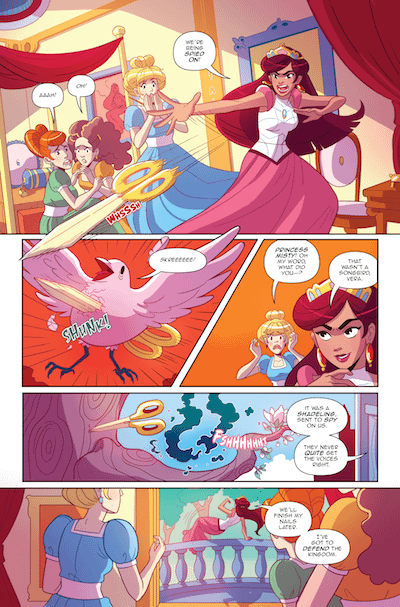 The Mighty Zodiac, written by J. Torres (Teen Titans Go, Bigfoot Boy) and illustrated by Corin Howell (Batmite, Transformers: Windblade), begins when six stars fall out of the sky to earth. Master Long sends a message to his students, all members of the Zodiac Clan, to collect the stars and return them to their base. However, the Moon Rabbit Army is also after the stars, and will stop at nothing to make sure they don't get back to Master Long – even if it means snuffing them out. It's up to the Zodiac Clan to not only collect the stars but protect their ailing Master Long from the Moon Rabbit Army's might.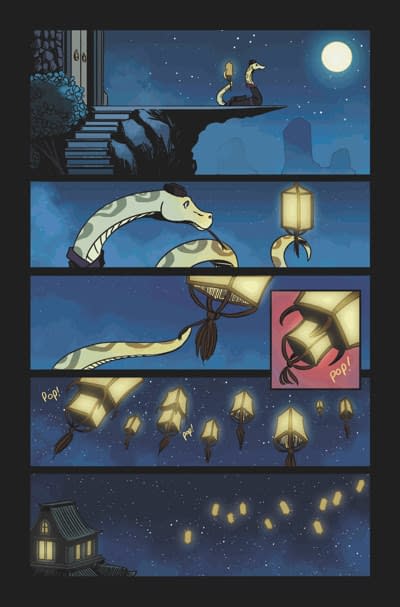 So there you have it! Looks like we have some awesome new comics to look forward to. I'm particularly excited about Another Castle. The art definitely has a Disney Princess/ Princess Peach vibe to it.
Christine Marie is a Staff Writer at Bleeding Cool, and bibliomaniac with a love for all things creative. She hopes to one day be a Superhero/Disney Princess/Novelist. You can find her on Twitter and Instagram @AWritersWay or on her blog writerchristinemarie.wordpress.com.