SDCC: Breaking Into Comics Right Now According to BOOM! Studios
Michele Brittany writes for Bleeding Cool:
"This is my favorite panel to do," started BOOM! Studios Editor-in-Chief Matt Gagnon. Several BOOM! Studios writers and artists jointed Gagnon – it felt like a who's who of titles I have been reading this past year, so I was immediately anxious to hear what the panel had to say. Gagnon started the hour asking each panelist how he or she broke into the industry. Paul Jenkins was twenty when he arrived in the US and he said he "hit the ground running," working as Alan Moore's editor and working on a little known story about four turtles named after famous Renaissance artists. He wrote longer than any other writer on Hellraiser. He credits his success with "believing in himself."
Dead Letters and High Crimes writer Christopher Sebela was passing around for two years Screamland at the cons before he got the opportunity to pitch High Crimes at Monkey Brains on 2013. He said, "I still feel like I'm breaking in!" Frank Barbiere was an English teacher pitching 6-page stories and not getting where he wanted to, so he decided he would write graphic novel. In 2012, he did a Kickstarter Five Ghosts. He set that he would sell 60 copies at New York Comic Con. One of those copies found their way to Image publisher Eric Stephenson, and the publisher picked up Barbriere's haunting tale.
"In high school when the choice was comics or girls, I chose girls," writer and animator Royden Lepp confessed and added, "now I'm married so I can chose comics." He was picked up by Harper Collins. Unfortunately, he had three unpublished novels, Rust, when the publisher closed their graphic novels line. Lepp took his volumes to Archaia, who have since published all three volumes in beautiful cloth hardcovers and a fourth is on the way. He believes that "you have to be willing to do the work yourself."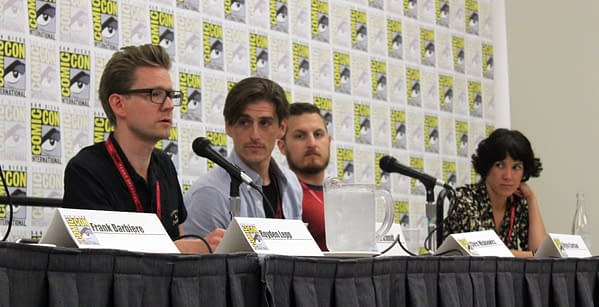 Palle Schmidt, originally from Copenhagen, remembers a time before there was email to expedite the process of pitching his projects for an American audience. He published his first book in Copenhagen in 1998, and in 2008, he successfully found an American market for Devil's Concubine, which since led to Thomas Alsop.
Chris Miskiewicz, the other half of the creative team for Thomas Alsop, fell into a creative group in his hometown of New York City. He was constantly making pitches and decided to pull together an anthology and offer it online for free. It was titled Everywhere. The rest was history after a fortuitous meeting with Schmidt. Miskiewicz revealed that he carries his iPad all the time and says to "just keep writing."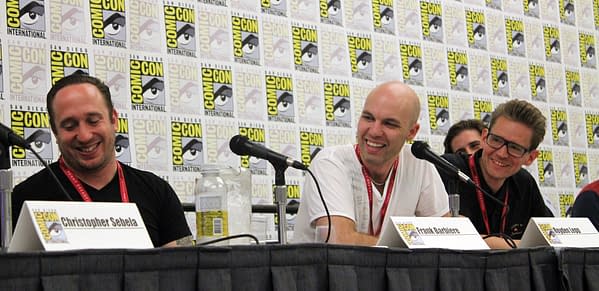 BOOM! Studios Managing Editor Bryce Carlson relates that a lull in a job he had led him to take a risk. He moved from Orange County to Los Angeles where he did work as an extra. "It was tough," he said. He worked a campaign for Warhammer and because of his "I was all in" can do attitude led him to a marketing assistant position. Chatting about zombies, as one is apt to do working for a comics company, Carlson shared a story idea with a co-worker. That co-worker told him to pitch it to Mark Waid, "right now!" Carlson related he had to cold pitch his idea to Waid. It was a story the publisher was already doing, but it opened the door.
Chuckling, newcomer Vanesa R. Del Rey said to the packed room, "I was just found." And she was not lying. She was found through her online art profile and BOOM! Studios asked her to test. You might know her work: she was the artist for Hit.
Gagnon shared his story last. Originally from Arizona, his retail experience and creating comics for the love of it, landed him at Meltdown Comics. He eventually became a buyer, which allowed him to meet industry people and network. He said, "You have to out yourself out there and find a comic book community to engage with." Others panelists were quick to agree. Barbiere said that he went to the cons and developed his community at way and he "became part of the overall culture."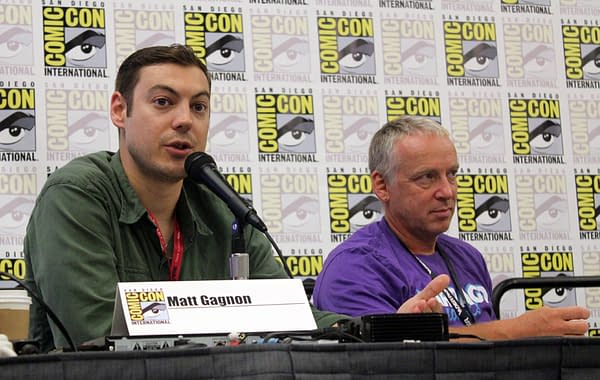 Although each person shared a different story for breaking into the industry, they all resonated with the same message: you make your own opportunities through hard work and perseverance. From working on your own independent comics or working online with a webcomic – Barbiere said that counts as published work too – it's up to you. If you are a writer, but cannot draw, find an artist. And if you cannot find a community to join, create your own. It is worth it and as Gagnon asserts, "this is an amazing time – a beautiful time – and you have the ability to do it."
All panel photographs by Michele Brittany.
Michele Brittany is an independent popular culture scholar and semi-professional photographer and editor of the forthcoming title James Bond and Popular Culture: Essays on the Influence of the Fictional Superspy (McFarland & Company). She regularly posts reviews and analysis on the spy/espionage genre on her blog, Spyfi & Superspies.