SE: NYC '15: Love Gives You Lazer-Eyes And Fists Of Fury In 'Heart-Shaped Hole'
Whether you've read any previous Billy Dogma comics by Dean Haspiel or not, this primer in the epic love and explosive action released at MoCCA Fest 2015 will set the stage for what I would deem a new level of action in the semi-autobio character's life. Billy has been the "Last Romantic Anti-Hero" since 1995, appearing as a comic strip in The New York Hangover and is very much a child of the indie comics movement, rising from mini-comics to webcomic status, and finally appearing in a hardback collection from Z2 Comics in 2014. Dean Haspiel, with the inception of an imprint from his own studio, Hang Dai Editions, has now brought out a new collection of full stories and fragments from the past few years that feature Billy. The stories collected in Heart-Shaped Hole all deal with the cataclysmic impact of emotions and relationships in Billy's hometown Trip City where he and his opponent and ally in love, Jane Legit, battle it out and bond as allies. Their mysterious magnetic connection to the fate of their town, where wars in love mean destruction for the populace and harmony means peaceful prosperity, is akin to magic realism, or perhaps a permeable relationship between the realm of the subconscious and the consciously experienced world.
This collection displays linework and action that is both provocative and also hints at things to come for Haspiel. In some of the stories that date from a couple of years ago, you can see some of the more active and lithe lines associated with the first arc of The Fox from Archie/Dark Circle (then Red Circle) and in the very last elements of the collection like "Wet Dreams" a one-page Billy/Jane story that appeared on the back cover of a recent Grindhouse comic from Dark Horse, you can see the scratchy brushwork creeping in which has been part of his dynamic and darker style on Fox Hunt from Archie this year.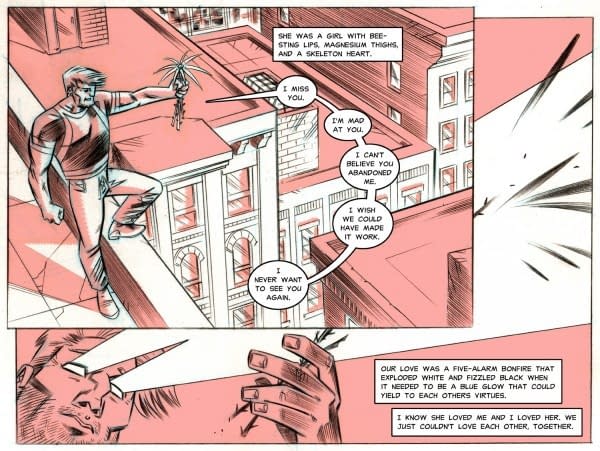 The stories included in Heart-Shaped Hole are: "Bring Me the Heart of Billy Dogma", "Sex Planet", "The Last Romantic Anti-Hero", "Angel", "Tommy Rocket: Legacy"and "Wet Dreams". Of these, you'll experience quite a range of themes that cluster around the more imposing structure of action, struggle, and attraction, such as the role of technology in altering a sense of identity, the relationshop between the individual and society, the impact and influence of the subconscious on our lives and actions, and preserving a sense of wonder in our existence. It's an immensely rewarding read, deeply honest and wildly imaginative. Dean Haspiel is a guest of Special Edition: New York City this weekend on Saturday the 6th and Sunday the 7th of June, for Hang Dai Editions, and his table number is E9. There you'll be able to pick up copies of Heart-Shaped Hole for $10 or for $15 you can get a sketch edition he'll personalize. Heart-Shaped Hole is not available in any other mode than buying it in person from Haspiel, so make the most of the opportunity!
Haspiel's studiomate Christa Cassano from Hang Dai Studios will also be present at E9 and she'll be doing "customized superhero sketches in Furiosa mode". In other words, Cassano will render any superhero you'd like into the style of Furiosa from Mad Max: Fury Road.
Here's a sample of that awesomeness from Cassano: And here's a Haspiel Furiosa: Note: There is plenty of nudity in the Heart-Shaped Hole stories, just as a warning, so the collection is not all-ages appropriate.