Separated At Birth – Giancarlo Caracuzzo + Lee Weeks' Batman/Superman
Giancarlo Caracuzzo is an Italian comic book creator who has been working in comic books since 1986, after graduating in Fine Arts and working in the theatre. He began creating stories for music magazines Boy comics and Hot Pink as well as horror comic for Splatter & Mostri. He then worked for Sergio Bonelli Editore on Martin Mystère , Nick Raider and Julia – The Adventures of a Criminologist as well as fantasy comics for Intrepido. He also co-founded and became a teacher at the Rome School Of Comics and from 2010 worked with Marvel on Iron Man, Spider-Man and Gorilla Man. Maybe he wants to do some more work for DC? As spied by friend-of-Bleeding Cool, Adam Dechanel, the commissioned piece of artwork by Giancarlo Caracuzzo and posted to his Facebook art page looks a little familiar.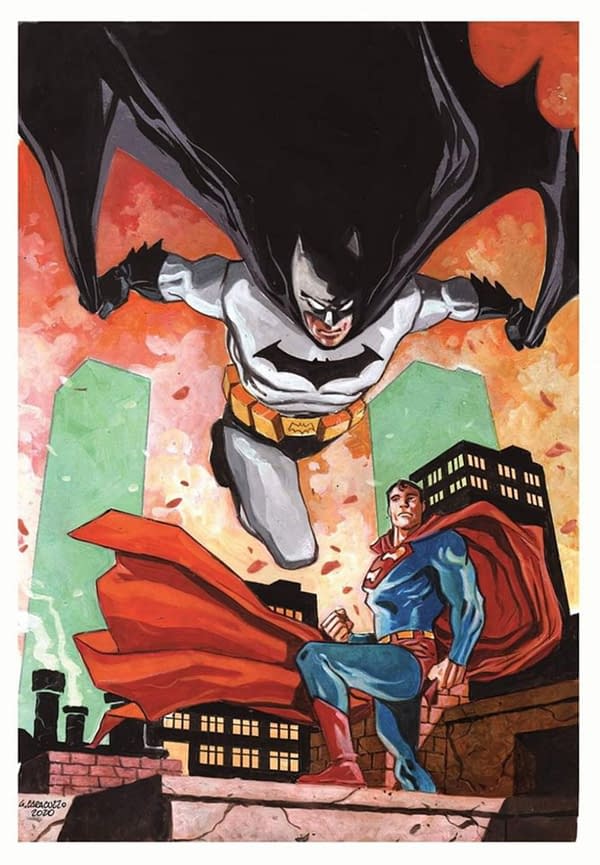 Especially when compared to this cover by Lee Weeks. When viewed with a mirror that is, of course.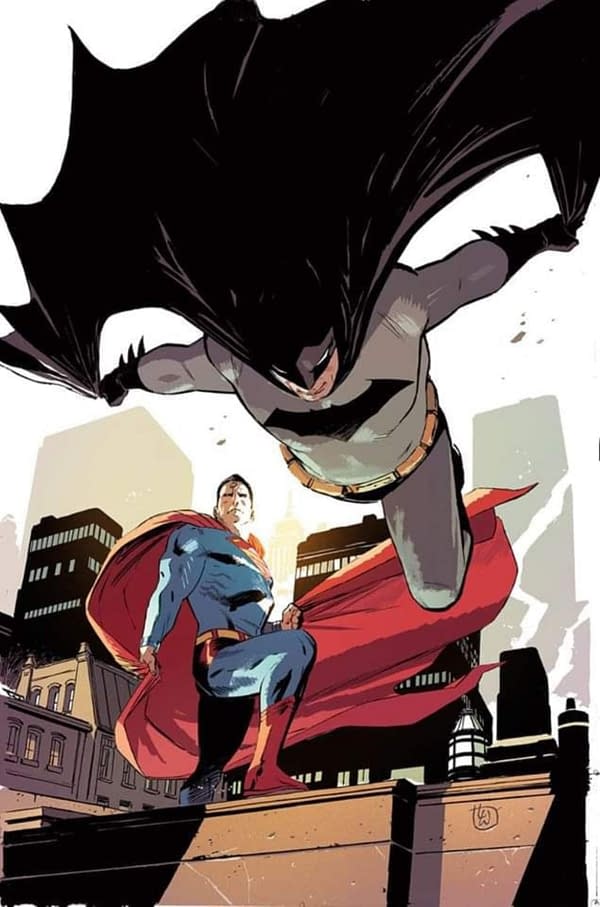 This was brought up by a number of folks over the last few days who found themselves making the observation on Caracuzzo's Facebook page, only to find themselves summarily blocked by Caracuzzo in response. But eventually, I think he got the message and the original post was updated to include an (inspired by Lee Weeks) message. You know, most of the time that is all it takes.
Lee Weeks attended The Kubert School and is best known for his work for Marvel Comics on the Daredevil series in the early nineties, as well as drawing Gambit, Predator vs. Magnus, Robot Fighter and Tarzan vs. Predator, the Spider-Man: Death and Destiny series and Spider-Man: The Mysterio Manifesto the following year. Other Marvel Comics titles he has contributed to include Justice, The Destroyer, Spider-Man's Tangled Web, Captain America, The Incredible Hulk and Captain Marvel. He worked on Superman: Lois and Clark in 2015 but it was drawing a Batman/Elmer Fudd one-shot in 2017 which revitalised him in DC Comics and Tom King's eyes, and Weeks has drawn lots of Batman since…
Separated At Birth used to be called Swipe File, in which we presented two or more images that resemble each other to some degree. They may be homages, parodies, ironic appropriations, coincidences, or works of the lightbox. We trusted you, the reader, to make that judgment yourself. If you were are unable to do so, we asked that you please return your eyes to their maker before any further damage is done.
The Swipe File didn't judge; it was interested more in the process of creation, how work influences other work, how new work comes from old, and sometimes how the same ideas emerge simultaneously as if their time has just come. The Swipe File was named after the advertising industry habit where writers and artist collect images and lines they admire to inspire them in their work. It was swiped from the Comic Journal, who originally ran this column, as well as the now-defunct Swipe Of The Week website.
---
---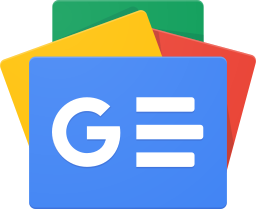 Stay up-to-date and support the site by following Bleeding Cool on Google News today!