Sexual Harassment and the Comics Industry – Again
It's not uncommon for allegations of sexual harassment to arise – or rather, be repeated when an individual is gaining prominence. And that seems to be happening right now with Scott Lobdell. Again. He is the current writer on comic books Red Hood: Outlaw and Nightwing for DC Comics, as well as the upcoming Heroes In Crisis sequel, Wally West: Flash Forward, currently on the front cover of the new Diamond Previews. Lobdell has a long-standing career in comics since the nineties, he wrote the X-Men comics at the time when the sold their highest numbers, he co-created Onslaught and the Age Of Apocalypse and eight years ago was part of the New 52 reboot series for Teen Titans and Red Hood And The Outlaws. He wrote Buffy The Vampire Slayer for Dark Horse and No World for Aspen. And has written films including the hit Happy Death Day which has now become a franchise, and the upcoming Critters Attack TV movie.
He has also been a target for controversy. A prominent writer in the nineties for superhero comics, a period that has been often denigrated for its narrative excesses, he was also slammed publicly for being creepy at a comic con panel to a woman guest in 2013. Initially unnamed by Comics Beat who first reported the story, he identified himself as the accused and publically apologised. At the time, friend of Lobdell, Heidi MacDonald stated 'I don't think what happened on the panel was okay just because a friend of mine did it. I've discussed it privately with Scott. I hope, as his apology suggests, he has learned something about appropriate behavior.'
The blogpost from three years ago
Last week, Bleeding Cool was sent links to a blog post from 2016 which does not appear to have been reported elsewhere, then or since. Indeed, googling for the URL whatchareading.com/wont-end-until-we-stopharassment only brings me results from the site that hosts it, and from mirror sites. The post contains testimony from an unnamed female comics creator dubbed 'Lynn' for the article talks about a series of events and communications with an unnamed male comics writer dubbed 'Rich' occurring around a west coast comic convention in the August of that year where she was exhibiting adjacent to his table. However, details clearly point to Scott Lobdell as being the accused in question. She mentions him dropping off a signed X-Men comic he wrote on her table, as well as writing the Buffy comic book and his poor taste in shirts.
While setting up, I reached for something and I guess the light hit my engagement ring and wedding band the right way and Rich said, "Oh…you're married." "Yep," I replied. There was an awkward pause from him, and then he said, "Oh, well, I like a challenge."

I was somewhat taken aback by that. I laughed it off and told him that I was happily married, but that I make a great wingman. Rich wasn't interested in a wingman. He was interested in me.
She details more attempted flirting, personal questions and following her around.
I called my husband during a lull in the show and let him know that Rich had been hitting on me. I made a joke about it, but Joe immediately Googled Rich's name. "Watch out for him…He's got a history of harassment." Me being me, I told my him that I was fine and that I can take care of myself.
And she began to get more disturbed over the weekend.
Then he did something texted me a photo that was disturbing. It wasn't obscene, like a photo of his privates or anything, but it was a photo of me, taken from behind my booth. It took me a moment to realize that Rich had snuck behind me at my table, taken a photo of me without my knowledge, and then texted me that photo. That creeped me out.
Then rejecting Lobdell's attempt to take her for dinner, rather telling him she was meeting a friend (which she was)…
I went to the restaurant, found Suze, and hugged her tightly. No sooner did my rear touch the seat than Rich was standing at our table. Suze looked confused. I was shocked. Suze said, "Can I help you?" Rich pointed at me and said, "I'm here for her." I introduced him to Suze, and she made it clear his antics were not appreciated. I didn't know what to do, so I did the polite thing and asked if he wanted to join us, but he said he had too much work to do and left. Both Suze and I were thankful for that.
With subsequent meetings confirming her suspicions – such as dropping off signed copies of his most popular work.
I left the show early that night to meet up with Suze and some of her friends for dinner. One of them asked me how the show was. When I told him what had happened with Rich, he wanted to see the texts. I tried to make light of it all and he said, "Lynn, he's hanging work over your head. This is definition of sexual harassment."
These other texts suggested that he might put in a good word for her with his editors, alongside his expressed feelings for her.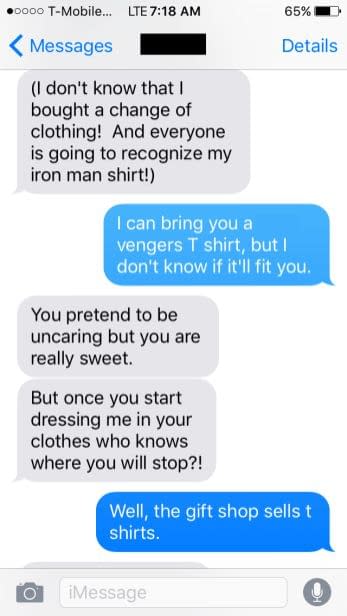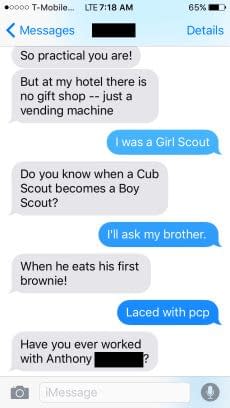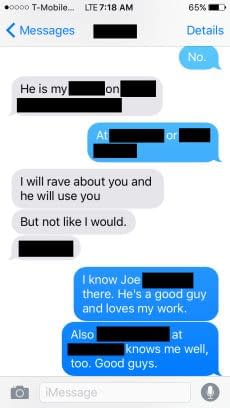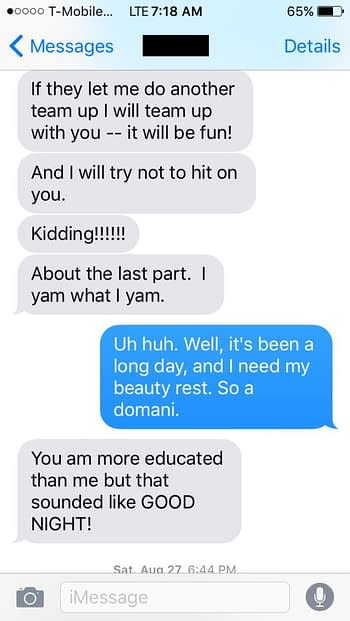 A month later, Lobdell texted her again, this time offering her the possibility of co-writing a comic book that he didn't believe the publisher would agree for her to write solo.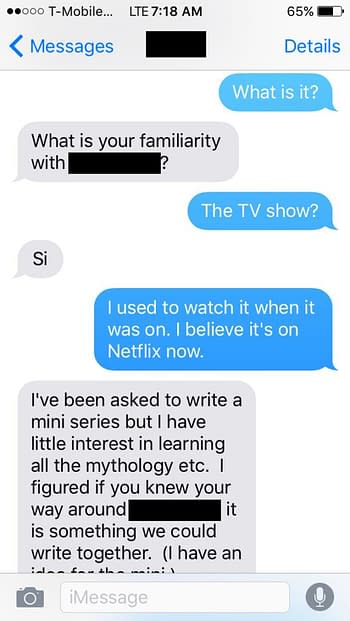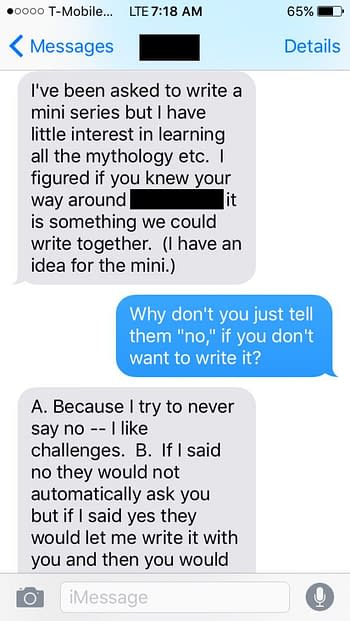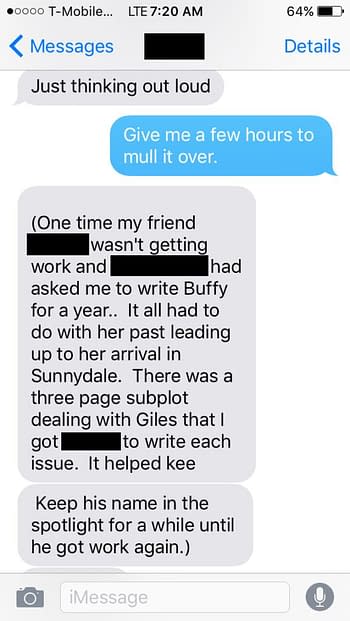 She thought it over, talked to friends and colleagues, but it was her husband who, after reading the messages, persuaded her not to take it.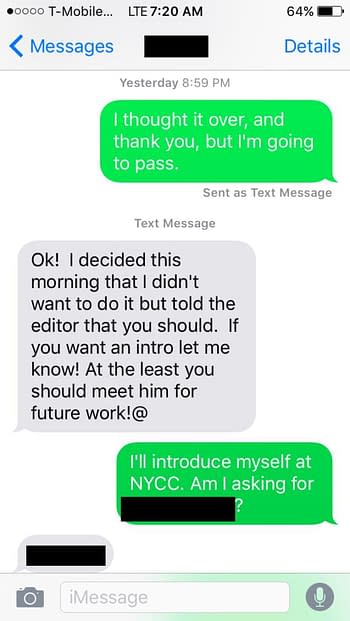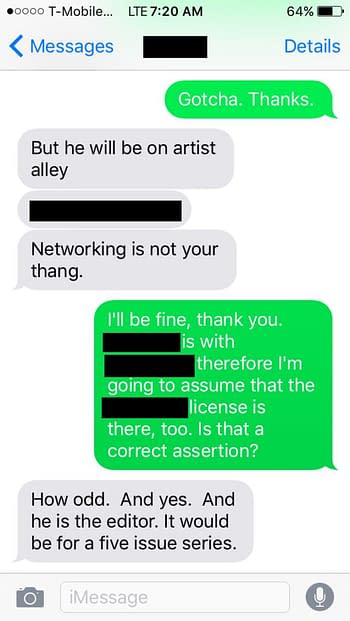 According to the blog, that was the end of that. Lobdell did tell her where to go to and who to talk to. And she did get the writer job on the comic, sole credit, as well as subsequent work for that publisher, Marvel Comics, DC Comics and other publishers she had been working with, before and afterwards.
The gossip and rumours.
There have been a number of other stories associated with Lobdell that I have looked into over the years but have found hard to pin down.
There was this Twitter thread about a DC Comics convention panel in 2013, though there was a very different take on how that played out reported here and somewhere between the two, here.
Most prominently was the much-repeated-to-me story that last year Lobdell was barred from a DC Comics writers retreat in Burbank for a day after one of the other attendees alleged he was sexually harassing another writer. I spoke to the person who was the alleged target and she refuted the charge, telling me that nothing happened. I understand that DC Comics apologised to Lobdell and invited him back. But some always believe there is no smoke without fire and that there's a reason that accusation was made against Lobdell rather than anyone else.
Comic creator Alex De Campi, who once spoke positively of Lobdell in this regard, eight years ago..,
Scott sincerely believes there should be more women writers and artists at DC and has, behind the scenes, quietly been reaching out to women creators to introduce them to senior DC staff. So this guy you're all pasting? He is actually doing more than anyone else at this moment to increase the number of women making mainstream comics.
…has clearly changed her mind. She posted last year,
Of course, young editorial assistants would have to have been invited to said retreats first. She continued,
Aa glance at the credits of his recent work shows that Lobdell has worked and continues to work with younger DC editors and editorial assistants Brittany Holzherr and Katie Kubert on Flash and Nightwing this year, as well as the likes of Bobbie Chase. I also spoke with comics writer Blake Northcott, who has written for Aspen, a publisher that Scott Lobdell has also been writing for, and co-worked on a project. She tells me,
From my own personal interactions with Scott Lobdell, he has been a consummate professional: warm, inviting, generous to a fault, and has never treated me with anything but the utmost kindness and respect (quirky sense of humor and all!)

He's always maintained that we need more female voices in the comic book industry, and has been vocally supportive of the LGBTQ+ community as well.

We co-wrote a comic in late 2018 (as a freelancer – someone without any editorial power – Scott promised to put my name and resume in front of some of the decision-makers and then he delivered, no strings attached).

It was a wonderful experience, and even though he was entitled to the bulk of the money on that project, he opted to give me all of HIS payment. He said that Christmas was around the corner, I had kids who needed presents from Santa, and that I could use the cash more than he could. He just wanted to get me a mainstream credit and see a woman succeed. Again, no strings attached.

I can't speak to anyone else's thoughts and interpretations, but – once again – these are my own experiences. And they have been nothing but positive.
And there are those like current DC editor Andrea Shea who has publicly thanked Scott for helping her get her foot on the ladder.
I have been directed to other people with other stories, but these are the only ones I have been able to either get on the record or have been able to speak privately to primary sources, to date. It is possible that this article may encourage other stories to be told.
Where promotion crosses the line.
Lobdell does have a habit of promoting the work of other less-well-established and/or marginalised creators such as Ilias Kyriazis, Christian Beranek and Kelci Crawford, Andres Salazar and Rhiannon Owen. That Lobdell repeatedly says he wants to increase such voices, especially female and trans voices in a still-male-dominated comic book industry, seems to want to help women's careers in that regard, and on occasion has appeared to have done so, is admirable. That he's cruising at comic conventions is his own business. That sometimes he appears to combine the two, and can't see how this is an issue, is how we have ended up here talking about sexual harassment. Again.
The events in the blog above occurred before the #metoo campaign gained mainstream media prominence. I hope, at least, that this will have given Lobdell – and others – pause for thought regarding their behaviour. Again.
I approached Lobdell for comment last week. While Lobdell declined to comment on the article, he did provide Bleeding Cool with verification he is currently enrolled in a gender sensitivity workshop in an effort to better navigate today's professional workplace environment.