Space Opera – A Ballistic Teenage Adventure from Jacopo Paliaga and Eleonora Bruni for Spring 2019
Panini Comics Italia used Lucca Comics & Games in Tuscany this weekend to announced a number of new series, including Space Opera.
The latest work of Jacopo Paliaga and Eleonora Bruni following their work on Aqualung and Monster Anthology, Space Opera brought out a splash of bright magenta with characters that look both foreign and familiar.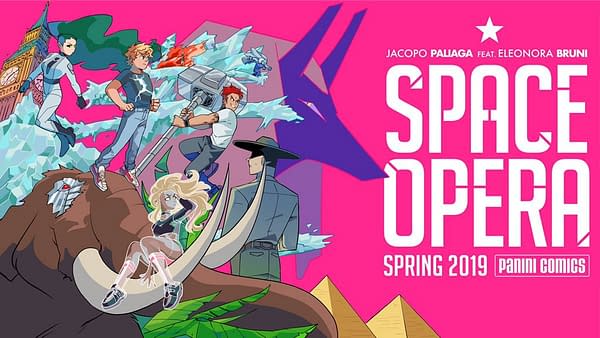 The two have crafted a teenage-murder-mystery-drama-surrounding-a "hardcore science fiction skeleton." During the MAde In Italy panel at Lucca, the pair talked about drawing on their own sources of inspiration, from Anime to western comics to video games in bringing a comic of a madcap universe to life.
In Space Opera, the Earth has been flung to a far off place in the universe, the mundane is abnormal. Cyborg Californians, super-powered humans and a Yogi Bear inspired planet named 'Yellowstone' policing the galaxy with an army of machine gun toting Ranger-Smiths-riding bears.
They were keen to emphasise not just the trappings of the story, but the emotional core to it. And that, with inspiration spanning from Riverdale to Scott Pilgrim, this is a story of teenagers and their struggles in unreal situations.
Look for it in the Spring.