The following article is based on a tip received at the weekend, and then following up today. It is very speculative in nature, drawing lines between dots that may not be related and should be read purely in that context. I will lay out the evidence, show my workings and the suggestions I may have for how it may be interpreted. But please feel free to draw your own conclusions. I may be very wrong indeed.
Last week, Bleeding Cool broke the news that DC Comics were telling retailers to destroy incoming copies of Superman #14 and Supergirl #33, with the reason given that these comics were solicited as DC Year of The Villain: Dark Gifts tie-in titles.
And it is true, neither comics has anything to do with DC Year of The Villain: Dark Gifts, despite having been solicited and listed with such details.
But you know what? The same is true of Catwoman #14 out today. We're getting a fill-in issue, while the sequel to last month's Year of The Villain: The Offer will be #15. But DC Comics did not ask retailers to destroy copies of that issue. Indeed a number of titles out today, such as Justice League Odyssey, have tenuous links to that crossover event, despite also having big cover mentions. So what is going on?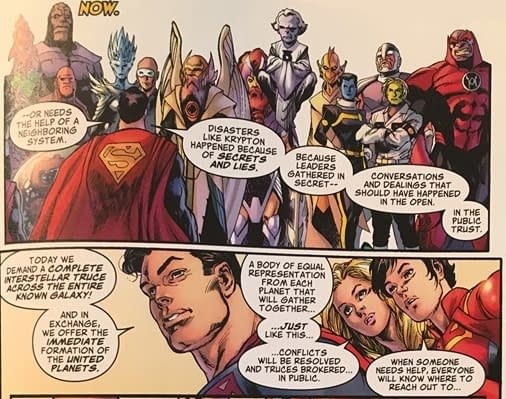 Bleeding Cool has been able to get photos from the comics in question. Major spoilerage of course. Well, both Superman and Supergirl tie into each other, as Superman and Superboy are setting up the United Planets. With the same scenario playing out in both comic books.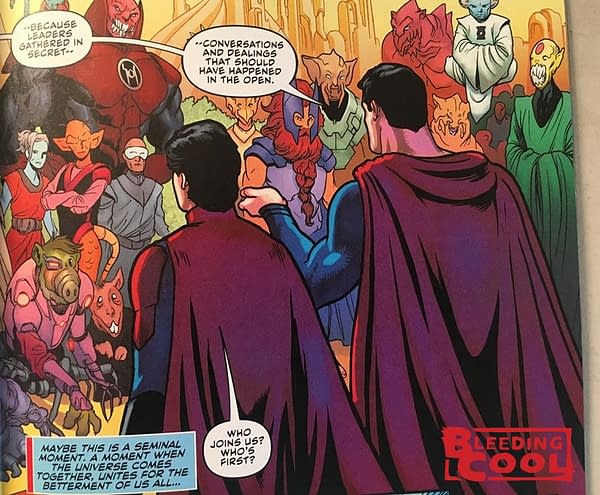 Something that would one day lead to the Legion Of Super-Heroes, with Superboy making the key statement…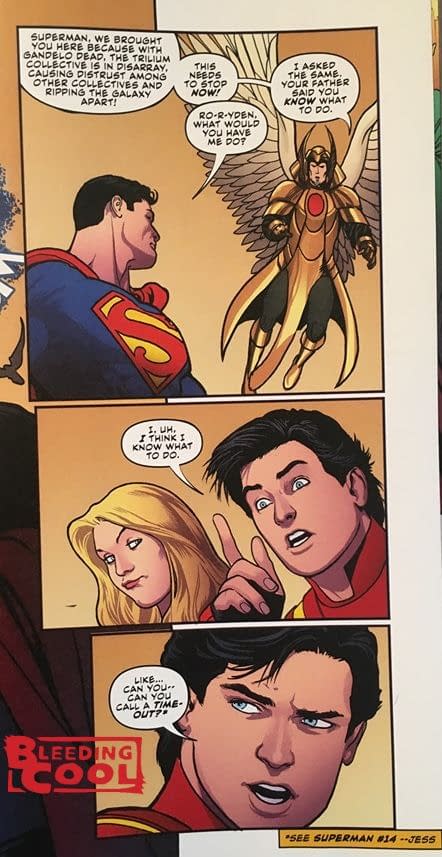 …interpreted in different ways.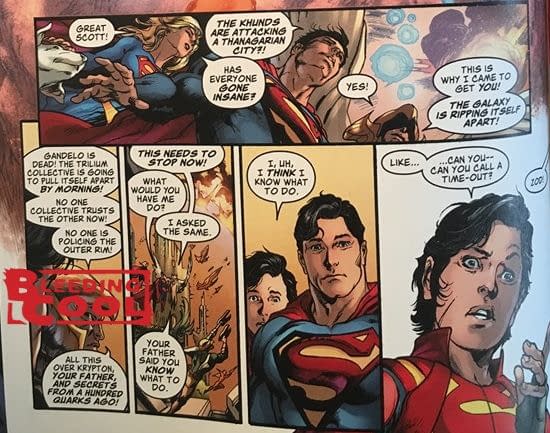 And as a result, triggering the arrival of the Legion Of The Super-Heroes from a thousand years hence to witness the moment that would one day lead to their formation. And this may be the problem. We've seen a previous version of this moment in promotional material.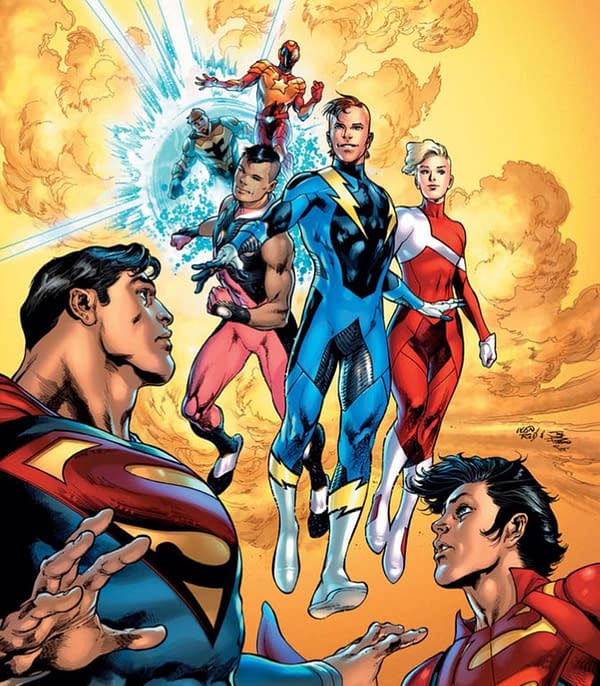 With the new Lightning Lad up front. Here's the design of the character from Ryan Sook.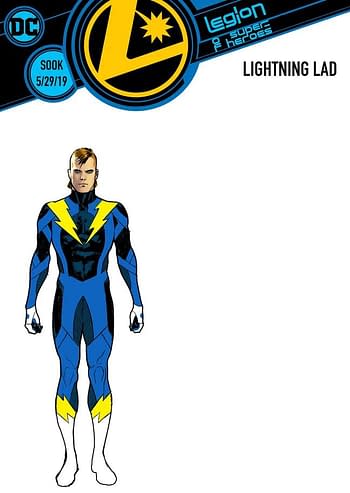 But in the now-pulped Supergirl and Superman, he may look different. From Supergirl #33, on the far left…
And in Superman #14 up front and central.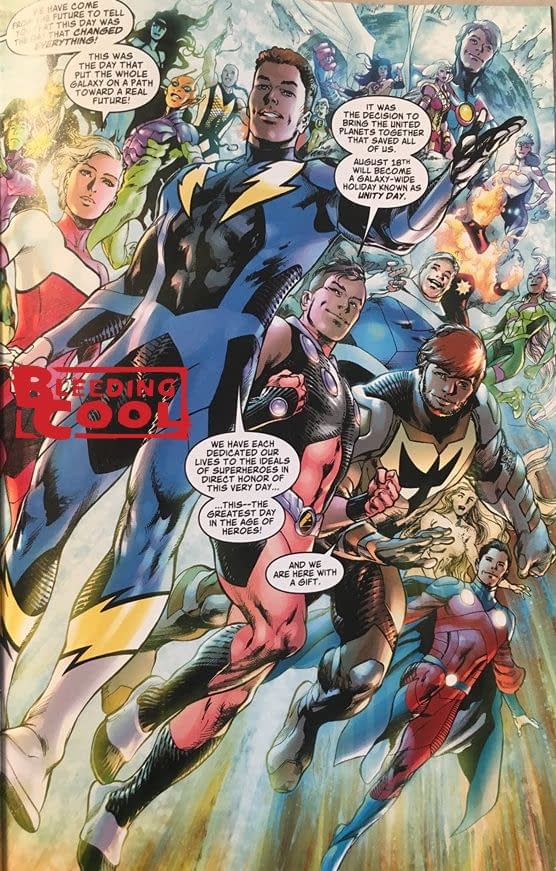 This portrays Lightning Lad as a black character, both with skin colouring and coded hairstyles.
And while having a black Lightning Lad wouldn't be an issue, if it conflicts with the way he has been portrayed in the upcoming Legion Of The Super-Heroes: Millennium series, that might be a one, Especially if people ask why a character initially portrayed as black in Superman and Supergirl now has a different ethnicity. Could there have been a mix up between the portrayal of Lightning Lad and of Cosmic Boy?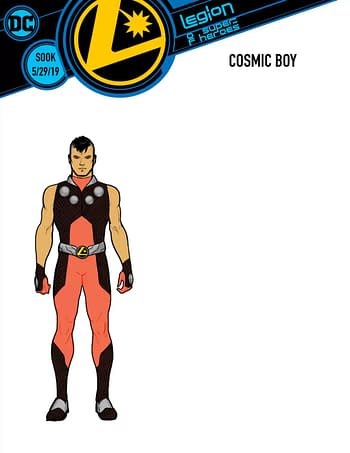 That is just my guess, my supposition, based on what I've been able to read and the issues DC Comics have had in the past, such as when they portray Damian Wayne, Connor Hawke or Huntress. And the destroying of Superman #14 and Supergirl #33 may have been an attempt to head this off at the pass. But in doing so, maybe creating a Streisand effect…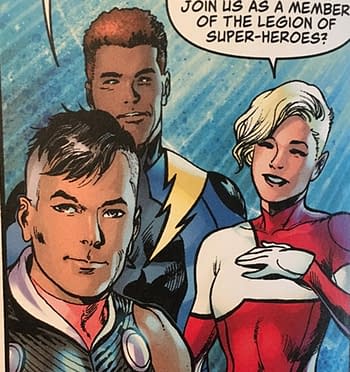 Superman #14 and Supergirl #33 are not published today unless your comic store is very naughty. Here are the original solicitations. Nothing they describe actually happens within the comics… but when has that ever meant DC has to pulp something?
SUPERGIRL #33 YOTV DARK GIFTS
(W) Marc Andreyko (A) Julio Ferreira (A/CA) Eduardo Pansica
After a year in space solving the mystery of Krypton's demise, Supergirl returns to Earth to discover that everything she knew as Kara Danvers is gone! Plus, the usurper Brainiac-1 has set his sights on the unsuspecting Girl of Steel-and his plans are far from benevolent!In Shops: Aug 14, 2019
SRP: $3.99

SUPERMAN #14 YOTV DARK GIFTS
(W) Brian Michael Bendis (A/CA) Joe Prado, Ivan Reis
Lex Luthor is back in Metropolis–and he's ready to wreak havoc! First stop, the most dangerous woman in the DC Universe: Lois Lane! Alone, her family a galaxy away, will Lois be tempted by Apex Lex's offer? What does Lex have that this reporter can't turn away from? Don't miss this shocking new twist in the Superman mythos!In Shops: Aug 14, 2019
SRP: $3.99
Enjoyed this article? Share it!