In The Avengers, Thor has been getting to grips with the Hulk, Jennifer Walters. Although in today's Avengers #10 by Jason Aaron, David Marquez and Justin Posnor, he can't even ask for a date properly.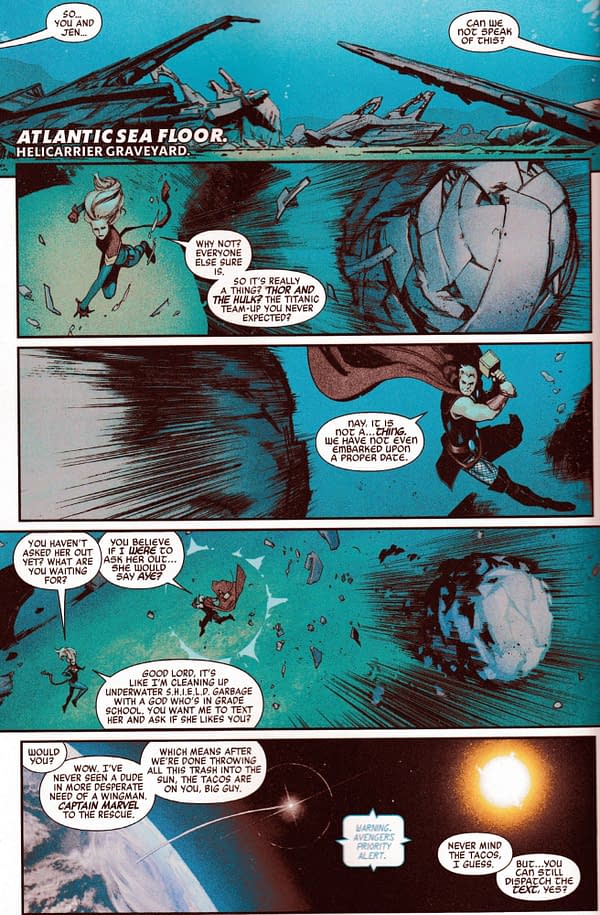 The Gof of blunder? Well, in today's Thor #7 from Jason Aaron, Tony Moore and John Rauch, it turns out that he's never been that great at it. As we meet Viking warrior, Erika The Red,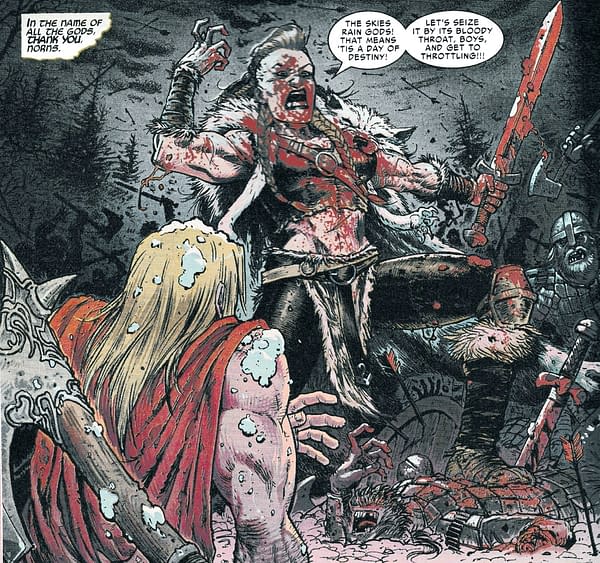 And not at all like either Rod Sonja or Red Sonya. Honest. And who has a certain, predictable effect on our Norse God.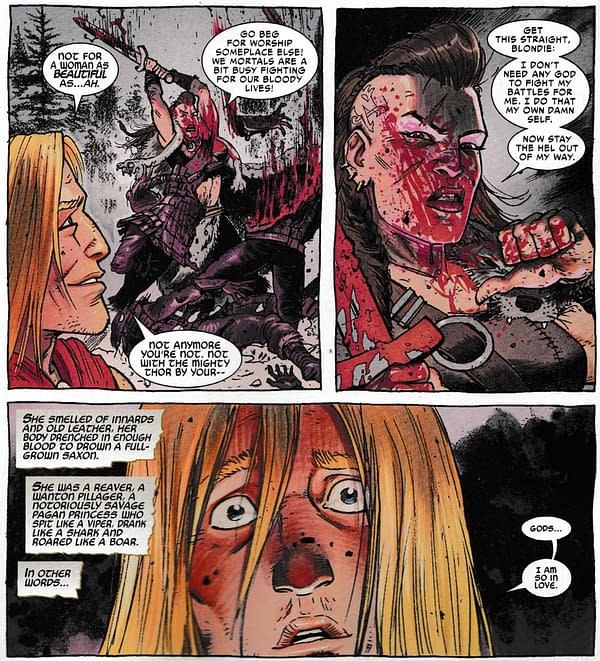 And, after all Blondie isn't exactly the ugliest of gods. I mean, look at his father. And for all Erika's bombast, it's still pretty cool to be a god….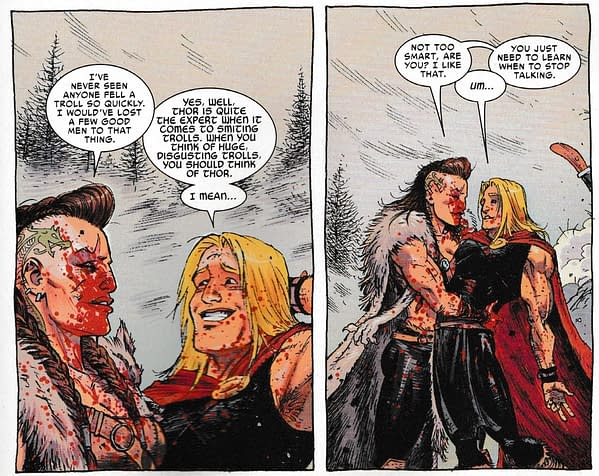 She doesn't even wiper her mouth first… a real barbarian.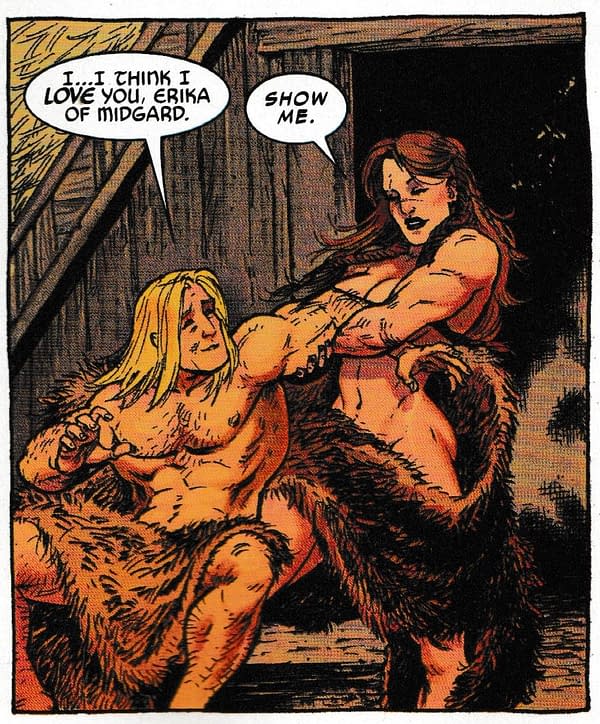 Well, it's one way to stave off those chilly Scandinavian nights. It then goes all Girl in The Fireplace of course, but this issue has given us plenty of Erika The Red stories still to be told – with and without Thor.
This, however, is her first appearance, speculator fans. Who do you want to see play her in the fourth Thor movie?
THOR #7
(W) Jason Aaron (A) Tony Moore (CA) Michael Del Mundo
A TALE OF YOUNG THOR FROM THE VIKING AGE!
Every time Thor comes to Midgard, he gets all the mead, battle and romance a young god could possibly want. But he still can't figure out how to prove himself worthy of Mjolnir. And now Odin is determined to keep his son away from Midgard for good. And young Loki knows just the way to do it.
Rated T+In Shops: Nov 14, 2018
SRP: $3.99

AVENGERS #10
(W) Jason Aaron (A) Ed McGuinness, Adam Kubert, Andrea Sorrentino (A/CA) David Marquez
THE EARTH'S MOST HATED HEROES?!
After 700 issues of saving the world, you'd think the Avengers would be due some celebration. But instead the whole world seems to be gunning for them, especially Namor's fearsome new Defenders of the Deep and the reimagined Russian Super-Soldiers of the Winter Guard. And that's not to mention the shocking surprise the U.S. government has in store for our heroes. Plus: The all-new Agents of Wakanda! The mystery of the Avengers of 1,000,000 BC deepens! A key revelation concerning the resurrection of Wolverine! And the next startling new Avenger is revealed!
Rated T+In Shops: Nov 14, 2018
SRP: $5.99
Enjoyed this article? Share it!