Star Wars #50 Review: Hope Dies Around a Star
[rwp-review-recap id="0"]
The Rebel Alliance finally has a fleet. With the help of the Mon Cal, the Rebels can now pose a genuine threat to the Empire. It is still miniscule in comparison to the Imperial armada, but, with precision and cunning, it could be enough to damage the Empire. The fleet is convened at Mako-Ta, where the Alliance is celebrating this achievement, but something goes wrong.
Elsewhere, Han Solo, Chewbacca, and C-3PO continue their efforts to pay off Han's debts.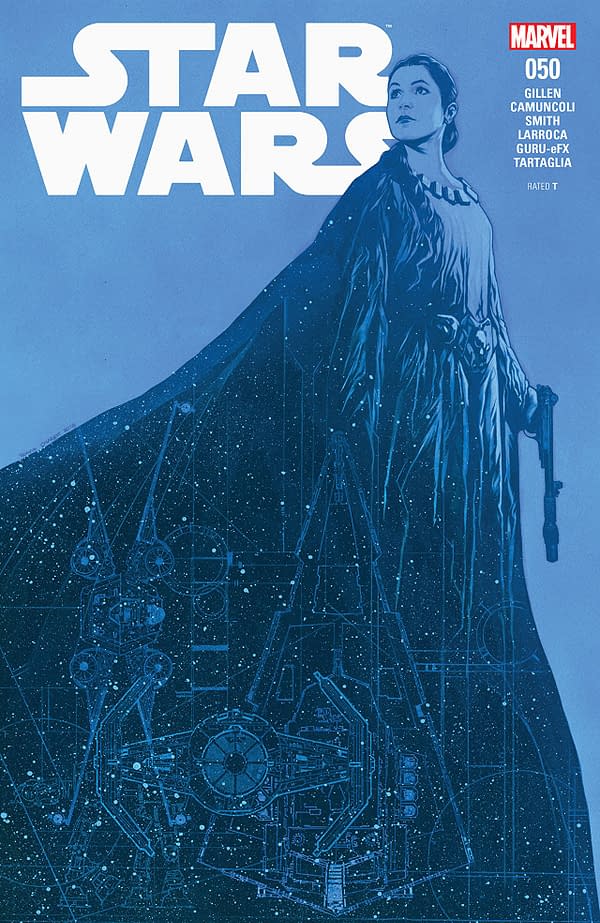 Star Wars #50 touts to be a turning point in the title's narrative. "Hope Dies" in this arc, as all the Rebellion's efforts to build up a sizeable force with which to strike the Empire prove for naught.
It's difficult to argue with this, as the comic turns very bleak very fast.
The comic is an enjoyable read nonetheless. This issue primarily focuses on Princess Leia and her unease at being put in the spotlight as the one responsible for all the Rebellion's victories. She'd rather the rank-and-file soldiers receive their due. She brushes up against both Mon Mothma and the queen of the Shu-Toran.
There is a back-up story, with art from Giuseppe Camuncoli, Cam Smith, and Java Tartaglia, where we see the turn of this issue explained.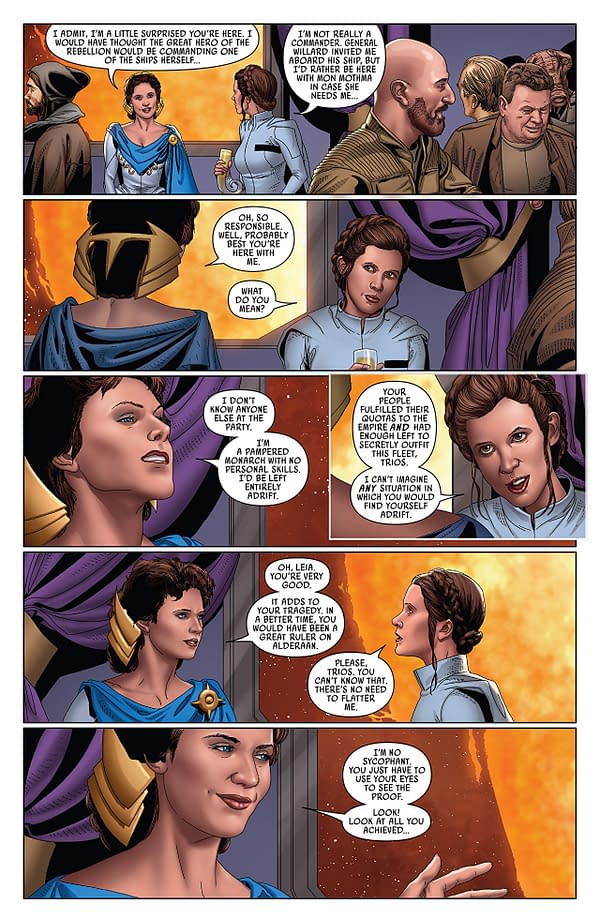 Salvador Larroca and Guru-eFX provide the art for the main thrust of the story. Larroca's photorealistic style continues to dazzle and amaze with its ability to capture the appearance of the original and supporting cast. Guru-eFX's color art bolsters this with temperate and balanced shades that manage the tone while keeping the eye trained on the page. Camuncoli, Smith, and Tartaglia do admirable work in the back-up segment and provide an adequately grisly sequence.
Star Wars #50 is a dramatic and impactful milestone issue for the Marvel rendition of the title. It feels momentous, and it can sell the reader on the drama of the events transpiring within. Add to it the excellent artwork of Larroca and Guru-eFX as well as Camuncoli, Smith, and Tartaglia, and you have a book well worth recommending despite an admittedly hefty asking price. Check it out.
[rwp-review-ratings id="0"]
[rwp-review-form id="0"]