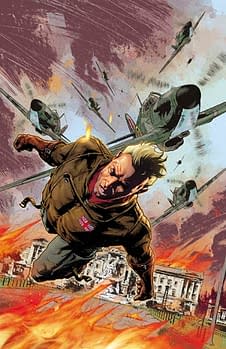 Announced by Comics Alliance from Vertigo Comics after DC PR gave them the nod, The Royals: Masters Of War, a six issue miniseries by Rob Williams and Simon Coleby, out in February.
Set against the backdrop of World War II, The Royals: Masters Of War focuses on a version of the Royal Family whose power is manifest as actual superhuman abilities — and the purer the bloodline, the stronger those abilities are. The series begins at the Battle of Berlin, with each subsequent issue set at the site of a significant event during the conflict: Pearl Harbor, The Battle Of Midway, Stalingrad, D-Day and the Fall of Berlin.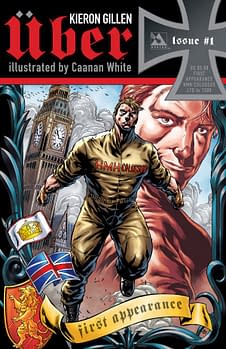 Published in February, alongside the tenth issue of ongoing series Über by Kieron Gillen and Canaan White, published by Bleeding Cool's owners Avatar Press. You know, the comic featuring a superheroisation of the armed forces during World War II.
Added to Marvel's Empire Of The Dead from George Romero bearing a resemblance to Max Brooks' Extinction Parade from Avatar, it looks like one publisher has set up shop on Zeitgeist Lane in Ideaspace City right now…
In Swipe File we present two or more images that resemble each other to some degree. They may be homages, parodies, ironic appropriations, coincidences or works of the lightbox. We trust you, the reader, to make that judgment yourself? If you are unable to do so, please return your eyes to their maker before any further damage is done. The Swipe File doesn't judge, it's interested more in the process of creation, how work influences other work, how new work comes from old, and sometimes how the same ideas emerge simultaneously, as if their time has just come. The Swipe File was named after the advertising industry habit where writers and artist collect images and lines they admire to inspire them in their work. It was swiped from the Comic Journal who originally ran this column, as well as the now defunct Swipe Of The Week website.
Enjoyed this article? Share it!