Over the last couple of years, DC Comics and Walmart ran a number of exclusive over-sized anthology comics in the European model, with one or two original stories and a number of reprints. That model has now switched to a time-limited model that lets comic stores order them a month after they appear in Walmart. Target also got an exclusive deal over the Primal Age comics in the same format. But now it seems to have its own Batman: The Caped Crusader 100-Page Giant #1 separate to the Walmart version or the shared comic store/Walmart version. Without any official PR, which is why no other news site has reported in it yet.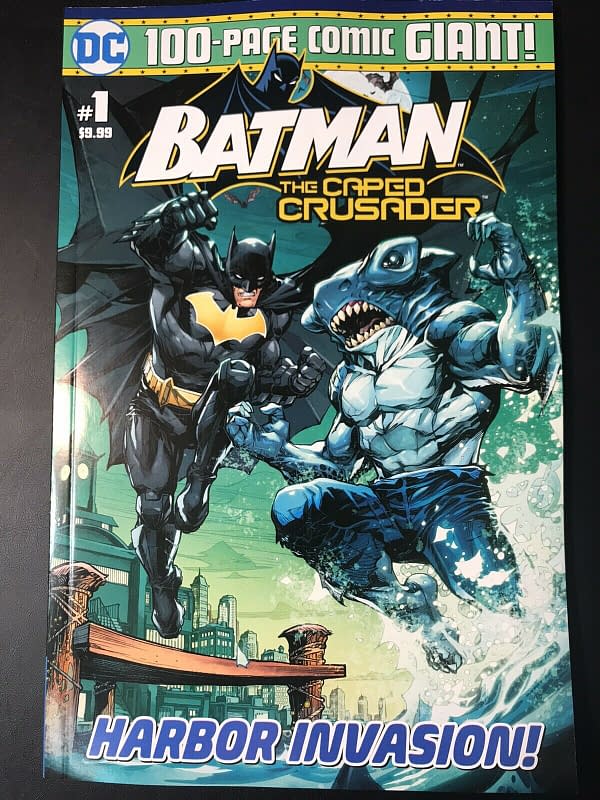 Edited by Andrew Marino, Batman: The Caped Crusader 100-Page Giant #1, in Target stores now, has a new Batman & Robin story by Jeff Parker, Scott Kolins and Hi-Fi, Harbor Invasion, in which Bruce Wayne attends the Gotham City Harbor Aquatic Center when King Shark strikes. It's up to Batman and Robin to protect them from its monstrous invader.
There's a new Batman & Nightwing story, Arkham Escape, in which Clayface mounts an attempt to escape from Arkham Asylum. But it's his unlucky day as Batman and Nightwing are here to make sure he stays locked up.
And there are reprint stories, Batman and Batgirl in Like A Bat Outta Gotham from Batman Gotham Adventures #18 by Scott Peterson, Craig Rousseau and Terry Beatty. And The Joker in Madness And Chaos from Batman Gotham Adventures #31 by Ty Templeton and Terry Beatty.
Enjoyed this article? Share it!