Terrifics #6 Review: The Least Terrific Issue so Far
[rwp-review-recap id="0"]
The Terrifics are separated and hurting in the Kingdom of Elements. Mister Terrific is reliving the worst day of his life, upon which his wife died in a car accident. Plastic Man is facing down a stone monster. Phantom Girl is under attack from a horde of crystal warriors. Metamorpho is fighting Algon, a creature with the same powers as his own. All the while, a mysterious figure watches the team from his base.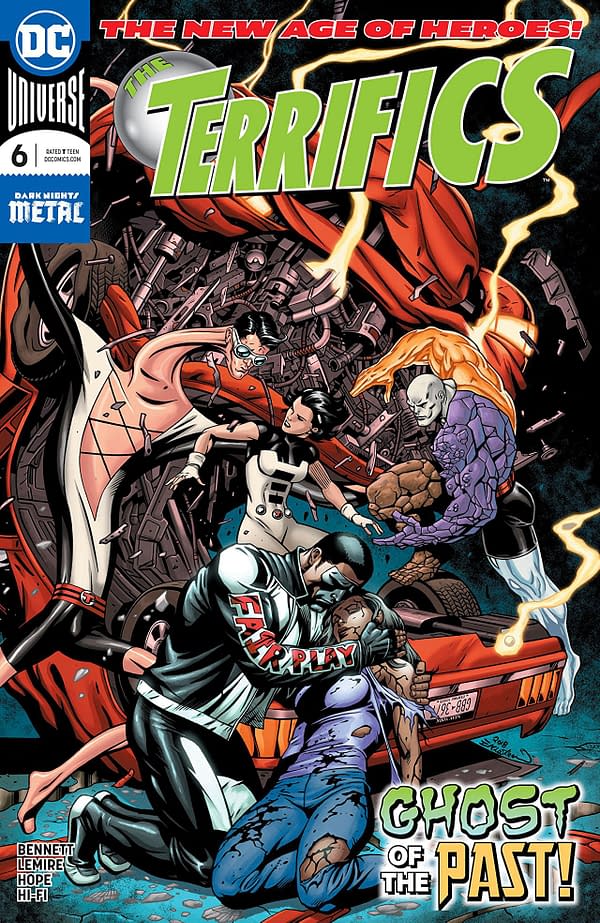 Terrifics #6 is an oddly disorganized comic compared to its predecessors.
The conflict with Algon falls to the background except in Metamorpho's plotline. Phantom Girl and Plastic Man don't have anything to do in this comic. Mister Terrific is reliving the loss of his wife, and it comes out of nowhere in this issue. The vision comes from some gas in the Kingdom of Elements, but Holt's backstory hasn't really been a theme of this series beyond the subtextual motivation for his misanthropy.
You could argue that is the justification, and it is implied that he will be more accepting of the rest of the team after this point. It just could have been signaled better that it will be dealt with soon.
This part of the book isn't outright bad, and there is fun to be had once the team regroups and fights back.
The moment that lost me is when Doctor Doom shows up, monologues like this is a subpar 1960's comic, and claims responsibility for everything bad that has happened to the Terrifics for whatever reason. I was fine with this book being the Fantastic Four replacement since Marvel wasn't printing the book, but dropping in "Dr. Dread" and playing it with a straight face is ludicrous.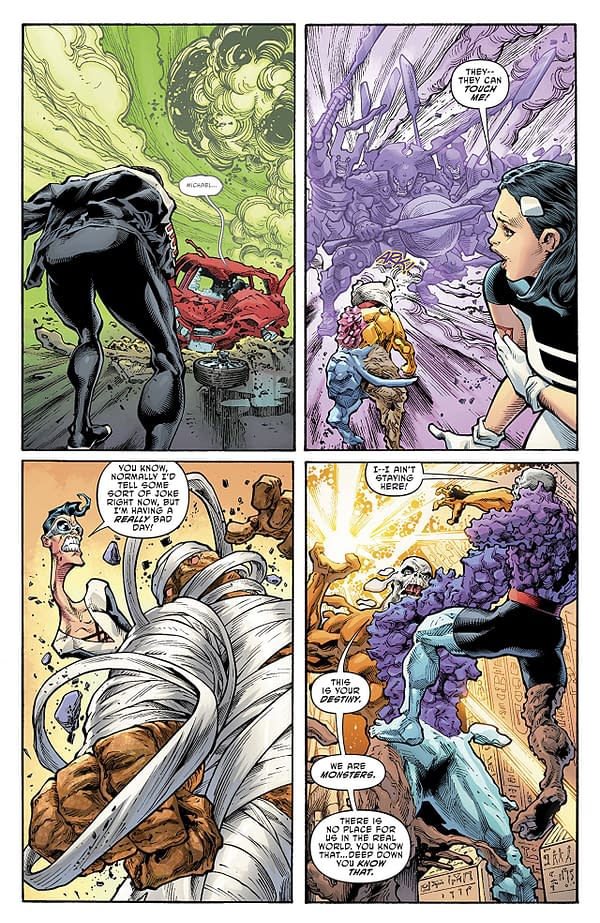 Joe Bennett handled the visuals in this issue, and that is a positive. There is plenty of joy to be had in the thoroughness with which Bennett can flesh out a world, and he gets creative with both the element people and Plastic Man. Hi-Fi does good work with the colors, giving the world the wild and kooky atmosphere it needs.
Terrifics #6 is the weakest issue so far. While there is some emotional resonance in Michael Holt's tragedy and Rex Mason facing a dark reflection of himself, this issue is missing a unifying theme through which to bring its disparate narratives together. Plus, Doctor Dread is just Doctor Doom, and it's so painfully blatant that it's hard to take seriously. I can tentatively recommend this issue to those enthralled by this series and its characters like myself, but this is definitely not the issue I'd recommend to newcomers.
[rwp-review-ratings id="0"]
[rwp-review-form id="0"]