That Final Page Of Yesterday's Justice League Of America #4 (Big Spoilers)
Okay, so it's been out and about. Discussed at length. So here, for your voyeuristic disgust, is the final page of Justice League Of America #4, following on from yesterday's lead up.
Spoilers, sweetie.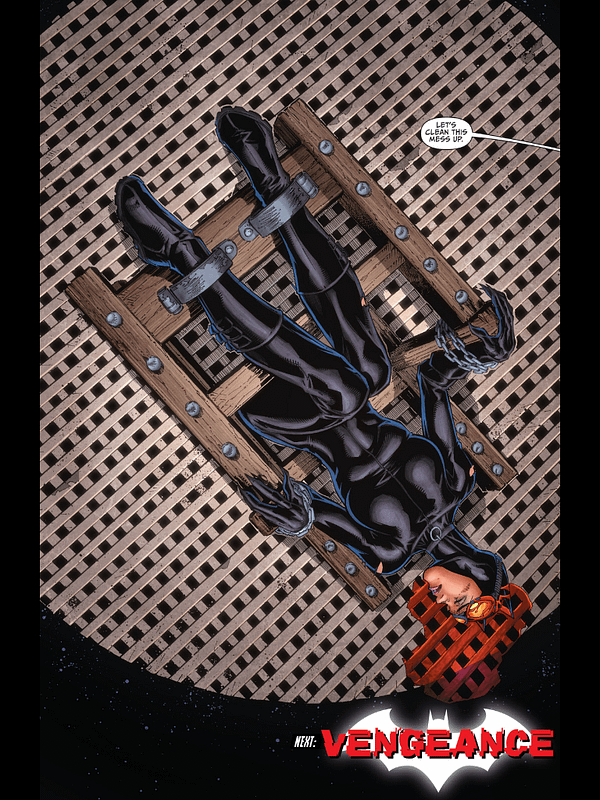 It looks pretty grim, given the rather visible headshot on the previous page. The death that will kick off Forever Evil into September and beyond. But there are things worth considering.
1) It might not be Catwoman. There have been hints in the series that this may be someone new under the cowl.
2) It could be the Martian Manhunter, at this point, impersonating Catwoman and taking the bullet in a very survivable fashion, giving his shapechanging abilities.
3) It could be the first of this Catwoman's nine lives and she's going to regenerate into Matt Smith.
But whatever the get out, if there is one, this is a new blatant example of "fridging", the trope of killing off a character, usually female, to get the attention, or to raise the ire, of another character, usually male. And dubbed from the article by Gail Simone, Women in Refrigerators, after the death of Green Lantern Kyle Rayner's girlfriend, Alexandra Dewitt, the remains of her body stuffed in a fridge.
In this case, her death is designed to get the attention of Batman…
Hurting/killing the women or celebrating the illusion of such in order to motivate the male character via vengeance. Fuck that shit.

— Laura Sneddon (@thalestral) May 30, 2013
The means and death of Selina Kyle? The fridging of Catwoman and everything leading up to it? This is everything that fails in the nu52.

— Living Myth Media (@Livingmythmedia) May 30, 2013
Catwoman? Did they really just fridge Catwoman?! Say it ain't so. @gailsimone

— Shawn Proctor (@shawnproctor) May 29, 2013