The DC Multiverse, Today – What Is Or Is Not A Crisis? (Spoilers)
The DC Multiverse. Or Omniverse. Part of a general trend in superhero comic books – and now superhero TV shows and movies – toward multiversal storytelling. Where anything can happen – and therefore doesn't matter. rick And Morty took this to the logical step, where you can just let your reality burn to the ground, step sideways to a new reality where everything is fine, and continue your story. With multiversal storytelling now the norm, and commonplace, will the holes poked in the overall storytelling structure creating a house of cards effect? Possibly, we don't care, we've loved this at Bleeding Cool since the days of Captain Britain, as the annual JSA/JLA tradition is now a weekly regular.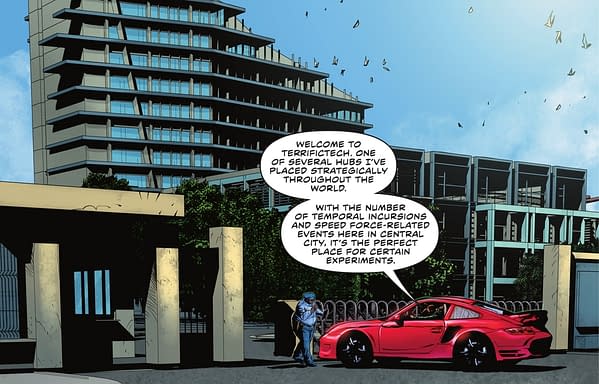 In The Flash, Mr Terrific is building research institutions anywhere that is dimensionally unstable. Just don't tell Jon Stewart (not the Green Lantern) about it or he will blame them for any dimensional incursions that take place in the city.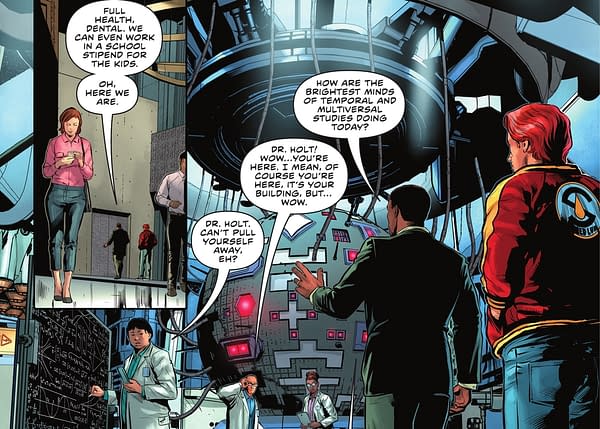 Although this is the DC Multiverse so maybe their version of Jon Stewart would have a point.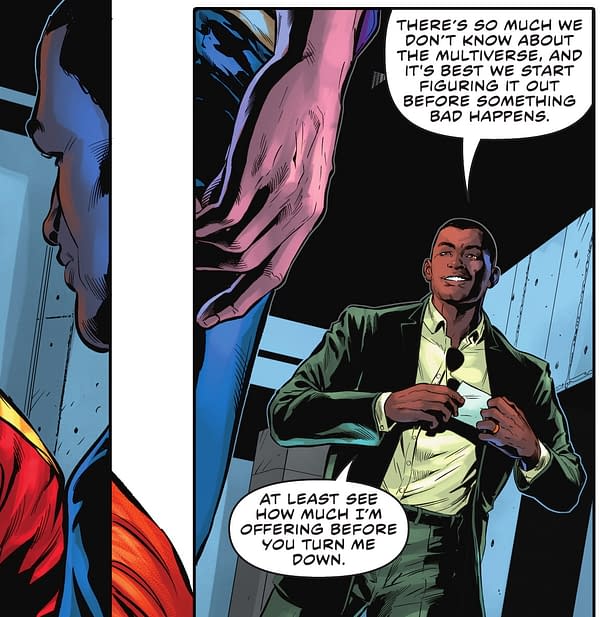 With The Flash as zero point. Elsewhere in the multiverse, courtesy of Shazam #1, we have an undisclosed blade slicing its way through reality.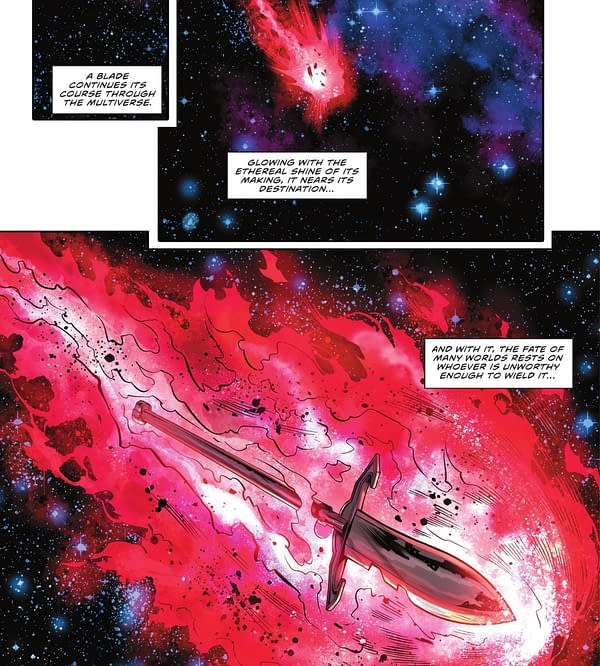 While Titans sit around arguing whether or not the Rock Of Ages incoming event is a Crisis Level event or not.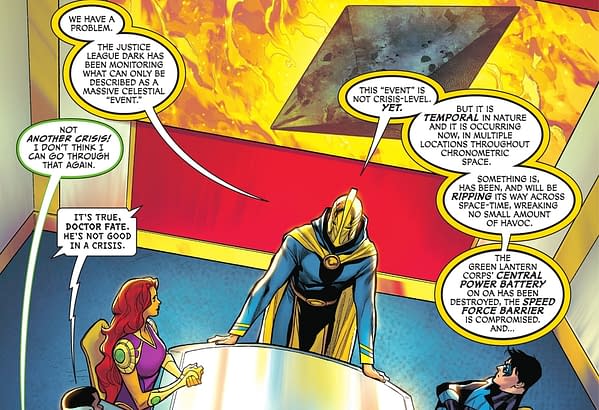 And the debate as to whether or not this counts as a Crisis continues.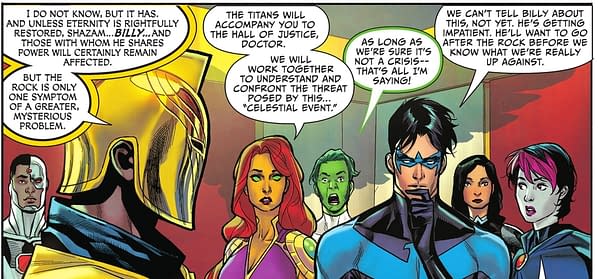 This is, of course, the kind of thing, it seems, that caused the fall of the Justice League in Superman And The Authority's slice of the Whole Sort Of General Mish Mash of reality.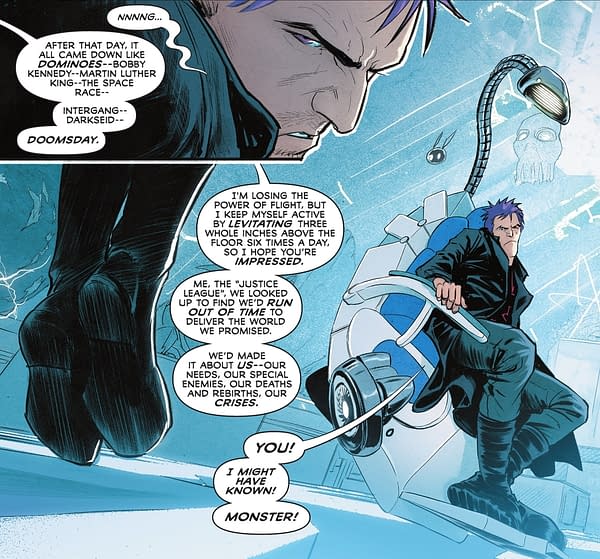 The more you talk about the Crisis, the more it is likely to happen. And yes, a Crisis is totally going to be happening… and a better look at those questions we asked at the weekend.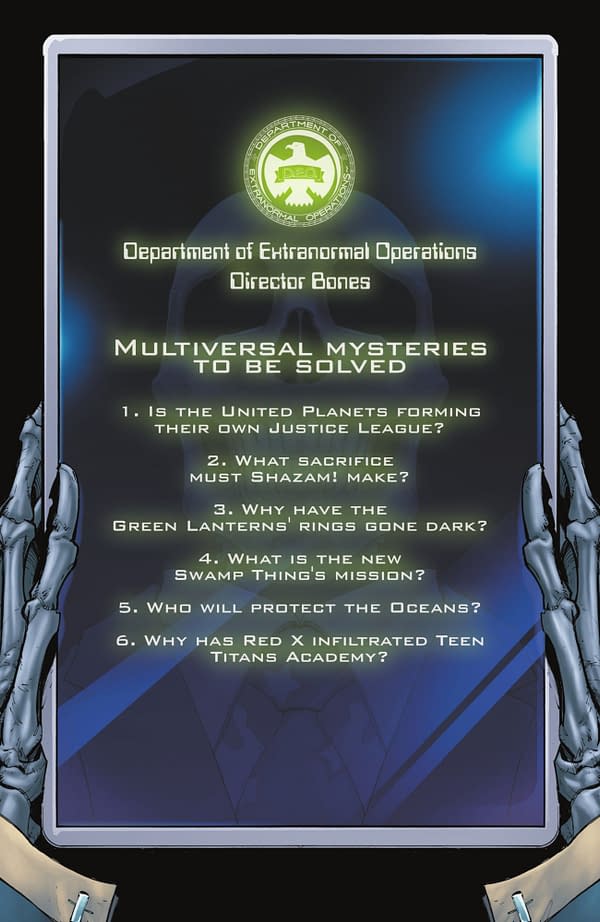 SHAZAM #1 (OF 4) CVR A CLAYTON HENRY
(W) Tim Sheridan (A/CA) Clayton Henry
Billy Batson came to Titans Academy looking for answers. Why was the rest of his adopted family cut off from the power of Shazam? Why are his own powers becoming increasingly unreliable? The answers send Billy on an outrageous adventure that'll not only change him but have an immense impact on the school and other students on Titans Island.
Retail: $3.99 In-Store Date: 07/20/2021

SUPERMAN AND THE AUTHORITY #1 (OF 4) CVR A MIKEL JANIN
(W) Grant Morrison (A/CA) Mikel Janin
Sometimes even Superman finds a task almost impossible. Sometimes even the Last Son of Krypton needs to enlist help. Some tasks require methods and heroes that don't scream Justice League. So Clark Kent, the Metropolis Marvel, seeks out Manchester Black, the most dastardly of rogues, to form an all-new Authority tasked with taking care of some business on the sly. Not only will Black know the right candidates for the team, but if Superman can make him behave himself and act in service of the greater good, then he'll prove literally anyone can be a hero! They'll have to move quickly, however, as the Ultra-Humanite forms his own team to take out the Man of Steel. This new limited series helps launch an all-new Superman status quo, setting up story elements that reverberate across both Action Comics and Superman: Son of Kal-El in the months to come. And not only is Superman putting together a superstar team, but it takes superstars to tell the tale: Grant Morrison (The Green Lantern, All-Star Superman) and Mikel Janin (Batman, Future State: Superman: Worlds of War)!
Retail: $4.99 In-Store Date: 07/20/2021

FLASH #772 CVR A BRANDON PETERSON
(W) Jeremy Adams (A) Will Conrad (CA) Brandon Peterson
Leaving past mistakes behind and racing into the future, Wally West returns as Central City's Scarlet Speedster! Now reunited with his wife, Linda, and their two children, the former Kid Flash begins a new chapter in his life. But Wally quickly remembers that saving lives and fighting super-villains may make him a hero, but they don't pay the bills. Luckily, an old friend may have just the right job for this blue-collar champion. Retail: $3.99 In-Store Date: 7/20/2021