The Fantastic Four have only just returned from their Ike Perlmutter mandated absence, but it looks like Marvel is already planning to kill them off! In Perlmutter's ultimate revenge, as enacted by the very Perlmutter-like figure Doctor Doom, the Fantastic Four will be sentenced to death in April.
A press release contains more details about Fantastic Four #9:
This April, the fate of Latveria, the world, and the balance of Cosmic Power in the Marvel Universe all rests on one big decision – and one cruel act will forever change the relationship between the Fantastic Four and Victor Von Doom! It's the terrifying, epic, and final chapter of "Herald of Doom," coming this April, and Marvel is excited to reveal a brand-new cover from series artist Esad Ribic!
And bloodthirsty (or maybe just thirsty) writer Dan Slott says:
This isn't about heroes or villains. This is about justice. Reed Richards and his team were warned what would happen if they illegally entered Latveria. The word of Doom is final. This is out of his hands. For their crimes against this sovereign state, the sentence is…DEATH TO THE FANTASTIC FOUR!
It all happens in April. Should we get ready for a funeral special soon? Maybe it's for the best, as this means they can skip the big super-mega-crossover event starting that month.
FANTASTIC FOUR #9
Written by DAN SLOTT
Art by AARON KUDER
Cover by ESAD RIBIC
On Sale 4/24/19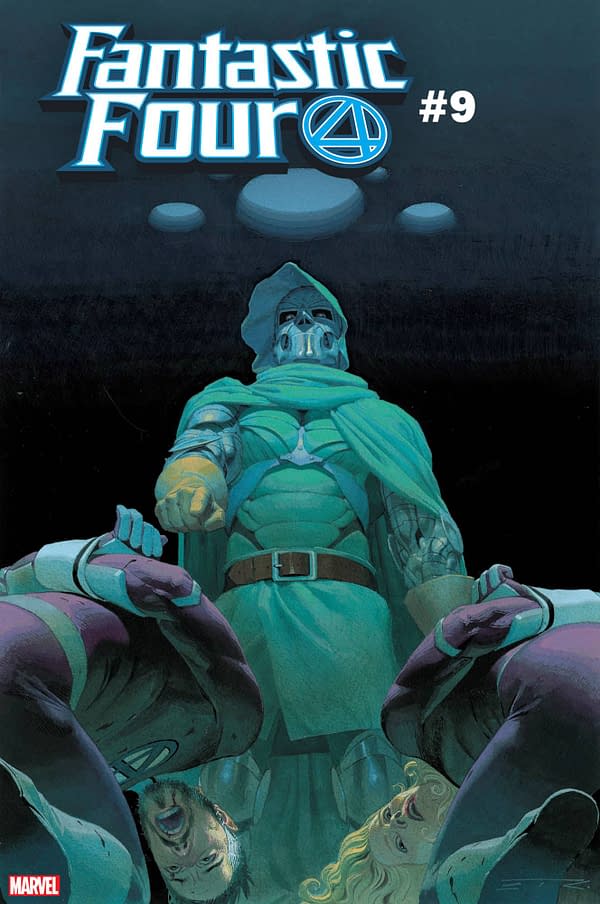 Enjoyed this article? Share it!