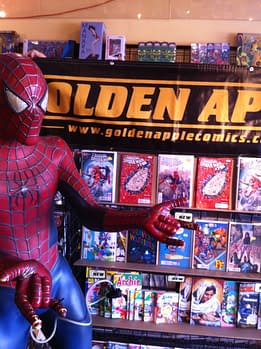 Siike Donnelly is an occasional contributor to Bleeding Cool and has written at length about his brain aneurysm and how he believed comic books helped him through recovery. He's also a podcaster and has a Kickstarter on the go for his comic Solestar. He also works at Golden Apple Comics in Los Angeles.
Two days ago a customer tried to buy a large amount of Amazing Spider-Man #700 and variants. When told that there was a limit per customer, he became argumentative and Donnelly escorted the man from the store. He tells me;
I had to escort him out of the store for yelling. Then he threatened to call the cops and said I "assaulted" him. He left for a few minutes, came back, ran in when he saw me at the back of the store. I guess he figured I couldn't run. He was wrong. He grabbed a handful of variants and bolted for the door. I was on him in seconds. Knocked some of the books from his hands. Without stopping he ran out into Melrose during high traffic. I stayed behind him. He turned to gloat, thinking he made a clean getaway, but I was already there. With all my force I shoved him into his car. I knelt down to grab the remaining comics he dropped. We were at his car it turns out. He swung open his car door and tried to hit me in the face with it. The door stopped a foot from my face. So I shoved the door closed, pinning him between his door and car. He was stuck. I screamed out him. He threatened that he had a gun and would kill me with it. I told him bigger forces than him have tried to kill me and failed. He then tried to play the victim and said he was buying for his kid. I told him he failed as a father then and if stealing is what he's going to pass on to his child, then his kids should be taken from him.

I released him from his car and told him to never come back. He drove away. Found out later that he robbed two other places nearby. He was just on a spree that day. It's not store policy to chase down thieves like that, but this guy had it coming. And with the evidence we gathered, he's going to jail.
Apparently a police forensics team were able to get fingerprints on a comic bag he'd touched. Siike almost blacked out from the intensity of the situation after it happened, but he's okay now.
Enjoyed this article? Share it!