The Original Marvel Universe Timeline, As Revealed By Secret Empire #0 And Today's Marvel Comics (SPOILERS)
Today sees the release of Thunderbolts #16, Captain America #16, USAvengers #6 and Secret Empire #0 and that's probably a good enough order to read them in. With previous crossovers, we have run tallies to measure how much of the central event narrative they are, and how many are just putting a sticker on the cover. Indeed, during Civil War II, some crossovers didn't mention the events of the main story at all. Well, of the four titles out today, they are all centrally important to Secret Empire, and reading all the Opening Salvo titles will benefit and feed into the main narrative, enriching it and adding detail. Because things are changing. We've been talking about this for a while. The revealed history of the Marvel Universe as it was. And now it seems, it seems pretty much locked down. When we first saw Captain America turned by the human cosmic cube Kobik under the control of the Red Skull into what we are calling Hydra Cap, we were told by Marvel people that this wasn't brainwashing. Even though it really looked like it.
What is now emerging is that no, it wasn't brainwashing.
Because in the Marvel Universe, Hitler, the Axis, Hydra, won the Second World War, as a Red Skull Hydra subsumed the original. Captain America was always an agent of Hydra, recruited by one who would become Madame Hydra. He was never frozen in ice. And then the Allies took the cosmic cube. They changed history so that they won the Second World War instead. They turned Steve Rogers into a good guy. And all this gets confirmed in today's Captain America: Steve Rogers, followed up in Secret Empire #0. The cosmic cube transformed Captain America so that he is no longer an agent of Hydra, he was always a genuine hero fighting on the side of the Allies, until he and Bucky took a fall towards the end of the war.
But, as the changes to the timeline were occurring, Hydra foresaw that one day the cosmic cube, as Kobik, would begin to change things back again, and so they preserved the essence of Hydra Cap until that day when it was needed. Kobik didn't turn Captain America into Hydra Cap. She turned him back. The Red Skull just didn't know this. So Hydra Cap returned – killed the Red Skull – and, with Madame Hydra took back control of the fascist organisation. And in today's Secret Empire, takes it to new heights – by winning against everyone else in the Marvel Universe.
Captain America and Secret Empire take the classic "What if Hitler won the war" trope and make it a "What if he didn't?" And now have a story about how fascism can sneak in through the back door, through legal, democratically approved means, with powers granted to those in power in times of emergency, being used in everyday practice. And turns the history of the Marvel Universe into a constant fight against the dark, to stop the timeline trying to return to its natural course.
Also, with all this cosmic cube use of late, would it be too much to assume that this is a last hurrah for them as well? No more cosmic cubes after all this is done and dusted? They do seem to have a tendency to rip the narrative apart…
And across the comics out today, we see Captain America exploiting the trust that people have put in his hands. That seems to be the focus, too much power in the hands of one man, however beneficial, can lead to devastating results when they replaced by someone else. It was a criticism of George Bush. It's a criticism of Kevin Feige at Marvel Studios. It's in favour of increased separation of powers and checks and balances regarding it.
In USA Avengers, we see Captain Ameria testing AIM before Secret Empire takes place… …flying the flag… …putting them in their place with just a tinge or racism and xenophobia and playing up his long-standing reputation… …and getting the measure of their psychic defences. And when Rick Jones learns the truth… … he too, trusts in the person he has always trusted in.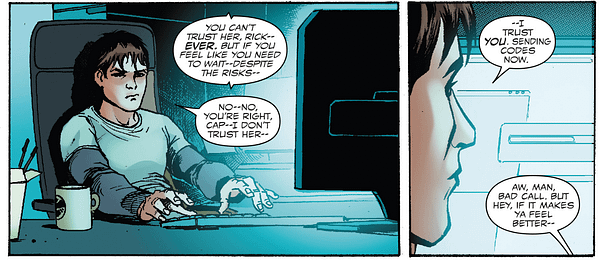 While Bucky gets Baron Zemo turning on him… …when defending Kobik. Which is one blow for Captain America's plans. Which gives us a plot. Captain America will be spending Secret Empire searching for the remaining cosmic cube fragments to completely turn the world back to the way it should be. And while he is lacking one of his planned tools, thanks to Rogue's actions in Uncanny Avengers… …he has a backup. Which plugs right into Secret Empire #0. Helmut gets his own revenge on the death of his father at the hands of Bucky, now revealed as the real reality, even if Bucky is still coming to grasps with the reality that everything he knew was wrong, as no doubt are the leaders… Actually, Bucky it's the first time. In the original Marvel Universe time that it, it was the original Baron Zemo who was trapped killed on this rocket,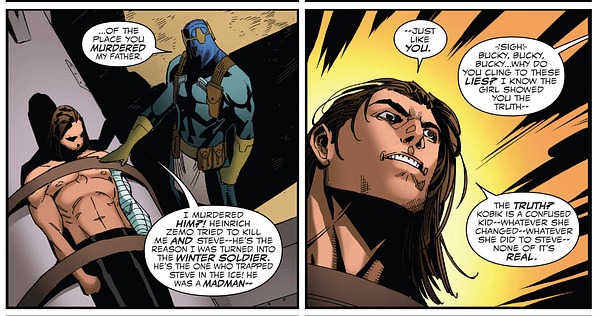 And if Steve Rogers can find the final cosmic cube fragment, Kobik, it will be again, and the Allies version of history which Bucky remembers will be gone.
Oh and Tony Stark as Iron Man is back. Somehow.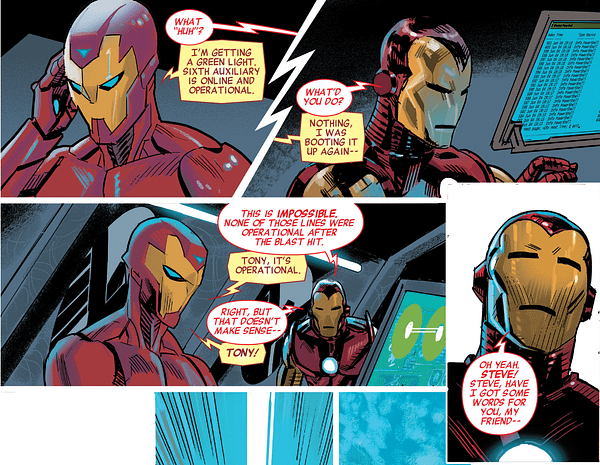 Could this be the virtual Tony Stark? No longer planning to plot against the humans? Either way, Invincible Iron Man, out today, does not make that clear… Funny though.
Secret Empire #0 by Nick Spencer and Daniel Acuna, Captain America: Steve Rogers #16 by Nick Spencer and Jesus Saiz, Invincible Iron Man #6 by Brian Michael Bendis and Stefano Caselli, USAvengers #5 by Al Ewing and Paco Diaz and Thunderbolts #12 by Jim Zub and Jon Malin are all published by Marvel Comics today.