The Tick First Appearance CGC 9.8 On Taking Bids At ComicConnect The Tick is one of the weirdest and coolest success stories in modern comics. Ben Edlund's creation, which debuted in this Special Edition comic back in 1988, has become a pop culture icon, the lead of two different tv shows, and of course, the mega-popular animated show we all watched in the '90s. On auction right now at ComicConnect is a super rare first print of the Special Edition, of which this is #03879 of 5000. Considering that this book was reprinted 9 times, the fact that this rare first print is only sitting at $443 for a CGC 9.8 is weird. Someone is going to get a deal. Check out The Tick goodness below.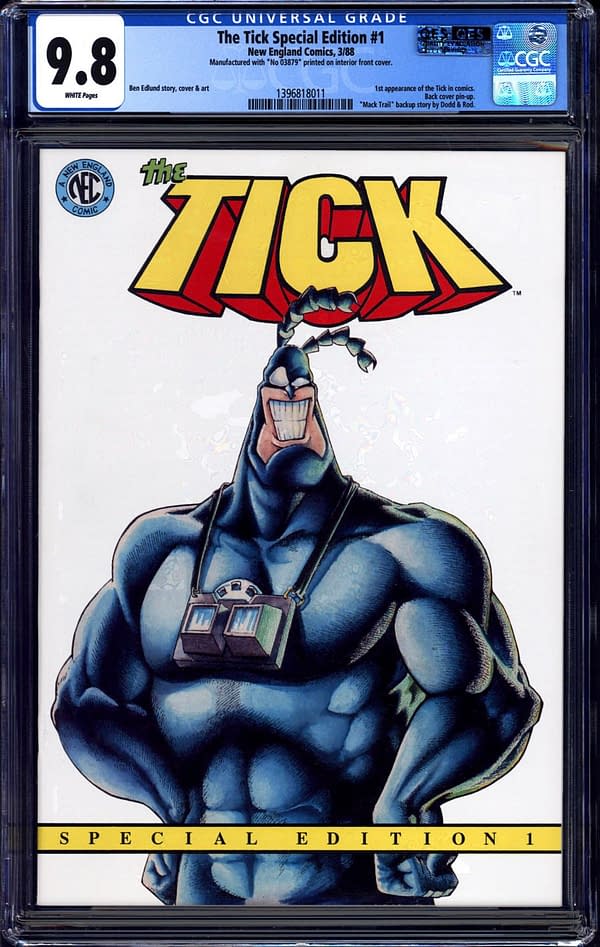 The Tick Fans Need To Own This
"The Tick is one of the strange anomalies of the comic book world, rising from obscurity in the pages of a local newspaper to become a worldwide phenomenon and star of an animated series, as well as two live-action TV shows. The Tick Special Edition is where it all started; Ben Edlund's original vision of his muscular hero was an escaped mental patient with superhuman strength, whose childlike innocence is likely the result of repeated concussions. The cult success of the blue bug has enjoyed sustained popularity throughout the years, making his first appearance a highly sought-after collectible, as the first print run of 5,000 copies is excessively difficult to track down. This premiere issue went on to be reprinted nine times by the end of the 1990s due to demand from his devoted fanbase. This is one of the highest-graded copies known of this important comic, numbered #03879; it is verified as belonging to the original print run. QES-certified, the comic has no visible flaws, which would certainly be amplified by the stark white background. The spine is flawless, with perfect staple placement, and the color strike is perfect, with powdery blues contrasting against the bright yellow and red of the logo. The most recent sale of this book was recorded at $1,900, an impressive sum to be sure, but will likely be surpassed when the hammer drops at the end of the auction."
Pretty neat that this is the highest-graded copy on the CGC census. And now you can brag about it! Go here and get more info on The Tick book, and while you are there, go ahead and take a peek at what other items are taking bids today.