It's only X-Editor Jordan White's second week since his big fancy promotion, and he's already feeling the pressure! So we appreciate that, despite being busy, he still found time to post some quick previews for that most important of comic book holidays, X-Men Monday.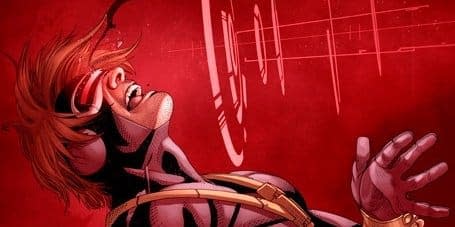 But we're not very happy to see Cyclops being mistreated so soon!
Guys, I am going to be SO SWAMPED this #XMenMonday, I almost don't have time to preview anything! But I am stealing a moment to share with you these snippets of Cyclops and Wolverine getting taken down. pic.twitter.com/Jvhj7prU1L

— Jordan D. White (@cracksh0t) January 14, 2019
On the other hand, we're always glad to see Wolverine take a psychic knife to the head. And since we know that Betsy is back to using a psychic sword, then can we assume that's Kwannon, who seemed to be back in action at the end of Hunt for Wolverine?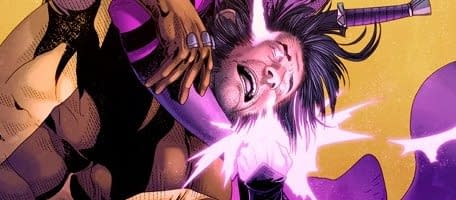 Elsewhere Midtown Comics has announced a big signing for March 7th with Zac Thompson, Lonnie Nadler, Matthew Rosenberg, and Vita Ayala.
We're super impatient to announce this one. We can hardly contain ourselves #XMENMONDAY pic.twitter.com/H0FJ9XW9PT

— Midtown Comics (@MidtownComics) January 14, 2019
Writers Zac Thompson, Lonnie Nadler, Matthew Rosenberg, and Vita Ayala join us from Midtown Comics Downtown on Thursday, March 7th to celebrate the Age of X-Man! This is an open signing and we recommend showing up early. Find more info: https://t.co/XYxsV6jYkJ #XMENMONDAY pic.twitter.com/qw5Xinf0ec

— Midtown Comics (@MidtownComics) January 14, 2019
Over at Adventures in Poor Taste, Chris Hassan is gearing up for that site's Cyclops Week, which we'll definitely be tuning in for.
Happy #XMenMonday, #XMen and #Cyclops fans! If you want to hear the latest news regarding #CyclopsWeek (one week away!) – straight from me – then tune into the latest episode of the @AiPTcomics Podcast – now online! https://t.co/PAfsLesYFq

— Chris Hassan (@ChrisAHassan) January 14, 2019
Kelly Thompson hasn't chimed in yet, but we know we can always count on some Mr. and Mrs. X previews from the superior Thompson twin (sorry, Zac), so we'll update this article later when she posts her X-Men Monday tweet.
Of course, this week sees the final issue of X-Men Disassembled, kicking off the Age of X-Man. Bleeding Cool had some spoilers about that over the weekend, which you can read here if you so desire.
UPDATE:
https://twitter.com/79SemiFinalist/status/1085000098679902208
We told you Kelly would come through!
Enjoyed this article? Share it!