Thirsty Secrets at The Women At Marvel Panel At NYCC/MCM/Metaverse
Karla Pacheco, Leah Williams, Sarah Brunstad, Ellie Pyle and Lauren Bisom took to a NYCC/MCM Metaverse panel, the traditional Women Of Marvel panel along with host Angelique Roche.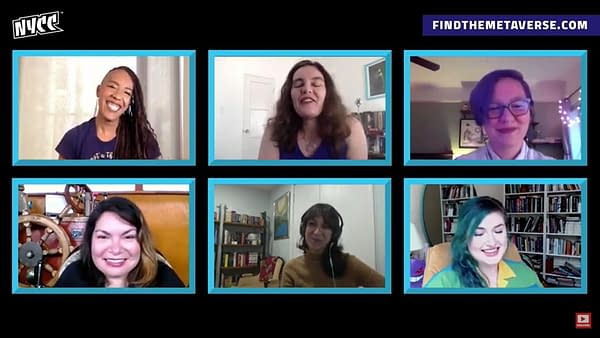 Ellie Pyle on more audio dramas. "If anyone liked the Ms Marvel story that we did the audio recording of a couple months ago and released, then you know it's possible that there's something else like that coming along- not with Kamala but with another great female character who might be getting a return visit from a writer who is associated with her."
Karla Pacheco on Spider-Woman "our next arc ties into what's going on in King In Black and it's some stuff that I've been joking that issue seven is the one that's going to have every reader calling for my blood and that just delights me because I'm fairly evil. The Carla cackle is getting pretty well known or whenever I'm getting ready to rip everyone's hearts out and issue seven is going to have some really big emotional upsets but also uh remember how much I love punching dragons and dinosaurs.
Sarah Brunstad on Captain Marvel "I am super pumped to introduce a new villain in Captain Marvel. You don't get to meet him in the first issue but he's coming up – when we were doing the character designs and stuff for him, my mandate to Lee Garbette was like, thirsty as possible so, get ready for that."
Leah Williams "I just wrote a haunted house issue of X-Factor and it's in arc 2 which is where we're really diving into the mystery of how Prodigy died and why he's repowered now because it's been kept a secret up till now. So there's a haunted house issue of X-Factor now that I'm obsessed with. It's so fun and ridiculous."
This is how this solicitation is looking… rather Aquamanny… funny, you might have thought he had enough water to drink.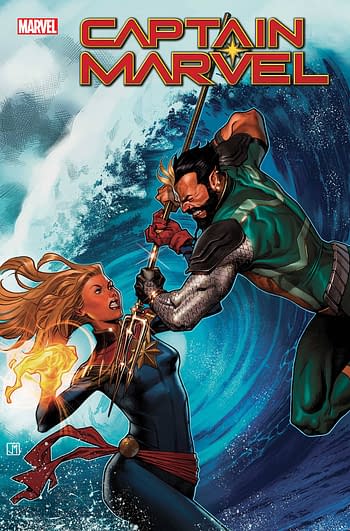 CAPTAIN MARVEL #23
MARVEL COMICS
SEP200687
(W) Kelly Thompson (A) Lee Garbett (CA) Jorge Molina
MEET THE VILLAIN OF THE CENTURY!
The future is here – and haunting Captain Marvel! New York City is in chaos, and all her strongest allies are gone. But the enemy has only grown stronger with time. The child of [REDACTED] and [REDACTED] makes Carol Danvers' life a living hell…and you're gonna love every second of it. 32 PGS./Rated T+In Shops: Nov 04, 2020 SRP: $3.99
You can watch the full panel here: