Three Comics: An Ending, A Beginning, And A Continuation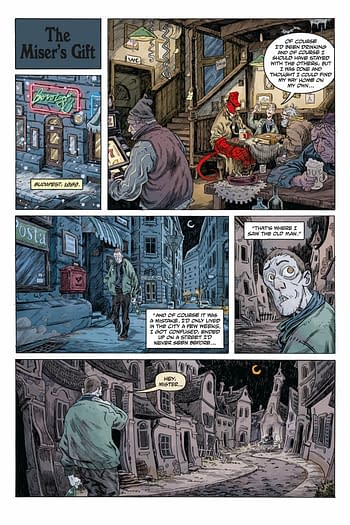 Hellboy Winter Special 2019 by Mike Mignola, Márk László, Dave Stewart, Chris Roberson, Leila del Duca, Michelle Madsen, Scott Allie, Andrea Mutti, Lee Loughridge, and Clem Robins: The real find here is Márk László, who's exaggerated style in "The Miser's Gift" feels like a revelation. Hopefully, Dark Horse can find a Hellboy spinoff for László, as I'm tremendously impressed by his work. These Winter Specials are always fun, and the short story format gives the reader three conclusions in a single issue. Leila del Duca does good work as well, considering Chris Roberson gives her a story set in a single room.
The League Of Extraordinary Gentlemen: The Tempest by Alan Moore, Kevin O'Neill, Todd Klein, and Ben Dimagmaliw: Western comics' most decorated writer and one of England's most iconic pencillers complete their decades-in-the-making story. Tempest challenges and rewards the reader in turn. This is a shining example of what comics can be, and what they hardly ever are.
John Constantine: Hellblazer 1-3 by Si Spurrier, Aaron Campbell, Jordie Bellaire, and Aditya Bidikar: The much heralded return of proper Hellblazer, which includes copious British slang, a pub, a tan trench coat, smoking, and a loose political connection with the villain. Everyone quotes William Blake, there's a scene in a bathroom where a cop warns Constantine to keep a black mute kid out of Constantine's orbit, but not say, the leader of the gang who put a gun to the kid's head. Constantine literally points a finger at the kid later on in the arc and tells him to stay in school. Why didn't Constantine offer him more insulting, unhelpful advice like "don't smoke rocks" or "stay off the streets?" Hellblazer's dodgy in parts, but whatever, I'm having fun with British slang, gov, and so does Si Spurrier. Someone somewhere needed this, and I guess I'm glad it's back.