Will the Toilets of Thought Bubble Be the Biggest Story of the Weekend?
So I find myself stretched out on a long sofa bench with Tim Pilcher, former editor at DC Vertigo, Humanoids and now publisher of Soaring Penguin Press, and author of comics gossip narrative Comic Book Babylon, as we watch Andy Diggle taking what we consider a more than adequate time to relieve himself.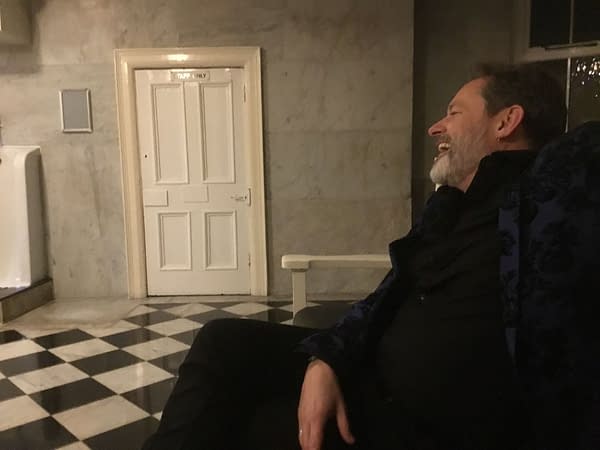 Andy Diggle considers this his worst nightmare and he has a point but this is the reality we are presented with at Thought Bubble this year, at least those attending the kick-off party on the Friday night, in its new Harrogate location and the Hotel Majestic that is the official guest hotel, and where much of the shenanigans will be taking place.
Because the word got round. And every man, and a fair number of the women, found themselves jostling their way into the Gents toilets on the lower ground floor to check them out, whether they needed to go or not. Here's Declan Shalvey unable to believe his eyes and almost tottering sideways with the shock.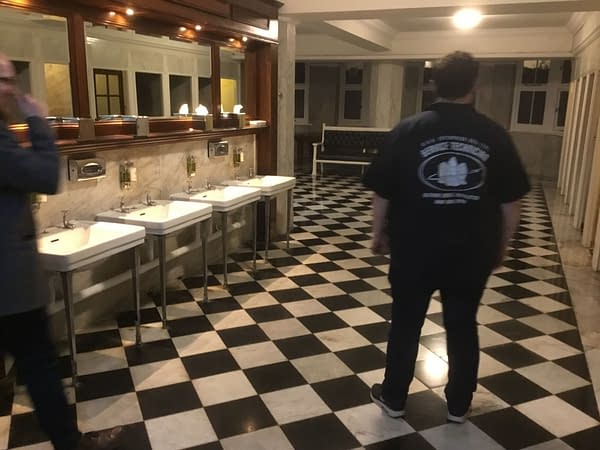 I have been to comic conventions in a smaller space than with this. And with considerably fewer facilities. Bankes of urinals, basins, cubicles, marble, the pictures don't do it justice, with a stretch out leather sofa bench and tables at the end that could host a considerably large Dungeons & Dragons game if we wished. While the Ladies that neighbours this vision consisting of a small cubicle.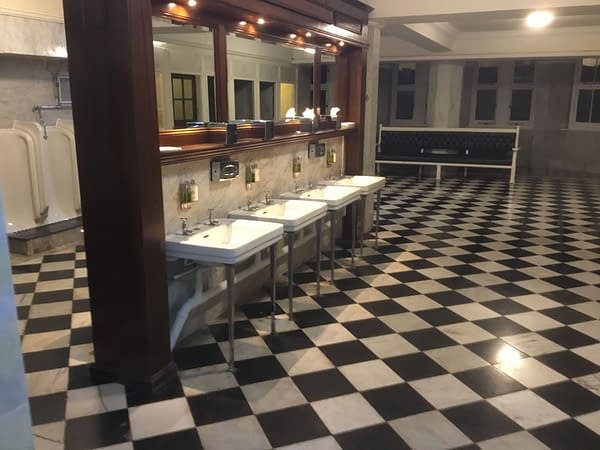 Why such grandeur? Official explanations of a room that had multiple uses in the past, next to a wedding reception room that takes up to 300, and superseded by the word that this hotel was built by masons, for masons, so the needs of the men outweighed the needs of the few women. And that this is, basically, where all the big knobs hung out.
Anyway, for better or worse, the state of the gents toilets became the talking point of the first night of Thought Bubble. But tomorrow? We'll actually get to see some new comic books, so just ephemera will surely fade away…
Maybe. See you at the show.