Tuesday Review: I Love Trouble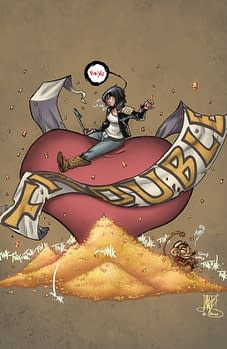 Alex Wilson writes;
I Love Trouble starts off with some serious trouble in the form of a plane going down just outside Kansas City. This is where we meet our heroine, Felicia. She looks rough, tough, and now comes with a special new super power that she discovers while falling to her doom in a blaze of winged metal. I love Trouble, written by Kel Symons and featuring the art of Mark A. Robinson, takes you on an interesting tale of superhero discovery. Published by Image Comics, the first issue of this series hits stores December 5th.
The first issue of this book doesn't have a down moment. We meet our cast, our heroes, our villains, and our loved ones. Our main lady in charge, Felicia, is balls (if she had any) to the wall excitement and danger while her somewhat sidekick, Johnny, seems to be a little closer to the ground but still with his dark side. And to be fair, they really aren't heroes. They're bad people we are supposed to love. They steal, cheat, and swear like sailors but Felicia and Johnny are nothing compared to our villain in charge, Moreaux. This bad cat high up mobster doesn't have remorse or a problem with violence, with his only concern being getting bloodstains on his couch. Felicia steals from Moreaux and when she pays back her theft, with interest, he takes advantage of her new found skill for procuring money by telling her to settle her debt, she needs to get more.
The dialog is well written at parts but feels stuck in others. Symons has great dialog between characters, capturing personalities well but some lines feel cliché and over done but that's not to say he isn't original. Some of the dialog is clever and original, playing to his comic book knowledgeable audience. The story moves at a brisk pace, not taking any time to catch its breath. When something happens, the next plot twist or set up is right around the corner. I would say that the story moves too fast but Symons actually makes it work to my surprise. Usually I like a little slower pace but he makes this comic adrenaline filled and I don't want it to stop. This is in part to the artist on the book, Robinson. A lot is set up and there's a lot to remember. I hope at the beginning of continuing issues that there is a small catch up summary to refresh readers on what happened in last months adventure.
The art in this book is amazing. I fell in love with Robinson's style from the first panel. He's dark when he needs to be, light when it's appropriate, and he the sound effects he throws in fit almost seamlessly with the art. Robinson is almost a reason alone to pick up this book.
If you're a fan of mob stories then this comic will intrigue you. If you're a fan of superpowers but not necessarily superheroes then this book is also for you. If you're a fan of mob stories containing non-traditional superhero elements with strong, independent, rough around the edges, female leads then, DING DING DING, you have hit the jackpot.