Unstoppable No More? The Wasp Left Out of Marvel's March Solicitations
Nadia Pym may be the Unstoppable Wasp, but is her comic uncancellable? It appears not, as there is no issue of Unstoppable Wasp solicited for March, according to Marvel's just-released solicitations, though there is a trade paperback collection.
Originally canceled in 2017, Unstoppable Wasp was brought back earlier this year as an ongoing series. Then relegated to a five-issue mini-series, apparently by mistake, before being switched back to an ongoing. But Unstoppable Wasp #5 is the last issue solicited, for February. So was a mini after all? Has it been canceled? Or does it just require some time to catch up after issues #4 and #5 were delayed?
Whether the Wasp is truly unstoppable remains to be determined, but at the very least, she can definitely be slowed down.
---
UPDATE: On Twitter, Jeremy Whitley has confirmed our speculation (pip pip) that it was the delays to issue #4 and #5 that caused the book to require some catch-up time, and that it will return after March. Of course, Whitely did this under the guise of whinging about Bleeding Cool sensationalizing the headline.
Meanwhile if you happen to notice @bleedingcool reporting that it seems like the book has been cancelled, it's because nobody bothered to ask, even though I know for a fact that they have my contact info.

— Jeremy Whitley (@jrome58) December 18, 2018
Hyperbole about a Marvel comic book? Where could we have learned that from? Don't hate the playa, Jeremy. Hate the game.
We now return you to your regularly scheduled article…
---
Here's the solicitation for February's Unstoppable Wasp #5.
THE UNSTOPPABLE WASP #5
JEREMY WHITLEY (W)
GURIHIRU (A)
Cover by STACEY LEE
Nadia believed that when A.I.M. attacked her lab, she had reached rock bottom. She was wrong. And now she is finding out that she has more in common with her father than she ever knew. This issue of UNSTOPPABLE WASP will change everything about Nadia's life.
32 PGS./Rated T+ …$3.99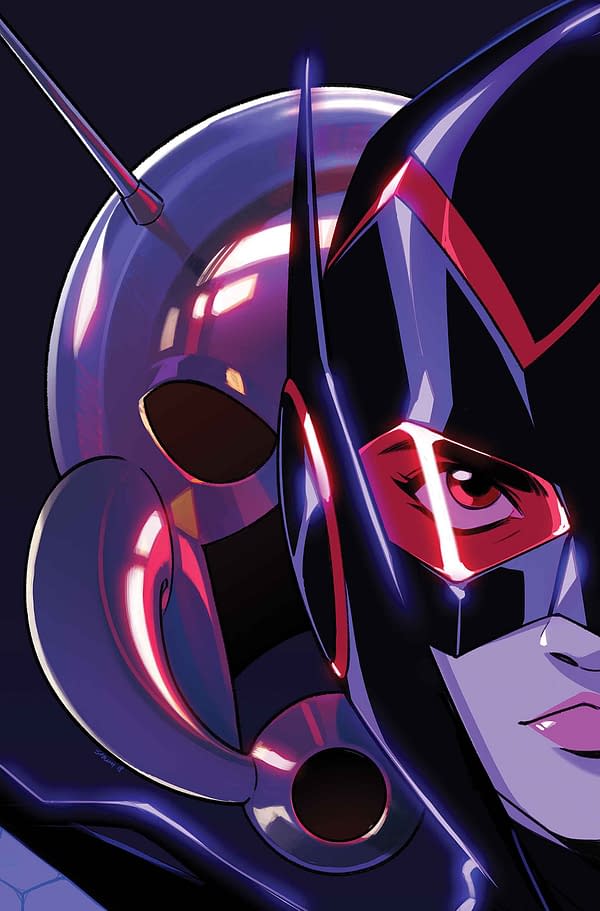 And the solicitation for the Unstoppable Wasp TPB, containing issues #1-5:
THE UNSTOPPABLE WASP: UNLIMITED TPB
Written by JEREMY WHITLEY
Penciled by GURIHIRU
Cover by GURIHIRU
Volume 3 in the UNSTOPPABLE WASP series!
Back by popular demand, it's Nadia Van Dyne — the Unstoppable Wasp! With the backing of Janet Van Dyne, the original Wasp, there's no problem the Agents of G.I.R.L. can't solve! But Nadia's team of girl scientists isn't the only acronym-toting science organization out there — and when A.I.M. strikes, Nadia and the Genius In action Research Labs answer the call! But who is A.I.M.'s new super-powered lieutenant? How does this fearsome foe know Nadia? And what does A.I.M.'s plan have to do with Nadia's father, Hank Pym? Plus: A girls' night out for Nadia and Jan! G.I.R.L. prepares for its big science-expo debut! And Nadia meets her match in the form of a returning fan-favorite female fighter! But there's only one mission on Nadia's mind: fix everything! Collecting THE UNSTOPPABLE WASP (2018) #1-5.
112 PGS./Rated T+ …$15.99
ISBN: 978-1-302-91426-4