Vault Counters Comics Piracy with Digital "Pay What You Want" Charity Sale
Vault Comics has an answer to the comics piracy problem, which has sparked discussion of potentially hundreds of thousands of people reading comics illicitly, allegedly 20 times the number of people buying them. Of course, those numbers are based on bogus hit counter stats posted on the piracy websites themselves, which we previously explained probably actually translates to something like 200 actual people when the counter says 100,000.
That didn't go over very well, with some reading-comprehension-impaired folks on Twitter taking that article we wrote, which explicitly said creators should still "be rightfully upset that someone is taking money out of your pocket," but that knowing the lost sales (so far as people pirating a comic translate directly to lost sales, which is a questionable notion itself) number in the hundreds rather than the tens of thousands might hopefully "help some people who are understandably stressed out by this whole thing relax a little bit," and twisting it to suggest that we were saying creators shouldn't be upset at all. But hey, people love to shoot the messenger, especially when they're basing their opinion on an out-of-context screenshot and directing their vitriol at popular internet scapegoat Bleeding Cool. C'est la vie. If we had our druthers, we'd rather write nothing but posts about Wolverine's two dicks anyway.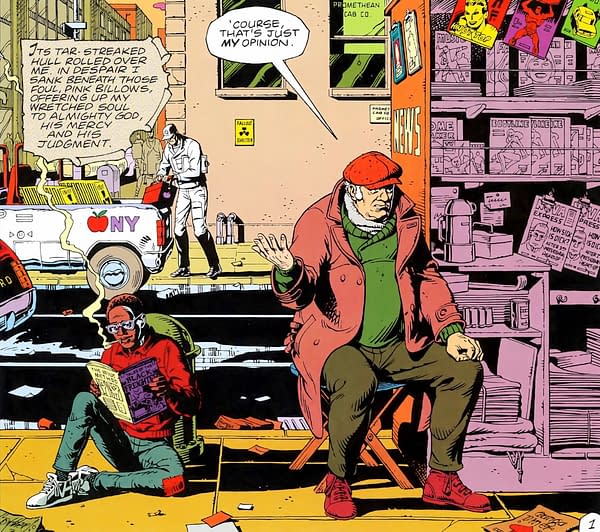 But we digress. The news here is that Vault is putting a bunch of their comics on sale, allowing readers to choose their own price to purchase DRM-free copies of the books, with 50% of the proceeds going to charity to boot!
We know this sounds like a completely outrageous idea. Could making it easier and more attractive to purchase digital comics really be the solution that could cause more people to purchase them instead of pirating them? Surely arguing about it on the internet with low-follower-count Twitter users would be more effective, right? Well, as unconventional as this idea seems, it just might work.
Said Vault CEO and Publisher Damian Wassel:
There are three seemingly unrelated problems that come up again and again in conversation at the Vault offices. First, there is the problem of how to make comics cheaper and easier to purchase. Second, the problem of how to do more good with the books we make at Vault. Third, how to address rampant comics piracy. The other day, we had a simple idea that seemed like it could help with all three problems: Sell digital copies of our books directly to our fans, with no account sign ups, and no fussy DRM. Offer them for whatever the customer wants to pay. And give half the money away. Anyone can afford them. Anyone can buy them, anywhere in the world. And every purchase does real good.

The idea was so simple and so compelling we had to try it. So, we're offering more than fifteen of our best books from now until the end of 2019 on a pay-what-you-want basis. We'll donate half of every purchase to one of three selected non-profit organizations.

The three organizations we've selected are: Room to Read, which supports girls' education and literacy in the developing world, Family Promise, which supports families facing homelessness throughout North America, and the National Alliance for Mental Illness, which supports care for mental illness throughout the U.S.A. Customers choose one of the three organizations when they check out, we donate half of all purchases at the end of 2019. Seems simple enough.
Simple like a fox, perhaps. Head to Vault's digital comics store to get in on the action. Not only can you feel good about doing the right thing by paying for your digital comics, but you can pay what you think they're worth rather than a price artificially set to avoid upsetting the Diamond monopoly and help out a worthy charity at the same time. Win/win/win.The sale will run until 11:59PM on January 1st.