Venus #19 is the Pre-Code Horror You Need, Only from ComicConnect
Pre-code horror is one of the best things about the Golden Age of comics. The covers are terrifying, the stories horrifying, and overall they're entirely satisfying. This pre-code beauty from Atlas Comics — the same publisher that brought us Captain America — is one of the best covers from this era, but where can you find such a comic? During today's ComicConnect event auction, the impressively horrific Venus #19 could be yours!
Venus #19 is truly iconic, showing Venus in distress as her lover peels away his skin, revealing a gruesome skeleton. In the background, three skeletons in cloaks look on, as their deathly brethren takes another life. This cover by Bill Everett is one of my favorites. Now Venus was originally not a horror comic. Initially, it centered around the titular Venus — before shifting to a science fiction tone. Then, it boasted a romantic angle, until finally settling on a horror vibe before being canceled after issue #19. It should also be noted that Loki did appear in Venus #6, with Thor following after. However, this Thor should not be confused with the modern Thor we have today.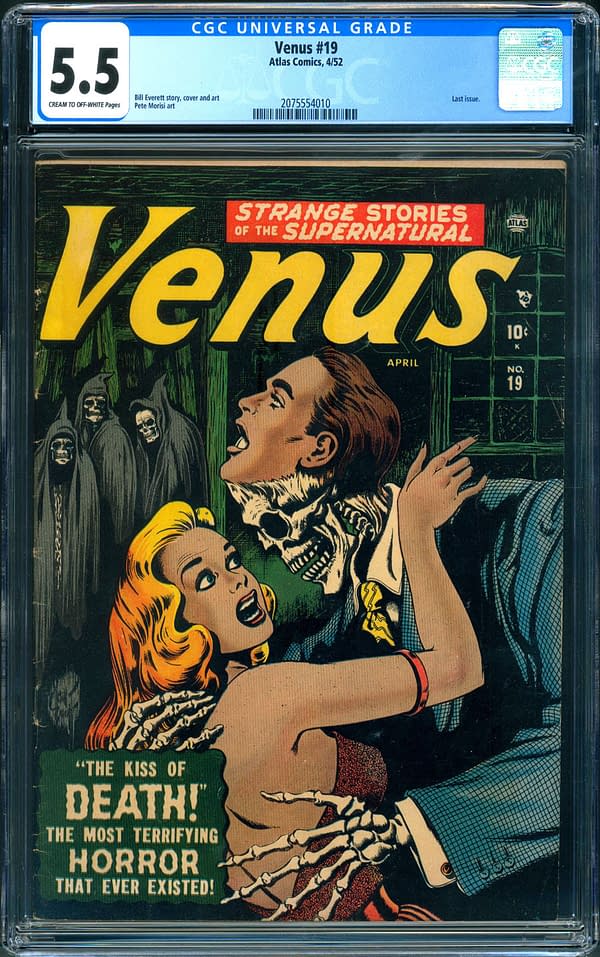 This CGC universal blue label 5.5 with cream to off-white pages is perfect for every pre-code horror fan. According to GPA, this is the second-highest CGC graded, with only a 6.0 beating it. In November of 2019, another CGC blue 5.5 copy sold for $7800, a massive jump from the $956 sale for yet another 5.5 copy that was sold in February of 2012. This is a hot comic, for both long term collectors and those looking for a solid investment piece. This book will keep climbing in value, so regardless if you keep it for a short while or a long while, you'll likely see a solid return on this book.
Long time Metropolis and ComicConnect buyers will also recognize this cover from one of the many Metropolis themed wines that are sent to customers every holiday season. Only in this case, it's co-owner Vincent Zurzolo as death!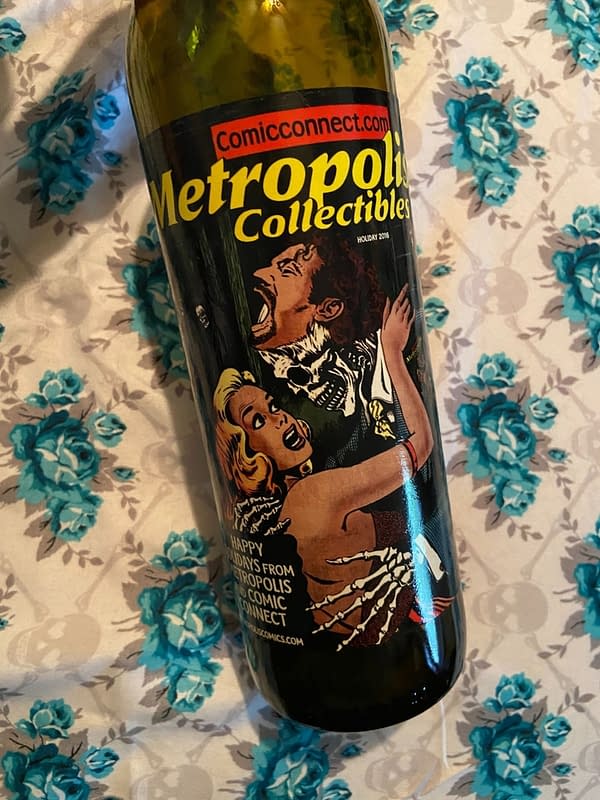 The auction for this neat piece of history ends on May 22nd and is part of Session 5 of Event Auction #42. Are you interested in owning this piece of pre-code history? You'll need a ComicConnect account to bid. But fear not — accounts are totally free! Plus, you never know what kind of comic goodies you'll find. Good luck and happy bidding!

Affiliates of Bleeding Cool buy from and/or consign to ComicConnect.
---
---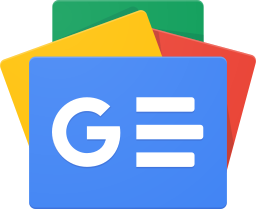 Stay up-to-date and support the site by following Bleeding Cool on Google News today!